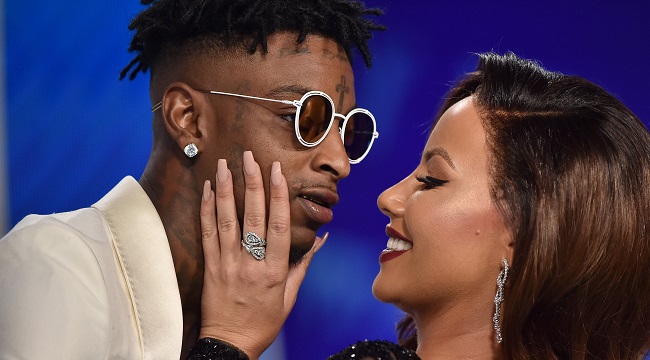 It's well known that since 21 Savage has been seeing Amber Rose, many of his public actions have been anything but savage. Earlier this summer, 21 Savage told Amber how he felt about her in a car — with a few notable exceptions, like threatening to beat up a fan for throwing garbage on his stage. Now he's taken it a step forward, singing some classic love songs to get his point across. Snapchat footage recently popped up of Savage and Rose cruising down the street, belting songs that encapsulate their budding romance from the title alone: Alicia Keys' "If I Ain't Got You," Monica and Missy's "So Gone," and the Ghost Town DJs' "At Night I Think Of You."
The Issa rapper surprisingly killed every song vocally, clearly feeling the vibes. Amber joined right along with him, adding an "I love singing with my baby" caption to her snap.
The two have created a somewhat unlikely bond with Rose as a self-identifying figure in the anti-misogyny movement and 21 Savage as a new progenitor of a genre bedrocked in misogyny – but they make it work. It's refreshing to see a guy who has been through tremendous hardship enjoying life without a care for what anyone in the peanut gallery has to say.