It's no secret that J. Cole has always loved basketball just as much as he loves rapping and rap music. Just take a look at the covers of his early mixtapes and debut album, Sideline Story. However, it was only recently revealed that he once had designs on giving up his day job to pursue those hoop dreams. In a revelatory essay for The Players' Tribune, Cole wrote eloquently about losing his passion for working with words and turning his attention to developing the skills that might see him excel in another arena — pun intended. However, that passion was reignited by his newfound impulse for collaboration and he kept spitting — even as he continued to work on his jumper in local pickup games where he was rumored to put up some Klay Thompson-esque numbers.
Last month, though, in collaboration with Puma, Cole not only released his RS-Dreamer basketball shoe, he also shared a series of nostalgic ads that seemed to hint — as he had in his Players' Tribune piece — that he refused to let his unfinished business remain that way. Narrated by Master P, who is notable for being the only rapper in history to try out for and make it onto an NBA roster (for the Charlotte Hornets and Toronto Raptors for the 1998 and 1999 preseasons, respectively), the latest ad, "The Audacity," watches Cole working on his game as Master P expresses his incredulous disbelief at some unstated goal Cole appears to be pursuing.
It could just be a clever way to pitch the rapper's basketball shoe, but the idea's already begun to take hold among the social media-savvy league's Twitter feeds, with the Detroit Pistons account mocking up a jersey with Cole's name on it. Players are sporting his shoes throughout the NBA's Orlando bubble and no doubt, there's some buzz among them whether he actually has what it takes to make it on a team. One thing he does have for sure is the experience and the passion that lays the foundation for any prospective hooper's path to a pro basketball career. Here's a timeline of J. Cole showing off his love for the game and the moments that are helping drive the speculation that he's now aiming to be one of the oldest rookies in NBA history*.
*Pablo Prigioni currently holds the record, debuting with the New York Knicks at 35 years old in 2012. He'd been a professional overseas since 1995, though.
1999-2003: High School Years
While Cole's short film/sneaker announcement Dreamer contains archival footage of a pre-teen J. Cole working on his handles on a backyard hoop and dramatizes his early experiences on the blacktop, we'll consider his four years at Terry Sanford High School in Fayetteville, North Carolina the beginning of his hoops journey. In 2017, Bleacher Report's Natalie Weiner published an excellent oral history of his time there, in which Cole's coaches and teammates praise his work ethic, if not his skills.
2003-2007: St. John's University
Cole went to college in New York on an academic scholarship rather than an athletic one, but that didn't stop him from trying out for the team. He was good enough then to receive a call-back for the second day of tryouts, but had by then decided on music as his path. Though there's some confusion about whether he was cut or just didn't show up for day two (he insists it was the latter), he kept playing, on intramural teams and the St. John's women's practice team.
2007-2010: The Mixtape Years
Although he'd given up on basketball as a career by then, he kept the game close and highlighted his love of hoops in his art. His second and third mixtapes, The Warm Up and Friday Night Lights, both prominently featured basketball themes in their cover artwork and titles. On the cover of The Warm Up, he cradles a basketball in his left arm, looking like he's on his way to a pickup game in the park, while on Friday Night Lights, he sits on the ball with his head in his hands like he just lost a huge game.
2011: Cole World: The Sideline Story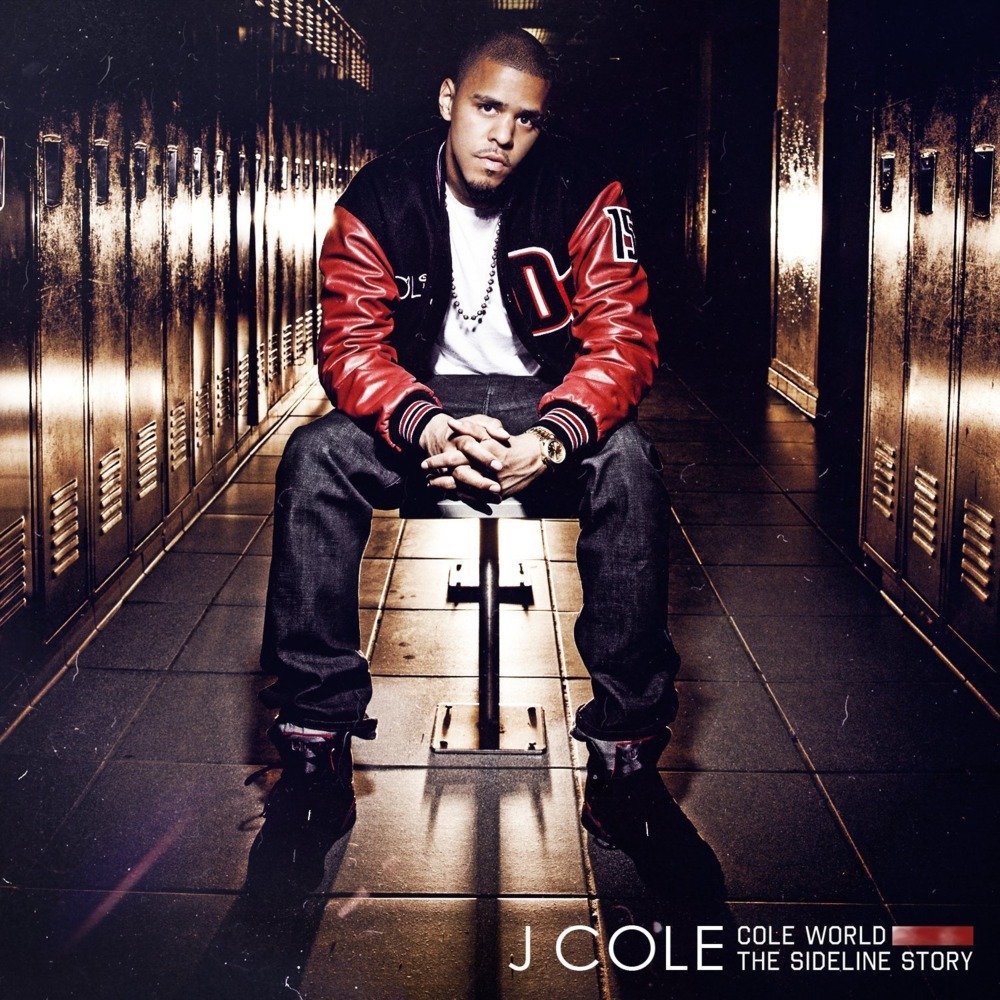 Everything from the title of Cole's debut to his styling on the cover screams "game ready," or at least "game adjacent." The somewhat self-deprecating title feels like a reference to his sidelining his hoop dreams in favor of his rap ones, as well as a subtle reference to his being cut (or quitting) at both levels of organized basketball before letting go entirely. Despite this, he wears a letterman jacket as if he's a varsity player and even the disc itself (remember those?) was printed with the lines of a basketball court seen from above.
2019: All-Star Game and Pickup Legend
In 2019, the depths of J. Cole's love for hoops (and his emerging skills) were slowly revealed as NBA player Dennis Smith Jr. used him as a prop to dunk over in that year's dunk contest. But it was after the dunk that we got our first public glimpse of J. Cole the hooper; retrieving the ball, he tried to go for a dunk of his own. He got hung on the rim, but was able to laugh it off — after all, he was an amateur surrounded by guys who do this for a living and just getting up there was impressive enough for most folks. But it was clear he wanted more, especially when interviews with Smith and text message exchanges his manager LB posted on social media revealed a guy who could score a casual 45 points at a rec league run but groused about no one having their phones out when he hit a game-winning buzzer beater.
2020: The Audacity
Beginning in early 2020, it seemed that Cole was feeling nostalgic for his playing days, releasing Dreamer as a way of announcing his upcoming sneaker collaboration with Puma, then publishing "The Audacity" for The Players' Tribune. Dreamer slyly referenced his All-Star Dunk Contest failure, contrasting it with the work he's done since to be able to complete that dunk. And now, he's getting advice from Master P and training camp invites from NBA teams. It looks like the message of his Puma promo run — whether it leads to an NBA contract or not — rings true: "[It] sounds crazy when said out loud, but I believe all of the best dreams do."