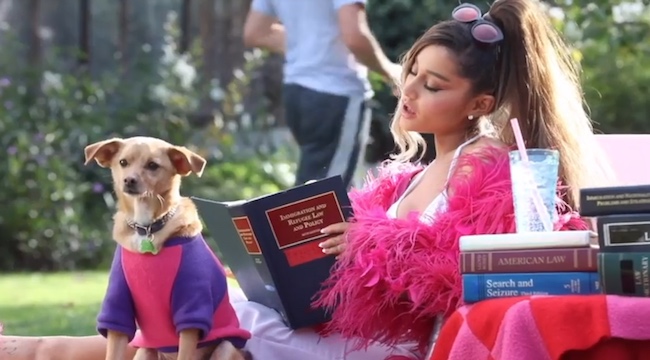 "Thank U, Next" has been a career-defining moment for Ariana Grande. Shortly after she released the post-Sweetener single, it debuted at the top of the charts, becoming her first No. 1 song. More recently, she debuted the highly anticipated video for the song, and that also made some waves. The video was so popular that it broke the all-time YouTube record for most views in the first 24 hours, with a staggering 55.4 million.
The success of the video has also meant there are still more records for "Thank U, Next" to break, and it just shattered a big one. The song returned to the No. 1 spot on the Billboard 200 on the chart dated December 15, and that was due primarily to its 93.8 million U.S. streams during that week. (YouTube streams are factored into Billboard's chart data, by the way.) If that sounds like a lot, that's because it is: it's the largest weekly total ever by a female artist.
That distinction was previously held by Taylor Swift's "Look What You Made Me Do," which garnered 84.5 million streams, which was reflected on the chart dated September 17, 2017.
As far as the overall weekly streaming ranks, this historic "Thank U, Next" stretch ranks 7th all time. First is the 116.1 million streams Drake's "In My Feelings" earned on the chart dated July 28, 2018. Between that and Grande's week on the chart are other weeks of "In My Feelings," as well as a week of Drake's "God's Plan" and a couple different weeks of Baauer's "Harlem Shake."