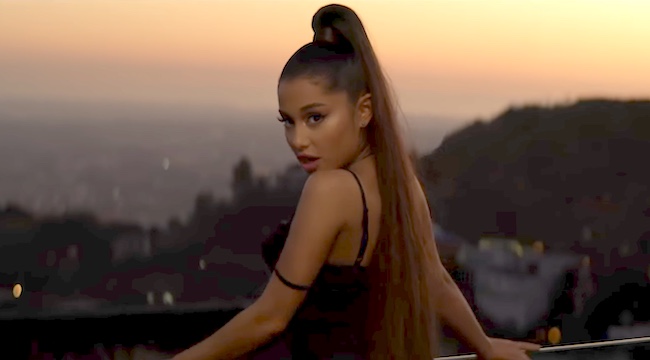 Ariana Grande released her highly anticipated new Thank U, Next album today, and her new video for "Break Up With Your Girlfriend, I'm Bored" is making quite the splash: As of this post, it's the No. 1 trending video on YouTube. The clip also features a surprise ending: Throughout the video, Grande is attempting to seduce a man who is with somebody else, but at the end of the clip, she goes in for a kiss with his girlfriend, although the video ends before any kiss actually happens.
The video and this moment in particular have drawn a mixed bag of reactions online (as Buzzfeed notes). Some fans have praised the song as a "bisexual anthem":
Meanwhile, others believe the song is actually about the self-love Grande brought up in "Thank U, Next," when she sang about meeting someone else named "Ari" (aka herself), because the woman looks so much like Grande.
Not all the responses have been positive, though. Some Twitter users are accusing Grande of queerbaiting, which has been defined as "attempting to attract an LGBT audience by hinting at same-sex relationships between characters, though they're never actually consummated."
This isn't the first time in recent days that Grande has faced criticism for a video: After she shared the clip for "7 Rings," she apologized because the song was accused of cultural appropriation.
Thank U, Next is out now via Republic. Get it here.