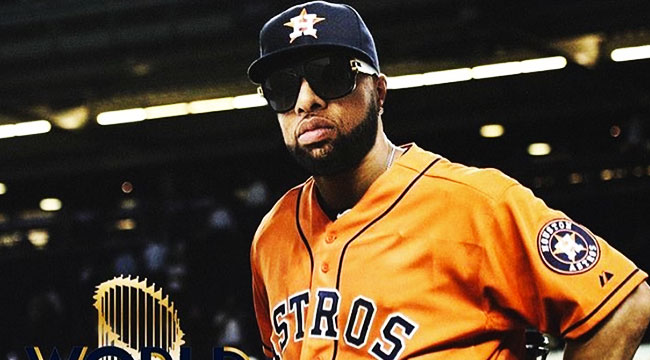 In case you're not a baseball fan, the Houston Astros defeated the LA Dodgers last night in seven games to win their first-ever World Series. Understandably, the city of Houston has been going bonkers ever since — especially the city's thriving hip-hop community. Houston's favorite rappers, from Scarface to Travis Scott, set social media alight with celebrations, including some rather hilarious photoshopped flicks of the rappers' faces imposed on Astros players' bodies.
The residents of the city should celebrate though. It's a town that's been hit hard by tragedy this year, but it's also showed its resilience. The Astros pushed LA to a game seven that they eventually dominated, scoring five runs to LA's one.
It appears those hysterical photoshops come courtesy of freelance graphic designer Mista Dezign, who comes from Corpus Christi and specializes in album covers, flyers, and social media ads, according to his Facebook page, but who also apparently has a gift for creating entertaining mock-ups of rappers as ballplayers. His Instagram page for the last couple of weeks has featured his funny designs, which Houston's rap set have taken to posting on their own pages as the World Series came to a head.
One Houston native who didn't need the photoshop love was Travis Scott, who was pictured shortly after the win wearing an Astros uniform at the game and holding the MLB Commissioner's trophy.
Meanwhile, Paul Wall and Slim Thugg posted videos of the rambunctious celebrations and horrendous traffic jams coming out of Minute Maid Park.
Lil Keke posted a humorous clip of Astros second baseman Jose Altuve strutting his stuff in the dugout with the caption: "Headed to the airport in LA like… Whoa. This how them Astros gon walk through the parade. Htown we brought it home."
Other rappers, like Trae The Truth and Lil Flip, merely sat in contemplation and disbelief as the feeling sank in.
Some Houston natives' reactions were more subdued, like Scarface, who simply tweeted "Go Stros." Kirko Bangz and Chamillionaire joined him in congratulating the team and the city on Twitter.
All in all, it was a fun night in sports and hip-hop alike, and I can only imagine what Drake is going to end up posting when he finds out about his adopted city's win.