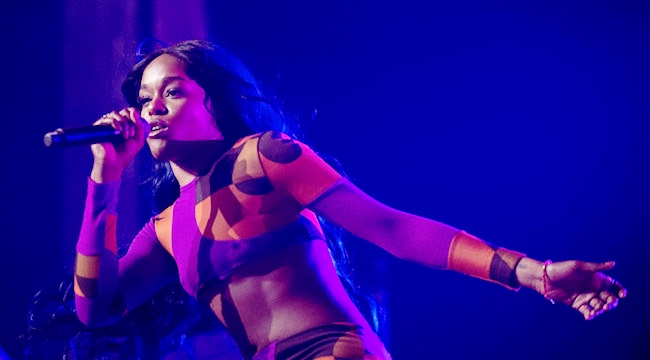 When Lana Del Dey invited Azealia Banks to "pull up" a few days ago on Twitter, the app was alight with jokes about the fight looking like something from Charmed considering both women's claims to various witchy practices (and an old video of Azealia's apartment bedecked in voodoo paraphernalia, including chickens for sacrifice). Of course, it all seemed funny at the time, due to the fact that the former friends were basically fighting over Kanye West's recent pro-Trump messages. Now, at least one of them is threatening to make that lighthearted joking a spooky reality.
In response to a fan's concern that Azealia's insistent pushing on the subject would cause harm to her career, such as it is, Azealia tweeted, then deleted, a vaguely threatening tweet referring to both the witchcraft aspect of their duel of words and the misfortune she wished on her former friend. "Honey, you know the Big Bad Witch is smarter than that," she wrote. "When her house mysteriously goes up flames while she is asleep inside … I want to see as many #Azealiavoodoo hashtags as possible." The deleted tweet was preserved by HotNewHipHop, because the internet never forgets.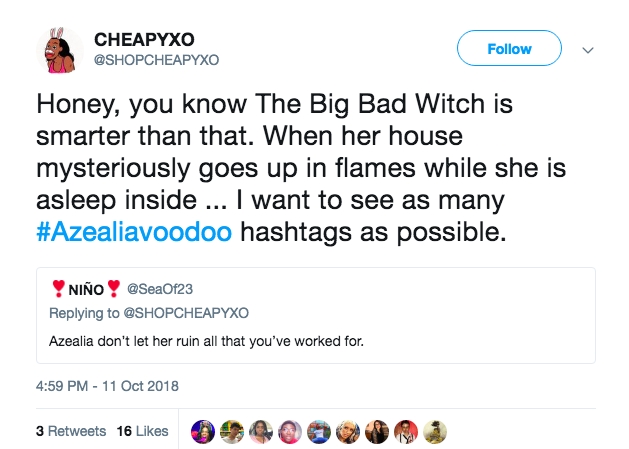 It's concerning that all this grew out of Kanye West's recent antics, which Lana Del Rey and Azealia Banks both called to task. However, Banks seemed to take offense to Del Rey's response, likening her to "white women in Hollywood" with "fake ass innocent agendas." However, considering the things that she's gotten into these tiffs over in the past, maybe she just needed someone to fight at the time.