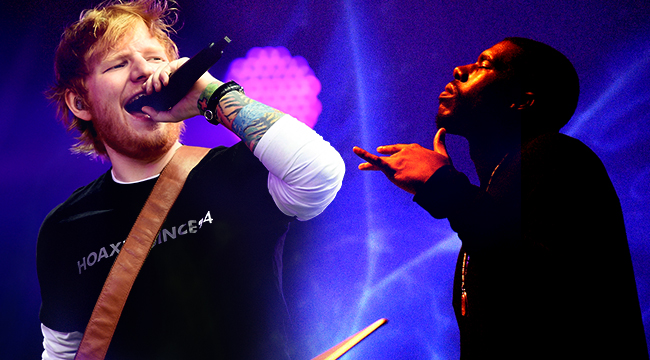 Keeping up with new music can be exhausting, even impossible. From the weekly album releases to standalone singles dropping on a daily basis, the amount of music is so vast it's easy for something to slip through the cracks. Even following along with the Uproxx recommendations on a daily basis can be a lot to ask, so every Monday we're offering up this rundown of the best music released in the last week.
This week saw Ed Sheeran continue his series of high-profile collaborations and an also-feature-packed new album from Flying Lotus. Yeah, it was a great week for new music. Check out the highlights below.
Ed Sheeran — "Cross Me" Feat. Chance The Rapper and PnB Rock
Ed Sheeran made waves not long ago with his Justin Bieber collab "I Don't Care," but he didn't waste any time getting his next new song out. He returned quickly with Chance The Rapper and PnB Rock in tow, and the punchy "Cross Me" is one of Sheeran's most hip-hop-oriented (and delightful) singles yet.
Flying Lotus — Flamagra
Nobody has ever credibly accused Flying Lotus of being boring, and he continues his ongoing trend of making some of the most fascinating electronic music out there on his new album. He works hand-in-hand with a smattering of guests to bring kaleidoscopic visions to life, like on his unsettling spoken word David Lynch joint effort "Fire Is Coming," and he makes effective use of Anderson .Paak's upbeat energy on "More."
Ty Dolla Sign — "Purple Emoji" Feat. J. Cole
J. Cole isn't one to do a ton of collaborations (famously so, in fact), but this team-up with Ty Dolla Sign panned out well. Dolla Sign delivers a catchy and soulful hook, which sets the stage for Cole to come in and deliver a rhythmic, rapid-fire verse. It's cool that Cole wants to do his own thing most of the time, but this joint effort just works.
The Lonely Island — "Oakland Nights" Feat. Sia
Out of nowhere, The Lonely Island dropped The Unauthorized Bash Brothers Experience, a Netflix "visual poem" about Jose Canseco and Mark McGwire. There's a ton of music in the special, and they got Sia to sing on one of the finest ones. Don't expect to see her in the special, though, as she is instead portrayed by Sterling K. Brown.
YG — 4REAL 4REAL
This album was meant to come out sooner, but YG delayed it out of respect for Nipsey Hussle's death. Now that the album is here, though, YG shows off a mature side on his final Def Jam album on songs like "Heart 2 Heart," on which he and Meek Mill talk about friends of theirs who have found themselves on the wrong side of some serious life-altering trouble.
Kim Petras — "All I Do Is Cry"
Petras has released a ton of singles over the past few weeks, and her newest track sees her embracing the hip-hop/trap influence that permeates modern pop, all while lamenting a relationship that didn't go how she had hoped. If Petras is trying to become a household name, it's songs like these that will help her get there.
Beast Coast — Escape From New York
The Brooklyn-based rap group features members Joey Badass, CJ Fly, Kirk Knight, and Flatbush Zombies, and with all that talent in the studio, of course this came out great. Their debut album together is an often-punishing effort, and yet, the album's standout track, "Snow In The Stadium," goes in a smoother direction that's a welcomed departure.
Steve Lacy — Apollo XXI
The Internet member Steve Lacy is all over Vampire Weekend's new album, and now he's arrived with his debut solo effort. It's a diverse record, too: It opens with the psychedelic soul of "Only If," and from there, gets into lanes like the R&B-indebted "Lay Me Down" and the more hip-hop-oriented "Basement Jack."
Denzel Curry — "Speedboat"
The Florida rapper is one of the most diverse hip-hop rising stars in the genre today, and he recently previewed his upcoming album with the upbeat "Speedboat." Curry is a ball of boundless energy live, so it'll be fascinating to see him apply that to this one while touring with Billie Eilish this summer.
Rocketman (Music From The Motion Picture)
Elton John has been very involved in the Rocketman biopic, and that even extends to the soundtrack. Although it mostly features classic John songs performed by the film's cast, he does make an appearance in a new original track, a duet with Taron Egerton called "(I'm Gonna) Love Me Again."
Some artists covered here are Warner Music artists. Uproxx is an independent subsidiary of Warner Music Group.