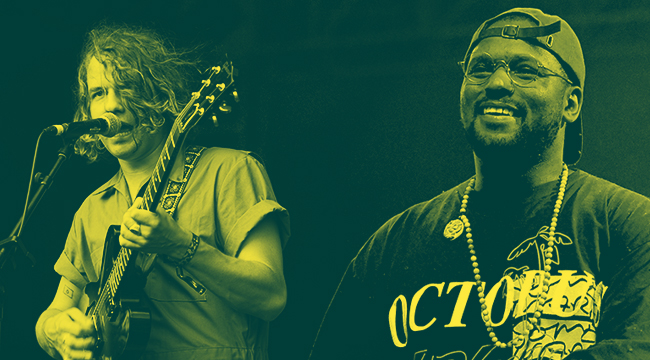 Keeping up with new music can be exhausting, even impossible. From the weekly album releases to standalone singles dropping on a daily basis, the amount of music is so vast it's easy for something to slip through the cracks. Even following along with the Uproxx recommendations on daily basis can be a lot to ask, so every Monday we're offering up this rundown of the best music released in the last week.
This week saw the long-awaited new album from Schoolboy Q, a record from Kevin Morby that should be among the year's best, and an FKA Twigs track that makes use of both her incredible voice and her unparalleled taste. Yeah, it was a great week for new music. Check out the highlights below.
Schoolboy Q — Crash Talk
Schoolboy Q could have released his new album last year, but the death of friend Mac Miller resulted in him waiting until he was mentally prepared to promote his new effort. Now the time has come, and Q is hoping the wait was worth it. Travis Scott, Lil Baby, 6lack, YG, Kid Cudi, and 21 Savage all turn up on the effort.
Kevin Morby — Oh My God
On his fifth career album, Los Angeles-based songwriter Kevin Morby crafts a "non-religious religious record." You don't need faith to be moved by the effort, with our own Caitlin White writing, "Even if nothing here saves your soul on first listen, it's very possible multiple listens of Oh My God could save your life. The gospel usually does, whether religion is involved or not.
Kevin Abstract — Arizona Baby
Brockhampton standout Kevin Abstract has taken an unconventional approach to this latest release, offering it up in chunks and delivering the finished product mid-week. But after that dust settles, a reflective, honest, and essential release remains. Writing about the album, Uproxx's Aaron Williams said, "Kevin Abstract is at his best when he's floating somewhere in between the two impulses, vulnerable enough to display the damage that the world has inflicted on him, and plaintive enough to remind the listener that he's still human, looking to be accepted just like anyone else."
Various Artists — For The Thone (Music Inspired By The HBO Series Game Of Thrones)
If you aren't aware that Game Of Thrones is currently airing their final season on HBO, it must be comfortably under that rock you are living under. In celebration of this last season, artists ranging from The National to SZA have offered up this album of songs from and inspired by the show. ASAP Rocky, The Weeknd, and Lil Peep all appear on the record.
Rico Nasty — Anger Management
In this collaborative effort with Kenny Beats, Rico Nasty keeps it short and sweet. Well, not too sweet, as the rising rap star is as provocative as ever on the nine-track collection. Previewing the release, Uproxx's Aaron Williams wrote, "If rap is Rico's anger management, fans might hope she never works out her issues."
FKA Twigs — "Cellophane"
She's an incredible singer and songwriter, an amazing dancer, and has an aesthetic eye like no other. And on "Cellophane," FKA Twigs' mighty return, she puts them all to work. The dramatic piano-driven piece is as vulnerable as it gets, with her voice quivering with emotional outpouring as the song expands into technicolor. It's almost impossible to talk about the song without talking about the glorious video, which speaks to the majesty of both.
Japanese Breakfast — "Essentially"
In the two years since Japanese Breakfast released her great Soft Sounds From Another Planet, she's become a bona fide star. Between her great live show and her proven songwriting prowess, she's easily one of the brightest beacons of the indie scene. On this new song, "Essentially," she crafts a danceable groove full of yearning, expanding her sonic palette to prove mighty at most everything she tries.
The Black Keys — "Eagle Birds"
Ohio's favorite rockers have now announced their new album, appropriately named "Let's Rock." The duo takes the title to heart of their latest single, "Eagle Birds," which is a straight-ahead bluesy barnburner that fits neatly in their oeuvre. The more things change, the more they stay the same, and it's nice to know that The Black Keys remain a reliable institution.
Mannequin Pussy — "Drunk II"
Philadelphia indie punks Mannequin Pussy are making the move to Epitaph, a suitable home with acts like Joyce Manor and La Dispute already on their roster. For their new single, "Drunk II," the band is as endearing as ever, crafting a warm, expansive anthem that showcases the band's ability to intrigue both lyrically and melodically. It's a head-turning song for a band that's sure to keep the new attention they are receiving.
Some artists covered here are Warner Music artists. Uproxx is an independent subsidiary of Warner Music Group.