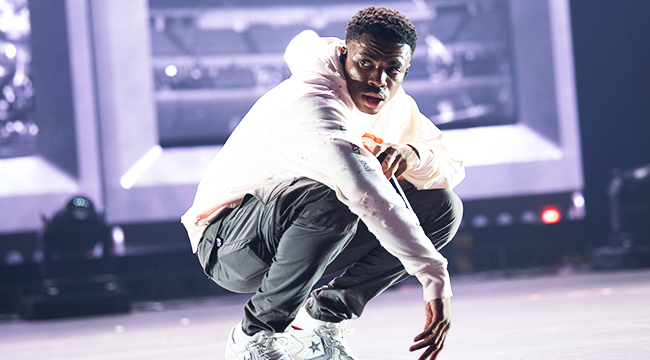 Sometimes the music is only half the story. Would Michael Jackson's immortal pop ballad "Thriller" have been the runaway success it was at the dawn of MTV if not for the extended video filled with zombies, werewolves, and Vincent Price? Probably not. Though MTV's clout has diminished significantly in subsequent decades, artists are still releasing videos at a stunning clip, sharing them on Youtube, Vevo, and pretty much every streaming service out there.
Videos not only offer another side of the person making the music, but also of the music itself, adding in context clues and visual cues that enrich the sonic material. They can also be fun, funny, weird, and shocking. Collected below are some of the most interesting and compelling videos released over the last week.
5. Sheck Wes — "Wanted"
Sheck Wes is a phenomenon waiting to happen. "Mo Bamba" is an anthem, but it's only the beginning. For the next single from his recent album Mudboy, Sheck decided to run with the song "Wanted," a swirling, bass-heavy trap banger that could do some damage on the charts. The video captures the mayhem and mania he's been able to inspire, featuring stark, black and white clips of masses of people going crazy while the song blasts in the background. It's simple, but extremely effective.
4. Grapetooth — "Blood"
Everything about the Chicago indie synth-pop band Grapetooth is endearingly DIY. They recorded their incredible, debut album using an array or keyboards, drum machines, and synths in their own apartment and took on the role of director for their array of different videos, including this one for "Blood." Scenes of the duo treading down stark, rough-shod empty roads are interspersed with hazy clips of a swirling, technicolor party in full effect. If your video comes with a seizure trigger warning near the beginning, you know you're onto something.
3. Lil Peep — "Runaway"
This is just a really incredible tribute to Lil Peep. Using a mix of stop-motion animation, live footage, and some of Peep's own drawings, the late rapper's song "Runaway" from his upcoming, posthumous album Come On Over When You're Sober Pt. 2 comes to life in such a stunningly real and affecting way. As Peep's own mother Liza Womack said, "This video tells that part of Gus's story," when he, "decided to leave his apartment in LA, but he didn't want to come home to live in Long Beach, either. So, he had gone to stay in London. That was a productive and happy time for him, working with friends like Smokeasac and ILoveMakonnen."
2. Carly Rae Jepsen — "Party For One"
Directed by Bardia Zeinali, Carly Rae Jepsen's video for "Party For One," is a lot to take in. There are bathtubs full of spaghetti, dildos, and even Instragram celebrity Bread Face playing a hotel bellhop. It's extremely weird, even by pop music video standards, but an endlessly fascinating commentary on what kind of people we all are once the doors are closed. "It was a play off of rom-com cliches, like Bridget Jones's Diary, and Carly wanted to have the journey that you go through in your alone time," Zeinali told Billboard. "A hotel felt like the type of place where you're on your own, and it's liberating to a certain degree. You're traveling, and you're out of your comfort zone, sharing walls with strangers who are doing the same thing."
1. Vince Staples — "Fun!"
"Fun!" is far and away my favorite video of the week and is up there for best music video for the year. What seems at the outset like an interesting visual take on Staples' world in Ramona Park, as seen from the eye of one of those Google Map car cameras turns out in the final moments to be the vision of a suburban-dwelling white kid, curious to gaze upon a world so far away and different from its own. It's an extremely thought-provoking commentary about the constitution of the larger rap audience, who artists are making music for, and what the motivations of the listener are. Leave it to Vince Staples to elevate the form.