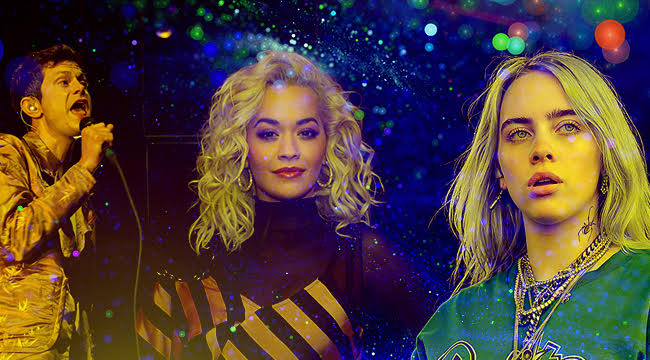 With New Music Friday out for Thanksgiving break, it was an abbreviated week for pop releases. But despite the shortness of the work week, we did have some memorable new releases. Weird-pop princess Billie Eilish dropped a tender, sweet new single for Apple's Share Your Gifts campaign, and Perfume Genius has a heartbreaking new track. Rita Ora's Phoenix, six years in the making, was the ultimate Black Friday gift.
Every Monday, Uproxx will round out the very best pop releases from the week. Settle in with your leftovers and listen up.
Billie Eilish, "Come Out And Play"
Billie Eilish is only 16-years-old, but she's already making huge waves in pop music. After opening for Florence + The Machine on tour, Eilish sold out her own headlining tour months ahead of time. While most of her music is lo-fi, melancholy weird-pop, "Come Out And Play" utilizes the effectiveness of Eilish's soft and youthful tone for something more uplifting. It's a lovely, encouraging song, where Eilish asks the listener not to hide what makes them unique. It might be scary out there, but it's worth it to be who you are out in the world. The song was released along with Apple's Share Your Gifts holiday campaign, and alongside the twinkling, Pixar-esque ad visuals, it's a real tearjerker.
Rita Ora, Feat. Julia Michaels, "Keep Talking"
Ahead of its release last Friday, we'd already heard half of Rita Ora's sophomore album Phoenix. (To be fair, she had a six-year back catalog of singles to choose from.) "Anywhere" and "Your Song" remain bops as they were last year, but the most exciting parts of Phoenix are the new tracks. "Keep Talking" pairs Rita Ora with Julia Michaels, one of the most prolific hit-makers in pop. Over a bouncy beat, Ora and Michaels sing about taking the "high road all the way home" and combating mean gossip. In the past few years, Ora has faced her fair share of criticism. But Phoenix rises despite it all, and "Keep Talking" proves that what doesn't kill you makes a great pop song.
Perfume Genius, "Not For Me"
Following the release of last year's excellent No Shape and a few new tracks, Perfume Genius has released another heartbreaker. "Not For Me" sees singer Mike Hadreas wondering if he is undeserving of love. Over soaring synths, Hadreas is resigned that "ballads are being sung" for everyone but himself. "Not For Me," along with a stunning re-work of the No Shape track "Alan," make up a two-song partnership with W Hotels. Proceeds from the songs benefit Immigration Equality, an organization that fights for civil rights of LGBTQ immigrants.
Mauwe, "Balcony Dreams"
English electro-pop duo Mauwe are back with another throwback, trip-hop influenced future club hit. "Balcony Dreams" shimmers with dreamy, meticulous production. Singer-producers Portia Conn and Jay Rodger's breathy vocals echo one another, doubling the hazy feel of the song. Mauwe sound like the xx and Portishead's love child, if that love child grew up on the dance floor. "Balcony Dreams" follows the release of an EP, The Art Of Letting Go, earlier this year. After an impressive debut, this indie duo are definitely ones to watch in 2019.
Vulfpeck, Feat. Theo Katzman and Antwaun Stanley, "Darwin Derby"
Funk-pop group (and hometown heroes!) Vulfpeck have blown up in the last year or two. In the four years I've been a fan, Vulfpeck have gone from playing small shows in Ann Arbor to filling Red Rocks. These days I can't wear my Vulf t-shirt without getting at least a couple comments from strangers asking me where I got it. Vulf are releasing their fourth album, Hill Climber, in December, and if the pre-released singles are any indication, we're in for more infectious, low-volume funk.
"Darwin Derby" features vocals from full-time band members Theo Katzman and Jack Stratton, alongside frequent collaborator Antwaun Stanley. Joe Dart remains one of the most impressive bassists out there. On "Darwin Derby," they're all showing off, peak Vulf, but still somehow sounding like a group of best pals just playing some music together. The song is so loose and joyfully improvisational, you can't help but smile and tap your feet to the bass line. It's so funky. And low-volume.