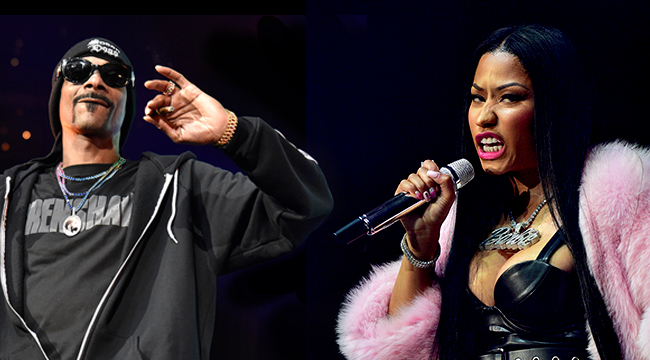 Hip-hop is moving as fast as ever. Luckily, we're doing the work to put the best music in one place. This week there were new videos from Rick Ross, Young Thug, Big Sean, Jidenna, and Schoolboy Q, who also dropped "W.Y.G.D.T.N.S." with Alchemist. There was also new music from Rico Nasty and Quality Control signee 24Heavy, who collaborated with Young Thug on "Longtime." Here's the best of the rest:
Snoop Dogg — "Countdown" Feat. Swizz Beatz
Phonte completely nailed it when he likened Snoop Dogg to Law & Order. He's a hip-hop institution with a hit for every generation in the family. He might have another one in tow with "Countdown," a bouncy track where Swizz Beatz has fun chopping up elements of West Coast gangster rap classics for Snoop to float over.
Lil Durk — "Extravagant" Feat. Nicki Minajj
Lil Durk's Love Songs 4 The Streets II album is here. One of the standout tracks from the project is "Extravagant," a sultry track where Durk does a "freaky song with the queen," as Nicki Minaj hilariously pronounces as the outset.
Ghostface Killah — "Party Over Here"
In recent years, Ghostface Killah has been focused on supplying his fans the gritty crime tales they love from him, but he's vying to get back onto the party playlist with "Party Over Here," the latest single from his self-titled album which will be dropping sometime this month. The video for "Party Over Here" cleverly starts off with his crew celebrating the heist documented in his "Conditioning" video.
Kaytranada — "05 08 Nonesense"
On Tuesday, Kaytranada uploaded a new beat to his Soundcloud page entitled "05 08 Nonesense." But the only thing that's nonsensical is Kaytranada's talent, as this uptempo, synth-driven composition puts on full display. The beat is labeled dance/EDM on his page, but I could see the right rapper giving some bars to it.
Trae Tha Truth — "Slidin"
Trae Tha Truth is a Houston legend, but he opted for a new school Cali vibe with the leadoff single to his upcoming Exhale album. "Slidin" showcases Trae's timeless voice seeping out like smoke over a mysterious, Zay Coronado-produced slapper.
Cousin Stizz — "STP"
Cousin Stizz is releasing his Trying To Find My Next Thrill album on August 14. He gave us a thrilling taste of what to expect with "S.T.P.," a money-over-all anthem complete with a splashy video showing glimpses of the good life.
Don Q — "Crazy Story" Freestyle
Earlier this week, Bronx rhymer Don Q went crazy over the beat to Chicago artist King Von's "Crazy Story 2.0." He delved into his usual fare of big money talk and menacing threats before proclaiming, "some n—-s wanna leave / I wanna get rich and take the hood."
Lil Xan — "Like Me"
Lil Xan dropped off a loosie entitled "Like Me" this week. The three-minute track showcases that fatherhood hasn't mellowed Xan's creative process, as he's comfortably in his bag of debauchery over the hypnotic Kinfolk Jon and Pearl Lion production.
Channel Tres — "Black Moses" Feat. Jpegmafia
Compton artist Channel Tres is trying something different on "Black Moses," a dark, subdued collaboration with JPEGMAFIA where the two take turns packing in social commentary around rewind-worthy one-liners like JPEG's "I pistol whip a n—a dressed like I caught the bouquet."
Pell — Skyfall
New Orleans artist Pell dropped the video for "Skyfall," the latest single from his Gravity album. The upbeat ode to love was perfectly paired with a fun video that showcases Pell and his friends hanging out and having a good time.
David Wolves — "Rapture"
Orlando-based artist David Wolves released his debut single just four months ago, but he already sounds plenty seasoned. He recently dropped "Rapture," an inspirational, electrohop single where David Wolves culls through the ever-relatable feeling of "living life in a cycle," before imploring listeners to "look alive" in the face of the doldrums.
Some artists covered here are Warner Music artists. Uproxx is an independent subsidiary of Warner Music Group.