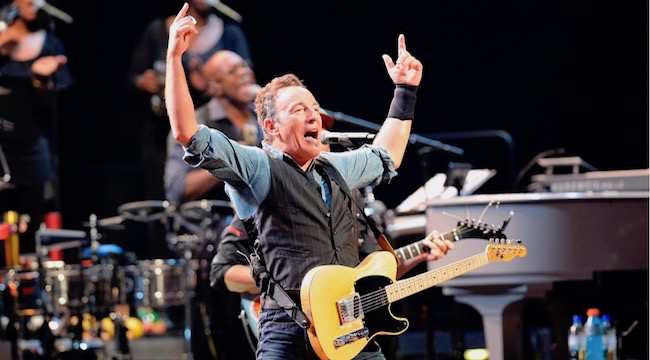 Long Island-native Billy Joel entered uncharted territory last night, performing his 100th show in the historic confines of Madison Square Garden in New York City. To help celebrate that staggering achievement, "The Piano Man" decided to surprise his audience with a special appearance from the other hottest ticket in the Big Apple at the moment, "The Boss" himself, Bruce Springsteen.
Rather than try and make Bruce play a solo on one of his own songs like "Goodbye Saigon" or something, Joel took the backseat to his friend, gamely playing along to two of Springsteen's most beloved hits. They started out with "10th Avenue Freeze-Out" with Bruce performing while sitting atop Joel's spinning piano, before slamming the crowd with a buoyant rendition of his breakout anthem "Born To Run."
Both Joel and Springsteen have been the toast of New York City's live entertainment calendar for quite some time now. Joel got started first, launching his monthly performance schedule at MSG starting back in 2014, with Springsteen following suit just last year with his highly acclaimed, one-man Broadway show, which is coming to Netflix at the end of 2018. While it's yet to be seen whether either man wants to continue with their respective residencies, at the present time, both singers are slated to keep playing until December.
You can watch Billy Joel and Bruce Springsteen's extended jam session in the video above.