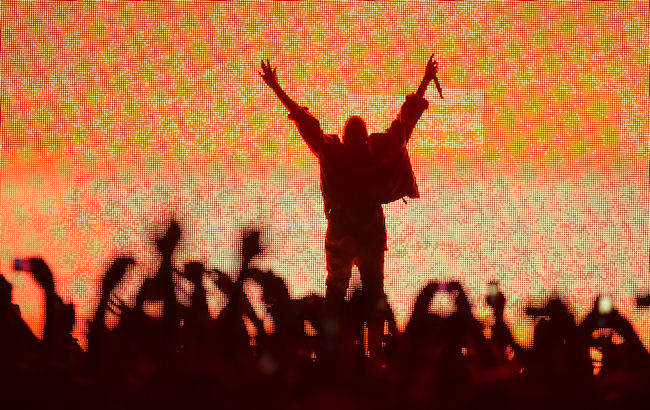 Back in 2002, on a farmland in Manchester, Tenn., a new American tradition was born. In the years that followed, thousands and thousands would flock to it, hundreds would perform at it, the press would fawn over it. Almost everyone would wonder, what the hell does the name mean?
This new American tradition is the Bonnaroo Music and Arts Festival. Originally meant to showcase mostly jam bands and folk acts, Bonnaroo has grown and considerably expanded its war chest. The festival now delivers fans massively diverse lineups consisting of practically every musical genre there is, falling just short at Pirate Metal. Paul McCartney, Kanye West, Jay Z, The Strokes, Bruce Springsteen and Pearl Jam have all played the festival. My Morning Jacket has played Bonnaroo so many times (seven, including this year) that they might as well look to buy property on the festival grounds. Lucky for them, they would know the owners. The festival's organizers, Superfly Productions, bought a substantial chunk of the land where the festival takes place in 2007, snagging all of the performance areas and a good majority of the camping and parking locations. A main stage was permanently installed in 2010.
Bonnaroo has seen attendance rise every year, from roughly 70,000 people in 2002 to more than 90,000 in 2014. This year's festival features Billy Joel, Kendrick Lamar, Mumford and Sons, Florence + The Machine, Alabama Shakes, Deadmau5, Spoon, Hozier, and many more. A lot of this year's big guns are making return appearances to Manchester, having started out at one of the tent stages and now taking on the main stage.
But what does the word Bonnaroo actually mean?
"Bonnaroo" was a word made famous by New Orleans' singer, Dr. John, when he released his album Desitively Bonnaroo in 1974. It's Ninth Ward slang for "a really good time."
The festival's 14th incarnation kicks off this weekend, and with that in mind, we look back at the festival's history and some of its best moments.
2002
The festival's first year was definitely heavy on jam bands, with Widespread Panic, Phil Lesh & Friends, The String Cheese Incident, Ben Harper & The Innocent Criminals, and Trey Anastasio anchoring the bill. If you looked close enough, you could someone like Norah Jones playing one of the festival's smaller tent stages. But we're going to highlight this Widespread Panic performance.
2003
Widespread was back, The Roots made their first appearance, and The Dead — a band comprised of surviving members of the Grateful Dead — performed. Still, the 2003 lineup was highlighted by James Brown, as well as Neil Young and Crazy Horse.
2004
Two bands that would become heavyweights in the years to come (The Black Keys and Kings of Leon) made their Bonnaroo debuts, and, like in 2003, another legend performed: Bob Dylan. Dave Matthews, who was plugging a solo album at the time, performed with a band of buddies, as did Wilco, Primus and Ani DiFranco. The festival was still jam band-centric, but seedlings of expansion into other genres was starting to show.
2005
Dave Matthews said goodbye to his band of friends and brought his actual band with him. Kings of Leon returned, too. This was the year Bonnaroo added some comedy to the mix with the Bonnaroo Comedy Theatre, headlined by Jim Breuer. Hip-hop also decided to show up with acts like De La Soul and RJD2, and the festival got a little louder with the Mars Volta performing.
2006
Radiohead was the star of the 2006 festival, blowing people's minds with a 28-song set. Tom Petty and The Heartbreakers, Beck, Death Cab for Cutie and Bonnie Raitt also performed, but 2006 was all about Radiohead.
2007
Up until this year, the Bonnaroo SuperJam, in which random musicians are brought together to play a late night set, had been lose and jammy. Members of Phish, ex-pats from New Orleans, and bluegrass folks had anchored past years. In 2007, the reigns were handed over to our man Questlove, who brought with him Ben Harper and John Paul Jones of Led Zeppelin. The result was an action-packed set of incredibly loud rock 'n roll.
2008
With bands like Pearl Jam, Metallica, Jack White's Raconteurs and blues legend B.B. King playing the 2008 festival, there would be more than enough to talk about. But My Morning Jacket's four-hour, rain-soaked set nearly stole the weekend, especially their roaring version of "One Big Holiday" featuring Kirk Hammett of Metallica.
Like with most things he's involved with, when it comes to Bonnaroo 2008, all roads lead to Kanye West. The inclusion of West marked a big moment for the festival, the first big-time hip-hop act to headline Bonnaroo. Unfortunately, there were problems. They started with the stage he was slotted to perform on, which wasn't right for his stage setup. West was moved and scheduled to then play after Pearl Jam's set. H roadies had issues getting things together, however, and West went on over two hours late, not starting until 4:30 a.m., prompting chants of "F*ck Kanye," which has since become a popular rallying cry at Bonnaroo.
2009
No one knew it at the time, but Bonnaroo 2009 would be the last time the Beastie Boys would ever perform live. A month after their career-spanning set, Adam "MCA" Yauch was diagnosed with cancer. At the time, it was all systems go, and the Beasties rocked it, bringing out Nas to perform with them.
Other performers in 2009 were TV on the Radio, the Reverend Al Green, Phish and Bruce Springsteen & The E Street Band. A highlight of the festival was Springsteen sticking around on Sunday to hop on stage for a couple tunes with Phish.
2010
By 2010, Bonnaroo was starting to become the cultural bohemouth it is today. Jay Z headlined, with everyone seemingly hoping to erase the lingering stink of Kanye's 2008 performance.
The Black Keys were now a main stage act, and the festival was noticeably more diverse than in its early years, with bands and acts like Weezer, The Melvins, GWAR, Clutch, and Japandroids joining top-shelf acts like Dave Matthews Band, Damian Marley and Nas, The Zac Brown Band and John Fogerty. However, everything was just window dressing for the festival's main event… a 90-minute set by Stevie Wonder, which had even Jay Z in awe, who said on stage, "Wait until I tell my mama Stevie Wonder stuck around for my set!"
2011
Hip-hop continued to make its presence felt at Bonnaroo, with Eminem, Wiz Khalifa, and Lil Wayne among the bigger names at the festival. Mumford and Sons, Childish Gambino, and Gary Clark, Jr. performed, and My Morning Jacket returned to Bonnaroo for the first time since 2008.
Dr. John was on hand in 2008, joined by the Original Meters and Allen Toussaint, and performed the '74 album Desitively Bonnaroo.
The force known as Arcade Fire also came to Bonnaroo and filled the bellies of concert-goers better than a Haitian-themed restaurant in Canada ever could.
2012
Once again, our man Questlove was put in charge of the SuperJam, and he delivered once again. No barn-storming rock 'n roll this time, though. In 2012, he went to funky town, and with him came D'Angelo, who emerged from seclusion to perform. The set would become the kickoff of the D'Angelo comeback we had all been waiting for.
The 2012 festival brought the Red Hot Chili Peppers to Tennessee, as well as The Beach Boys, The Roots, Kendrick Lamar and Foster the People. It also introduced the world to the one and only Alabama Shakes.
2013
Ladies and gentlemen, Paul McCartney.
Bonnaroo also continued to court hip-hop, with Wu-Tang Clan, Macklemore & Ryan Lewis and Action Bronson all performing. In addition, Wilco, Grizzly Bear, ZZ Top, Bjork appeared, and Tom Petty and The Heartbreakers returned. Jim James of My Morning Jacket was given the keys to the 2013 SuperJam and brought the bus right into a crazy world of funk, soul, R&B and New Orleans jazz, joined by John Oates, Brittany Howard of Alabama Shakes, R. Kelly and more.
2014
Everyone deserves a second chance, and Kanye West got his in 2014; an opportunity to redeem himself after his disastrous 2008 performance. He fared much better the second time around. 2014's lineup featured Lionel Richie, Vampire Weekend, Elton John, Skrillex, Mastodon, Chance the Rapper, and a SuperJam led by Derek Trucks of the Tedeschi Trucks Band. It also included a raging, nuclear bomb of a wild rock 'n roll set by Jack White, who most likely won't be returning to the friendly confines of Bonnaroo anytime soon. Gone, but not forgotten.