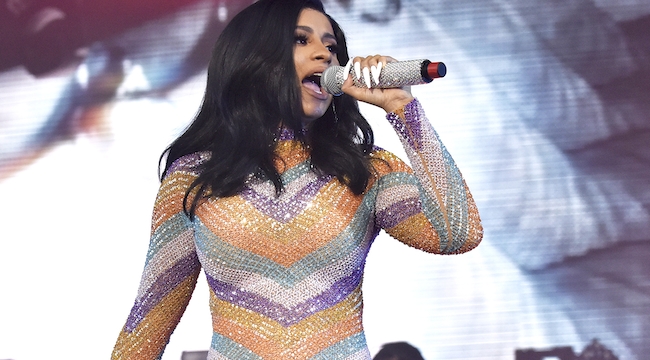 After attending 20+ different festivals around the world for work, it gets easy to take the experience for granted. Mostly, because many festivals end up following pretty much the same format: Drop into a large grassy field somewhere outside a major city, explore the grounds a bit, pick up your credentials, go see some bands. Repeat three days in a row; try to synthesize the experience immediately afterward. Move on. And while that format may seem pretty standard by now, it's easy to forget that a lot of the live music events that are popular today adopted it from one of the OG events — Bonnaroo. And while plenty of places have tried to replicate the ideal large, grassy field format, no one does large and grassy quite like Tennessee.
Spread across a sprawling several acres in the backcountry of Manchester, Tennessee — a solid 70 miles outside of Nashville, so buckle up — the journey out to "the farm," as longtime Roo attendees affectionately call the grounds, is half the fun. Caravaning from all over the South, and other regions, too, a major proportion of Roo attendees embrace the old school approach of camping while they're at the fest, eschewing nearby hotels or a long drive to the city after the last set is over.
With the majority of fans sleeping, eating, and living on the grounds, as well as watching music there, the communal aspect of the fest is already tenfold that of, say, Governor's Ball, Outside Lands, or Lollapalooza. And while Coachella is another well-known fest that offers camping, the spillover of celebrity culture, day parties, estates, and hotels mostly eclipses any feeling of camaraderie for that event's overall culture. At Bonnaroo, the camping — bare feet, campfire smell, bedhead and all — are welcome parts of the experience, not something to be avoided.
Bringing this sense of shared ethos into the crowds at the shows means a sense of respectfulness I've never encountered elsewhere. Instead of shoving past without care, people respected each other's space, and mine, with a kind of tenderness I've never associated with festivals. The event's own long-standing motto, "radiate positivity" is easy to feel jaded about, mock, or underestimate, but once you're immersed in it, this strategy is irresistible, and a little bit magic. This generosity of spirit was present everywhere at the festival, from the artsy, swaying crowd at Solange on Friday night, to the gleeful turn-up of Post Malone's headlining set on Saturday, and the gentle, devoted dancers at Phish, closing out Sunday evening with their second set of the festival.
More bluntly: The festival itself had an aesthetic that translated across performers — and therefore across generations, demographics, and status levels — proving the event's own personality has more influence on the experience than any artist who might play it. This is a net positive, both for the fest (obviously), but also for attendees; it offers something special amid a market that's so saturated, and so homogeneous, it can be easy to lose track of what separates festivals from each other.
So even though there was a little overlap with other major fests of the year, like Childish Gambino's headlining set recalling his Coachella slot, the artists themselves also behaved in a different way on The Farm. For instance, Kacey Musgraves clearly didn't enjoy her set at that event, but would not stop crowing about how much she loves playing down in Tennessee, unleashing a level of passionate, joyful playing that was next level, even for one of the most acclaimed artists of our moment (and potentially, this whole era).
After unfortunately needing to cancel her Coachella set because of production delays, Solange made it more than clear exactly what had required that extra time with a spectacle of dance and stagecraft so essential to her artistic expression that listening to When I Get Home without those visuals now feels like listening to Gaga songs on the A Star Is Born soundtrack without having seen the film. If you get the chance to her this performance at any point during this tour, absolutely take it, as it's potentially the best live show I've seen since attending her sister's Formation tour, back in 2016.
Even more enjoyable was her mid-set greeting: "All right Bonnaroo, we're gonna celebrate the excellence that is Blackness. And if you're not Black, you're gonna celebrate that shit with us." This, too, felt like an extension of the generosity that Bonnaroo runs on, an invitation for the whole crowd to join in, even while keeping her own priorities front and center.
Speaking of inclusion, the Pride Parade that fed directly into Kacey Musgraves' golden hour set on Saturday was another highlight, bringing the hippie, grungy members of the fest into harmony right alongside glammed out drag queens imported from Brooklyn's House Of Yes, and, of course, attendees decked out courtesy of the Hayley Williams-curated Sanctuary Of Self, an oasis of self-care and complimentary beauty treatments set up smack in the middle of a backwoods festival. Which goes to show, if you've been camping in the same place for long enough, even glam can make its way into the tents.
There's still much I'm leaving out, like Juice World raging to a late afternoon crowd, Brandi Carlile belting out "The Joke" with ferocity after dedicating it to her all-female, decidedly queer family, The Lonely Island bringing humor and talent to their packed, post-midnight set, Beach House's late night tent performance that felt intimate and enormous at the same time, or Cardi B soldiering through a wardrobe malfunction to continue playing for her rabid fans decked out in a robe.
And of course, like any festival, there were occasionally frustrating moments. Trying to choose between Beach House and Solange was a gut-wrenching decision, and seemed like very poor planning to put those two set times head to head — the overlap between their fanbases is very large. And while the two largest stages, the What and the Which had excellent viewing and lots of space for fans, the other smaller locales, the That and This tents, were constantly overflowing and offered little space for fans to actually see the performers, even if they had opted for wristbands that offered more exclusive viewing access. Sometimes it felt like the bands who weren't performing on those top-tier stages had far less chance of being seen and heard, which was disappointing when it included quickly-rising indie acts, or music veterans who just weren't as big as other artists on the bill.
But all in all, the whole festival was reminiscent of what's going on in popular music, a finger on the pulse of what fans most want to see, but always spiked with a dash of Tennessee's own flavor, like Maren Morris drawing a bigger crowd than the rapper booked in the same time slot, or a two-hour Grand Ole Opry set on Thursday that saw Steve Earle and Ricky Skaggs performing classics together to an overflowing crowd. At the end of the day, a festival that can span from a Pride Parade, to Ricky Skaggs, to Solange, all while maintaining its own strong sense of identity, is one that we'll still be talking about for many years to come.
Uproxx was hosted for this event by Bonnaroo. However, Bonnaroo did not review or approve this story. You can learn more about the Uproxx Press Trip policy here.