In a now-deleted but oft-quoted tweet, revered critic Jessica Hopper once asked to "replace the word 'fangirl' with 'expert' and see what happens." It was a response to how young women are often mocked for the fervent passion of their fandom, how "fangirl" is usually used dismissively, and how the music that these women love so completely is disregarded and not taken seriously, as is their extensive knowledge about it. But with examples ranging from The Beatles and Justin Timberlake to Harry Styles and The 1975, young women have often been at the forefront of musical trends, first in line and the last to leave for what would become huge cultural touchstones. And in 2018, it feels like another one of those moments is here: BTS.
Even if you aren't keen to the latest pop sensations, there really isn't an excuse to be oblivious to BTS at this point. Their 2016 album, Wings, debuted at No. 26 on the Billboard 200, becoming the highest charting record ever for a K-pop group in America, while their 2017 album, Love Yourself: Her, hit No. 7 and became the highest US charting album for an Asian artist ever. Those records continued to be shattered this year, with Love Yourself: Tear and its repackaged version, Love Yourself: Answer, both hitting No. 1 in 2018, and that's not even mentioning their record-breaking status in their home country.
But while the numbers are impressive, the story of BTS is particularly interesting in how they are accomplishing it. For one, they've refused to switch from their native Korean to English, and though there are some hooks and English words thrown around, their music is still predominantly Korean. But in a post-"Despacito" world, that seems to matter less and less in the US, with foreign language successes now coming across less as a novelty and more as a possible glimpse into the future. Many K-pop artists before BTS had tried to break into America by compromising their sound or their language and failed. BTS is succeeding at simply by being themselves. As member RM told the LA Times earlier this year, the suspicion is that their core fans "won't like that much if we sing in other languages," that their Korean language was a huge "part of their identity."
Launching their American tour in Los Angeles last week, the boy band sold out four nights at Staples Center, an arena run that puts them on the same level as Taylor Swift, Drake, and Bruno Mars. It's enough tickets sold that basically means they could play a stadium if they wanted, and that very well might be the case the next time they visit LA. But even with their popularity spreading and their reach seeming larger than ever, Sunday night's final performance still felt remarkably insular.
And that seems like the point, that these shows are gatherings for the so-called BTS Army, a place where the vast majority of attendees arrive at 3:30 PM door opening for the 6 PM start time, armed with their trusty (and official) BTS light stick version 3.0, and ready to commune with their like-minded sisterhood. It didn't matter that many of the arena's bars and more boutique dining options didn't even bother opening for the night, because even 30 minutes before the show began, the concourses were virtual ghost towns, most merch was sold out, and the audience was already screaming at the top of their lungs while being entertained by BTS music videos as a warmup.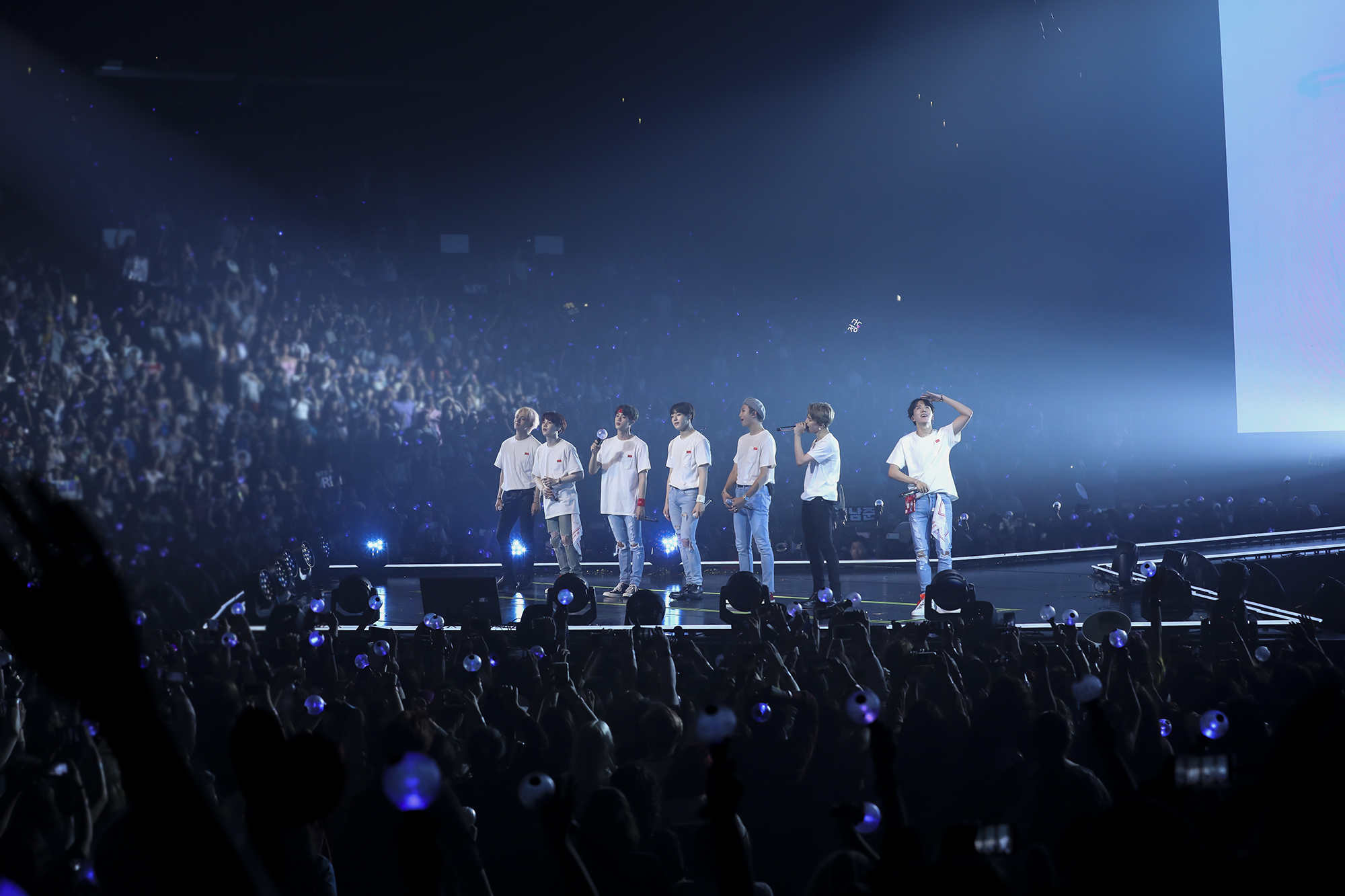 That screaming wouldn't cease throughout the two-hour performance, to the point where it's hard to for me to remember a louder concert experience than BTS. The screams were contagious, usually spawned by one of the fan-favorite members appearing on the screen, or some kind of affectionate demonstration from the members to each other or the audience, or even just a part of a song that particularly bangs. Throughout the arena were handmade signs for the band, with some fans lining theirs with Christmas lights in true Korean tradition. And though Korean fans were well represented — the Los Angeles area has the largest Korean-American population in the US by far — it was amazing just how multicultural the makeup of the audience was, and how little the language barrier deterred anyone from singing along. It's a common thing to witness traveling outside the US, where English-language songs have no trouble finding an audience, but to hear thousands of young women of all different backgrounds faithfully shouting, chanting, and singing in Korean felt, well, revolutionary.
The thing about BTS is that their music speaks the universal language of pop trends. Even if you can't understand exactly what the lyrics are saying, you can certainly recognize the trap-infused delivery of the mammoth "Fake Love" or spot The Chainsmokers-esque saw-synth sounds on the Jungkook solo number "Euphoria" (an influence that makes more sense considering that Chainsmoker Andrew Taggart has produced for the group). Pop music trends circle the globe, and more than any other boy band that's come before them, BTS are savvy enough to break free from the traditional and safe alternating-verse mold and produce music that reflects the times they are in. The fact that they write and produce much of their own music certainly has something to do with this.
As for the show, it was the enormous, multi-sensory experience that is expected from the biggest pop acts. Fireworks, flames, confetti, and streamers all came into play, as well as plenty of colorful demonstrations courtesy of the thousands of light sticks. Each of the seven BTS members was given his own solo moment, with Jimin showcasing his smooth and sultry inclinations while J-Hope established his hip-hop bona fides. Between every couple of solo numbers the group would reconvene to make sure their audience was appropriately engaged, ultimately tying together an expertly woven program.
And the experts that gathered to take it all in, who wouldn't be phased by a doting father recording their every reaction on his iPhone or demonstrate the slightest bit of self-consciousness at their own highly-emotional and unfiltered responses to every acknowledgment, they undoubtedly had the time of their lives. They likely don't consider the fact that their fandom could virtually move mountains, that their taste is setting the bar for years to come. For their fans, BTS is a shining light that adds flavor to their lives, that helps navigate a period of life that everyone remembers equally for the hardships as they do for moments of bliss. Little do they know that their fandom, that their expertise might just be changing the world, ushering in a period where music from around the globe all stands a chance at finding a home in the coveted American lexicon.