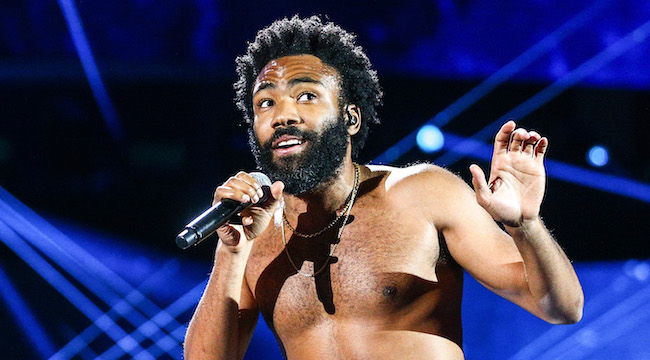 Coachella weekend is here and along with all the highly-anticipated musical performances comes the debut of Donald Glover's feverishly-awaited yet somewhat mysterious film, Guava Island. Ever since the trailer for the film debuted at Glover's second Pharos festival, fans have wondered about the project, about which very little is known. What we do know, however, can be found below, in order of each bread crumb in the long, winding trail that brought us here.
August 2018 — Filming Begins In Cuba
The first indication of a project cooking, was a photo of Rihanna and Glover hanging out in Cuba. A Spanish-language website, Vistar, confirmed that the pair were hanging out on the tiny island to film Guava Island. Further reports confirmed that Glover's Atlanta collaborator Hiro Murai was also directing, while emerging stars Letitia Wright of Marvel's Black Panther and Nonso Anozie from Game Of Thrones would star along with Rihanna, who made her acting debut in 2012 with Battleship and most recently appeared in the heist film Ocean's 8 in 2018.
November 2018 — The First Trailer Surfaces
After using his first Pharos fest to debut the first three episodes of Atlanta in 2016, Glover took the opportunity provided by his second to screen the first trailer for Guava Island, which naturally made its way online via a fan-shot video on social media. That video — and others like it — remain the only footage of the film available online, further lending to its air of mystery.
April 5, 2019 — Spotify Ads Promoting Guava Island Surface
The next tidbit to surface was an ad on Spotify, which featured Glover singing before concluding the clip by saying "I'll see you at the show, everyone." A Guava Island graphic appeared on the ad, reading "Saturday Night, April 13" as well, leading observers to conclude that the film would release after his headlining performance as Childish Gambino at Coachella on Friday night, April 12. Clicking the ad merely brought users to the Rap Caviar playlist, which was now sponsored by Guava Island.
April 8, 2019 — Streaming Announcement
This past Monday, Pitchfork reported that Guava Island would simulcast to Coachella's livestream during Childish Gambino's performance after the festival announced its "Coachella Curated" program with Youtube.
April 10, 2019 — Release Details Revealed
On Wednesday, Vanity Fair revealed the details of the film's release, reporting that it would become available to stream for free for 18 hours via Amazon Prime, as well as sharing details of the film's story and production
In Vanity Fair's exclusive, the head of Amazon Studios, Jennifer Salke, stated that she purchased the film after only seeing a five-minute sizzle reel via a one-time viewing link. The film, co-produced by Glover's frequent collaborator Fam Udeorji and Carmen Cuba, is described as an hour-long and "music-driven," which is what many expected given the involvement of two of music's biggest stars. The article also says the film will stream via popular video game streaming site Twitch once at 5 PM PST on Saturday.
Plotwise, Guava Island is said to be inspired by both the Brazilian gangster drama City Of God and Prince's debut film Purple Rain. It was written by Stephen Glover, Donald's brother, and follows Donald as a local Cuban musician trying to throw a festival on the tiny island. Given the last time someone tried something similar, there's plenty of material in the premise for a riveting movie (or two), so the idea is already rife with built-in drama.
April 11, 2019 — The Film Premieres
On Thursday, a select group of viewers was able to attend a private screening of the film, which revealed more plot details, such as the names of Glover's and Rihanna's characters — Deni and Kofi, respectively — the overall storyline, and the fact that the film features performances of "This Is America" and "Feels Like Summer," Glover's big singles from 2018. Attendees' phones were stashed for extra secrecy, so it doesn't appear that any new footage will be seen until it airs during his performance.
These days, more and more musicians have filmed their own mini-movies in an effort to debut new albums or promote some aspect of their brands, but rarely have those plans been executed with so much secrecy. The only previous moment comparable is the release of Beyonce's surprise project, Lemonade, which landed in 2016 like a pro-Black atomic bomb. That's the effect Donald Glover is said to be chasing with Guava Island and so far, it appears to be working.
Since Guava Island is coming from a trusted brand in Donald Glover, who has repeatedly surprised and entertained with his creative endeavors from Awaken! My Love to Atlanta's infamous "Teddy Perkins" episode, it looks like the whole world will definitely be tuned in come Friday night.