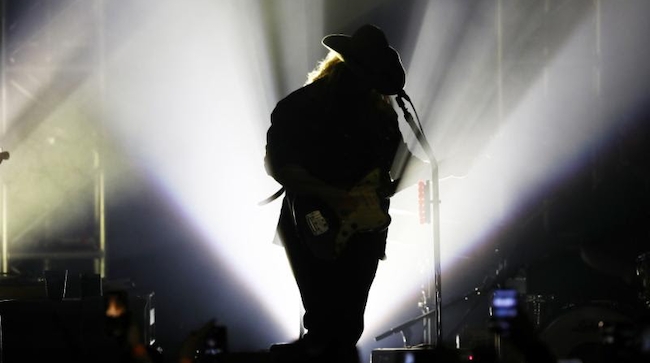 Though he went 0 for three at the 2019 Grammys on Sunday night, Chris Stapleton had plenty of reasons to celebrate as he closed out a set at the Hollywood Palladium during a private show for Citi Sound Vault. As part of a series of four Grammys showcases hosted by Citi and Live Nation, Stapleton was joined for the majority of his performance on Sunday by his very pregnant wife, Morgane Stapleton, who he lovingly serenaded during the band introduction portion, letting the audience know that she was carrying child number five for the couple.
Which isn't actually that surprising if you've followed the Valentines-ready love story these two have been embroiled in for the greater part of the last two decades, a story of love and musical collaboration so compelling The New York Times did a piece on it. And, when the pair are acting out its daily minutia onstage, well, it's the kind of partnership that makes five kids seem like a blessing, an extension of their feelings for each other, and not an unwieldy burden.
Domestic matters aside, these two bringing their chemistry on tour has long been an, ahem, staple of their live show, but it was further complemented on Sunday by the addition of country producer superstar Dave Cobb, who performed as part of the backing band. Stapleton made a point of noting that despite his own rough go at the awards show, Cobb had picked up three wins of his own, as a co-producer on Brandi Carlile's massive album, By The Way, I Forgive You, which won Best Americana Album, and for collaborating on one of its key songs, "The Joke" which picked up two wins for Best American Roots Song and Best American Roots Performance.
Cobb has collaborated with Stapleton time and again as well, namely producing his 2015 breakout and debut, Traveller, the record that got him up on the stage for an enormous private show like the one on Sunday night, and its two follow-up records, From A Room: Vol. 1 and From A Room: Vol. 2. The latter, Vol. 2, was up for Country Album Of The Year, and one of its tracks, a Kevin Welch cover called "Millionaire" was up for Best Country Solo Performance, along with a third nomination for Stapleton in the Best Pop Duo/Group Performance category for his stirring hit with Justin Timberlake, "Say Something."
While the Timberlake collab didn't come up during the band's set, "Millionaire" popped up pretty early, along with a couple other choice cuts off Vol. 2, like "Midnight Train To Memphis," which is not a Stapleton original, but a classic that his old bluegrass band, The Steeldrivers, used to perform and included on their 2008 self-titled album. Kicking off the show with that track was a subtle callback to his old band, as well as a way to incorporate his newest record right into the very beginning of the set. About midway through, he played my personal favorite "When The Stars Come Out," a Traveller cut with a stunning line for Los Angeles — "And one of those LA nights / When the stars come out / Oh, the stars come out and shine."
That one is a deep cut, though, and the amped crowd responded more vigorously to hits like "Fire Away," "Broken Halos," and another cover, the David Allan Coe-penned "Tennessee Whiskey" which has also become something of a hit for Stapleton, who was born in Kentucky but currently calls Nashville home. (Morgane is from Georgia.) Overall, though, it seemed like different factions of the crowd had their own favorites, as the case often is with an artist who has the breadth in scope like Stapleton does. Some cheered like crazy for "Might As Well Get Stoned," others loved "The Devil Named Music," and there was a mini sing-along for "Whiskey And You," proving both that everyone has their own favorite vice, and that Traveller may still be the crowd favorite when it comes to Stapleton's discography.
If anything, the show was proof that even when the Grammys turn their attention elsewhere, artists who have their own devoted followings, whose fans know their music word for word, really have already won. When Drake took the stage to proclaim that sentiment on Sunday night, the show cut him off, and though he was speaking to the sometimes niche audiences in hip-hop, the same sentiment applies to country music, too. In that context, it's arguably a way that rap and country are connected; rapper Travis Scott was also up for three awards and went without a win, and also issued a stunning performance during Grammys weekend. The parallels arguably put Scott and Stapleton within one degree of separation from each other, united by the industry standard's failure to acknowledge just how important these two artists are.