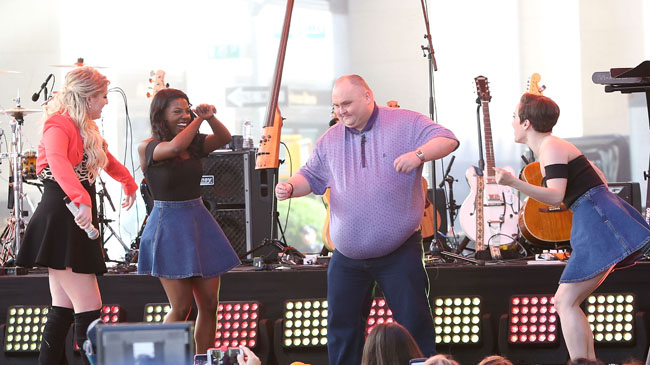 Saturday night was the big night for the man who was body shamed online for dancing back in March. You might remember Sean O'Brien from the swell of support that grew after a photograph of him ended up online as a source of mockery. The search for #DancingMan led to thousands of women, particularly Cassandra Fairbanks, hunting for O'Brien in the hopes that he would attend a dance party in his honor.
O'Brien agreed to attend and many others pledged their support, including Andrew W.K., Pharrell and Moby who agreed to DJ the event when it happened. Last night, after all the planning and all the support, the party finally happened and ABC news covered the event:
The massive Hollywood dance party was the brainchild of two Echo Park women who wanted to turn something negative into a positive. The London-native became a viral sensation after a cyberbully posted photos making fun of him out on the dance floor, but support for O'Brien on social media quickly took over.'

Dance organizers launched a campaign to bring the 47-year-old to Los Angeles to dance with them and hundreds of others.

"I've been really overwhelmed by the amount of good I've seen from the world in this," dance organizer Hope Leigh said.

"This is amazing," dance organizer Cassandra Fairbanks said at the party. "It really shows power of people. If everybody comes together to do something nice look what you can accomplish."

Celebrities including Pharrell and Moby performed for the crowd, joining the fight against cyberbullying and body shaming. Monica Lewinsky also joined the push for acceptance.
Now before we got to this moment, O'Brien's party actually started in New York on The Today Show. He got a chance to dance around with Meghan Trainor after an interview, sorta like a pre-party warm up:
But that paled in comparison to the main event, kicked off by Monica Lewinsky:
And with Moby on the turntables:
The entire night was captured by those in attendance on social media and it's honestly pretty damn cool that it all managed to come together the way it did. Turning a negative into a super-positive.
They even managed to raise some money against bullying:
Take a look at some of the moments from last night's party. Just another example of the power the Internet allows:
https://instagram.com/p/3DRSo5soDM/?taken-by=pentagonista
(Via ABC 7 / Mashable / KatyDolle / CassandraRules)