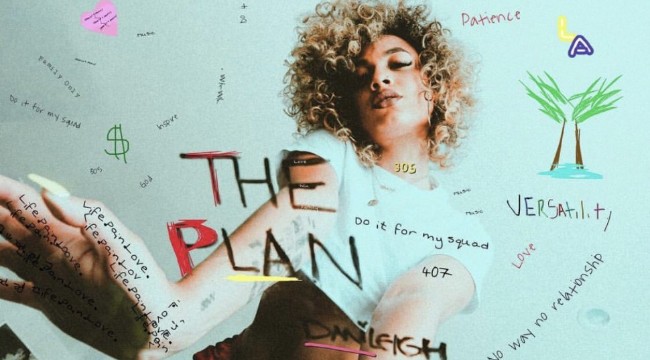 DaniLeigh's eclectic debut, The Plan, is a fascinating study of the promising new directions hip-hop music is headed in, one of the most innovative of 2018. This 12-song project includes genre-twisting combinations of whispery R&B melodies and jaw-jutted, confident raps, and rest assured, The Plan ultimately find its home comfortably within the realm of hip-hop alongside crowd-pleasing projects from Migos and curated experiences like Astroworld. That it's the 22-year-old's debut album is all the more impressive.
The polish on display on The Plan is no doubt at least partially owed to the singer/rapper/dancer's early association with the legendary Prince, whose fingerprints are likewise all over another innovative hip-hop soul mashup from this year from Janelle Monae. DaniLeigh, a South Florida native who moved to LA at 16 to pursue a career in the business, met the Purple Rain creator while dancing in music videos and using her distinct vocals as a musical "secret weapon" to earn invites to recording sessions. He took a liking to the young singer, putting her in charge of the direction on his 2014 video "Breakfast Can Wait" at just 18, and shepherding her budding music career.
His influence is readily apparent; while The Plan's combo of trunk-rattling, boldly delivered raps and feathery midnight soul, the confidence with which Dani glides between the two is the result of a nurturing mentorship that is rare in much of today's pop music. There are a great many stars of Dani's age, gender, and aesthetic who are guided toward bright, synthetic dance pop, who are encouraged to glam-up their presentation, to sell sex, and suppress their natural creative instincts for freaky lyrical experimentation and musical risks. In hip-hop, this extends into wardrobe decisions, collaboration choices, and more. But for DaniLeigh, her creative personality remains distinct and her most charming, affecting weapon.
For instance, the album's first single, "Lil Bebe," released some months after her Summer With Friends EP showcased a willingness to play around with genre conventions, similarly displayed an even greater ability to manipulate the tools of the trade, balanced by a lighthearted touch that showed Dani doesn't take herself quite as seriously as the usual expectation of the grim-faced rap star. She's having fun with this, as displayed by the cheerful "Lil Bebe Challenge" she issued on social media shortly after the song debuted. In the official video, she goes one further, milly-rocking alongside some of her younger, most exuberant fans and beaming for the camera with a custom grill and all.
What makes "Lil Bebe" stand out is Dani's distinctive delivery; where many rappers in today's Soundcloud-influence age feel the need to be either melodic or rhythmic, switching back and forth as the demands of the song structure dictate, Dani splits the difference, somehow doing both at the same time. She repeats the feat on "Don't Mean Nothin," "Family Only," and follow-up single "Blue Chips," using her singer's voice to accent and modulate her sing-songy raps. When she goes full-on rhythmic such as on the dismissive "Can't Relate" featuring YBN Nahmir and YG, she is as adept at skittering over the beat as her guests, and just as skillful slipping into an airy singing voice over the Isley Brothers-sampling "Do It To Me," the most obviously traditional R&B song on the set (she has a real knack for updating old-school R&B hits, as "All I Know" worked a sample of Aretha Franklin's "One Step Ahead" to outstanding effect on Summer With Friends).
Between Dani's gift for lilting, swaggering raps and catchy, hypnotic hooks, The Plan is exactly the sort of project that becomes easy to revisit and repeat over and over. It's landing in the middle of an era where albums have become nearly as disposable as the quirky singles that make viral video bait and vanish after the course of a few months in the spotlight. DaniLeigh may have made her name on a similarly viral single, but she's got plenty of the songwriting chops and compelling charisma to stand out from the pack. When she's got a plan, she follows through, paying attention to all the details. When it comes together the result is nothing short of stunning.
The Plan is out now via Def Jam Records. Get it here.