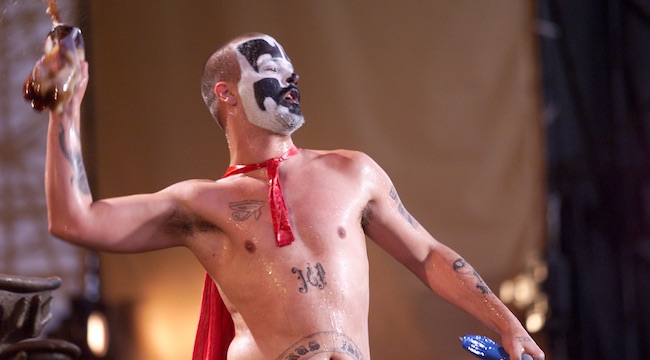 In 2018 we're living in a world where the beloved, loyal fanbase of Insane Clown Posse has fallen under attack. The Juggalos, long seen as a devoted group of music-lovers united by their love of ICP and Faygo, have been classified as the FBI as a gang, a totally unnecessary and extremely questionable move that reeks of classism and bias.
Of course, Juggalos themselves have been standing against the ruling, even going so far as to march in Washington, DC to protest. If you're a Juggalo, and you're reading this, know that Uproxx stands in solidarity with you.
Particularly, one of our own staff members, Bill Hanstock the Senior Editor of our sports section, is a massive Insane Clown Posse fan himself. Looking around the media landscape, he noticed that there was a gaping hole in the podcast world when it came to ICP content, especially given the way the group is being persecuted by the government. Spurred on by this, and his own love for the music, Hanstock and two of his friends who are also ICP fans, whom we'll just call Steve and Ryan for now.
The first inaugural episode of their podcast, The Dim Carnival, kicked off last week, but they're back this week with the second installment. In their own words, the podcast is "Three estranged Juggalo dimwits discuss the music of the Insane Clown Posse." What more could you possibly want? Well, to be a little more specific, the central conceit of the podcast is a chronological journey through the band's entire catalog, with an in-depth discussion about the sociopolitical aspects of the tracks and their historical context. The guys kick things off with the first album, Carnival Of Carnage, which came out way back in 1991, and is, in Bill's words, "a huge, weird, uncomfortably icky trip."
Listen to their second episode below and check out the inaugural one plus more info here.
[protected-iframe id="dae0cc79fd54199bb20d40e643ae43df-60970621-76566046″ info="https://www.podbean.com/media/player/52jsd-824eaf?from=site&vjs=1&skin=1&fonts=Helvetica&auto=0&download=0″ width="100%" height="315″ frameborder="0″ scrolling="no"]