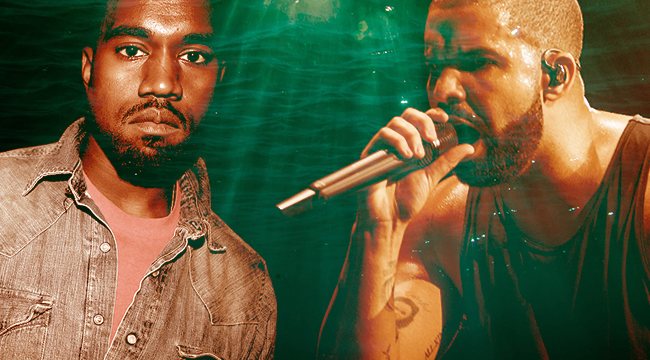 Rappers are sensitive. On some level, we all know this. The garish tattoos and the stoic ice grills are just a put-on, a showy facade designed to reinforce established, market-tested notions of the "cool," "tough," "streetwise," hustler image that became prevalent in the '90s. Strip away the fierce looks and ostentatious accessorizing and they're basically the smart, self-conscious kids from high school writing poetry about their feelings in their composition notebooks. The diamond-encrusted chains, watches, bracelets, and teeth are just window dressing designed to draw attention away from that fact — they're basically the hip-hop equivalent of emo kids' black eye makeup.
That's why rappers are so touchy when it comes to competition and public critique and when it comes to sensitivity, no two creators in hip-hop are more subject to that categorization than Kanye West and Drake, who are currently engaged in a passive aggressive feud that's drawn in other collaborators, brands, and even their significant others.
It's played out on multiple social media platforms, in their music, over the phone, and in the debates of their respective fan bases. It dominated the hip-hop discussion for the better part of a year and it seems as though it may continue to do so for the foreseeable future. In Kanye's latest rant, he may have let slip the real reason why he's held this grudge and spent so much time of late allegedly sabotaging Drake. And just like so many other rap feuds, it extends from possibly one, petty moment of insecure sensitivity; in fitting fashion for these two personalities, possibly the most sensitive one yet in rap. It all starts with a swimming pool.
In November 2018, longtime Kanye collaborator Talib Kweli theorized on the Drink Champs podcast that the producer's beef with Drake started when they both moved to the same neighborhood. His opinion was that the proximity to a direct competitor — one who had just as much popularity, money, access, and upward mobility as Kanye himself coveted — "triggered" Kanye's latent insecurity and sent him into the creative overdrive that had him spending time in Wyoming and announcing ambitious release schedules in the hopes of outshining a potential rival. With all due respect to Kweli, he's probably only partially right about why Kanye is so freaked out by Drake's success, and pretty definitely wrong about Kanye being "triggered." For the record, flippant uses of that term generally undermine its legitimate use as something that afflicts survivors of real trauma. Let's just say Kanye is irritated for now.
Drake's proximity to Kanye likely did irritate him, but probably not as much as what Drake had to say about it, namely on the track "Summer Sixteen," which the Canadian star released on his Beats 1 show OVO Sound Radio. Intended as a victory lap around erstwhile rival Meek Mill's stalled Dreams Worth More Than Money campaign after their lyrical tête-à-tête the year before, the track racked up some collateral damage at the expense of Kanye's ego with a line comparing their respective backyard features. "Now I got a house in LA, now I got a bigger pool than Ye," Drake rapped. "And look man, Ye's pool is nice, mine's just bigger's what I'm saying."
For Kanye, who admitted his own self-consciousness as far back as his debut album's third single, "All Falls Down," this line had to sting, but the fact that is was true likely poured a whole cellar of salt in the wound and gave it a Swedish massage. In an interview with LA radio show Big Boy's Neighborhood the very next week, he admitted as much, with the caveat that he had two additional pools. However, within a month after that, TMZ reported that Kanye had begun renovations, digging up his existing pool with plans to replace it with a lake. Kanye and Kim eventually downsized a bit, but that's still a tremendous expense and inconvenience to be going through just to one-up a competitor over a one-off line on a throwaway single two years later.
But that's Kanye for you. "Everyone" told him he couldn't make it as a rapper, so he became one of the biggest rappers on the planet. "Everyone" told him he wouldn't make it in fashion; his Yeezy season clothing brand has done pretty alright. Likewise, when Nike wouldn't let him have creative free reign over his admittedly cool sneaker collaboration with the brand, he jumped ship to Adidas and made dad shoes a thing that teens and hipsters actively covet (at least until his recent political comments turned him pretty much radioactive in the eyes of concerned youth everywhere).
Even now, when friends, family, colleagues, and fans continue to advise him to backtrack on his unabashed Trump support, he throws on a MAGA hat and storms the SNL stage, dead set on convincing everyone else that maybe the guy who has worked to troll every marginalized group in America isn't so bad. It's almost admirable.
The problem is, where his arrogance once was the steam that powered his dreams, it's now become something of a liability. Let's say that he was right about the bipolar diagnosis he claimed to receive before the release of Ye; by contrarily refusing treatment, he's putting himself at risk. By blatantly supporting so-called "conservative" politicians he emboldens them to continue putting American citizens at risk. And by publicly and insistently badgering Drake over a line from two years ago, he's risking the last vestiges of his credibility. In the modern era, artists' careers are as much a product of their personality as their creative output.
We've seen how artists trolling for attention has backfired in Tekashi 69 and other recent backlashes against artists like Lil Xan and Lil Yachty. Kanye might get the attention he craves initially, but with ever-diminishing returns as he continues to rebel without a cause. When fans get tired of watching him meltdown, they may not stick around to listen to the albums — they've certainly stopped buying the clothes and shoes. He may win his battle with Drake when it comes to comparing the size of their pools, but in doing so, he might look up to realize he's lost everything else.