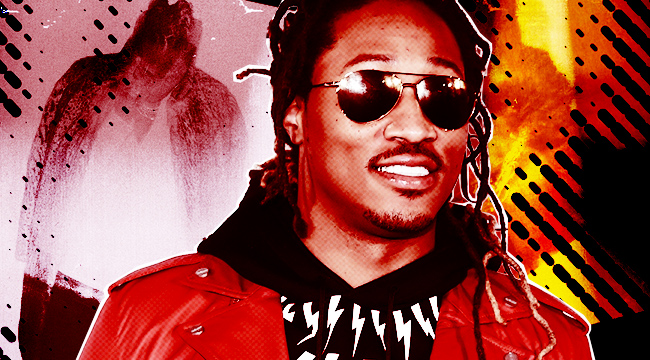 Over the last few weeks, Atlanta "Super Trapper" Future sent shock waves through the music industry by dropping not just one, but two 17-track behemoths. The swaggering, self-titled album Future came first — no features! — followed a mere seven days later by the more introspective, R&B-tinged HNDRXX.
Both records are tremendous, and mark a significant improvement over his 2016 output, releases like EVOL, Purple Reign and the especially spotty Project E.T. mixtape that was technically a DJ Esco tape, but featured Future on almost every single track. In other words, Future and HNDRXX are a return of the bad guy we all fell for on DS2, Monster, 56 Nights, and Beast Mode. That they might both claim the No. 1 spot on the album charts in separate weeks is a truly historic achievement.
So here we are with thirty four brand new Future cuts to pore over. Collected together, that's over two hours of blustery trap beats and liquid vocal lines; a formidable amount for even the most diehard Future fan to wade through. For the casual listener, the prospect of ingesting so much material might even seem too daunting. But after ranking each and every single song across both albums, you can decide for yourself what might be worth hearing, and what you can maybe pass on when it rolls through on Spotify or Apple Music or whatever.
Right off the bat, I should warn you, you're going to see a few more Future tracks near the bottom of the list than HNDRXX selections. The reason for that is two-fold. One: HNDRXX is the better, more solid listening experience, whereas Future is marked by tremendous highs and meh-inducing lows. Two: It's 2017, and no rap album should carry so many skits and extended interludes as have been tacked onto the end of a handful of these Future cuts.
That being said, here they all are from worst to best.
34. "High Demand" — Future
Need we say more than "Grab on that p***y like Donald" ?
33. "I'm So Groovy" — Future
Of all the songs on both albums, this is the one feels like the closest musical representation to being slouched down into a sofa, high out of your mind on codeine. Negative points however for a blatant Austin Powers reference. Even more negative points for unnecessary queer-slandering.
32. "Flip" – Future
This is two-and-a-half minutes' worth of scintillating, nervy trap that's rendered almost skippable by a grating 90-second DJ skit tacked on at the end.
31. "Massage In My Room" –- Future
Skiing in Aspen with bad b*tches while wearing a $20,000 jacket sounds like a blast. Listening to someone rap about it isn't nearly as fun.
30. "Damage" -– HNDRXX
I hesitate to use the word corny, but Detail's hook is just a little basic. "Girl I've been there for you / And you know that it's true / Girl I've been there for you / And you know that it's true/ Girl I've been there for you / And you know that it's true." And so on, and so on.
29. "Neva Missa Lost" -– HNDRXX
The '90s R&B vibes run strong through this one. Not a bad thing, just feels like filler.
28. "Zoom" –- Future
Another great rap track nearly ruined by a terrible DJ skit at the end. These went out of style for a reason.
27. "New Illuminati" –- HNDRXX
A sex-filled song that's not all that sexy. "New Illuminati" is the track where Future is "Sexin' out loud / Like guns sprayin' in the crowd." I honestly don't want to know what that might sound like.
26. "Good Dope" – Future
Solid, bass-heavy production from Southside. I'll give you one guess what this song's all about.
25. "Poppin' Tags" –- Future
Future goes shopping. "B*tch you want that G-Wagon?, go motherf*ckin' get it!"

24. "Outta Time" –- Future
This song sounds more interesting than it is lyrically deep. The shimmering, wah-wah synth accents are nice, but that's really about as far as it goes.
23. "Fresh Air" — HNDRXX
Appropriately breezy. This is the one where Future call the Pacific Ocean "sexy." He's not wrong.
22. "Keep Quiet"– HNDRXX
A song about a side chick that Future would prefer to remain silent about their ongoing sexual relationship. "We can chop it up, but ain't wine and dine."
21. "I Thank U" — HNDRXX
A simple thank you note to a girl that "made me hustle." Nice, swanky guitar riff.
20. "Feds Did A Sweep" –- Future
Pure ear candy. Flutes, flangers, fuzzy synths; Zaytoven throws everything but the kitchen sink into the production.
19. "Might As Well" –- Future
No bells. No whistles. Just a bass, a piano, a little percussion and a guy baring his soul. "I done swam with the sharks / N***a came from the deep end / You will never know what I was in."
18. "Hallucinating" — HNDRXX
Nobody gets higher than Future. Nobody.
17. "Comin' Out Strong" (Featuring The Weeknd) –- HNDRXX
Feels more like a Weeknd track than a Future song. Middling, which is why it's here in the middle.
16. "Scrape" –- Future
Not since Breaking Bad has the process of cooking drugs seemed so engrossing. While Walter White was busy churning and burning through batches of his signature blue crystal meth, Future is out here "stayin' up late on addies," scraping out the crack pot.
15. "When I Was Broke" -– Future
Few things can reliably make a rap track sound better than Zaytoven's intricate piano accents. On "When I Was Broke" the producer flutters around the keys with real elegance while Future reflects on his life before he became famous.
14. "Lookin' Exotic" -– HNDRXX
Future the romantic. Here he's just a super wealthy rapper, who wants to lavish a bad b*tch with cash and then take her to Paris and "buy her better clothes." The beats and sirens slam.
13. "Turn On Me" – HNDRXX
This song is almost certainly about his ex, Ciara. "I seen a so-called good girl turn on me," Future complains. He's also got a little something for her current husband Russell Wilson too. "After I give you this game, you should never let a lame hit it." Ouch.
12. "My Collection" –- HNDRXX
Another song that feels aimed at Ciara. "She told me she was an angel / She f*cked two rappers and three singers / She got a few athletes on speed dial / I'm tryna get the case dismissed before I see trial." The hurt runs deep.
11. "Testify" –- HNDRXX
A warning shot. Future is the bad guy and if you're the good girl coming along hoping to change him, it's probably not going to end well. "Can you be the one, love me all the time? / We not doing good, you can see the signs / Can you do the crime like it's Bonnie and Clyde?"
10. "Use Me" – HNDRXX
It doesn't feel great to take so much pleasure in someone else's pain, but it's impossible to avoid here. The way Future cries out for someone to "Uuuuuuuuuse me," just so they'll stay with him is haunting. "Use me to make me better," he pleads.
9. "Solo" –- HNDRXX
One of the most coherent expressions of love and affection on either album. "You amazed right now, you got it made right now / I won't let you down, I won't let you down." I would recommend buying bigger plates for those 20 oz steaks though.
8. "Super Trapper" –- Future
The most swaggeringly braggadocios track on this entire list. This song is kind of like when the Shredder became the Super Shredder at the end of Teenage Mutant Ninja Turtles II after downing that last vial of ooze. In just four-minutes he manages to reference a Lamborghini, a Porsche 911, a hard-top Ferrari, a Rolls Royce, a Mercedes and a two-door Maybach. There's also the Rolex, the Cartier, and the "tennis bracelets lookin' like a water fountain."
7. "POA" –- Future
If you're looking around for a new workout jam to get you through that last mile or so, I'd sincerely recommend you throw "POA" into the rotation. The tempo is fast, the beat is furious and Future himself is turnt all the way up. "I'm 'bout to f*ck up some moolah / But you ain't owe me no check / I don't care if you was my daddy / B*tch I'ma cut off your neck."
6. "Rent Money" – Future
This is the opening track on Future and it really sets the tone for everything that comes afterwards. DJ Khaled scores a production credit on this one, and along with The Beat Bully and Chef Tate, puts together a grime-y sonic platform that allows Future to roll through doing what he does best: Flex and fornicate with impunity. "I just f*cked a rapper b*tch I should diss you / She sucked my dick, she came home, I bet she kissed you."
5. "Selfish" (Featuring Rihanna) –- HNDRXX
A love song, and an exquisite one at that. The way Rihanna and Future blend voices over the swoon-inducing choruses is incredible. The way they express a desire to "be one" is deeply affecting. The emotions feel lived in, even if they aren't.
4. "Sorry" –- HNDRXX
"Sorry" is a stripped-bare gut-punch, and maybe the perfect way to conclude Future's most emotionally-charged project to date. "Ain't really mean to hurt you," he swears over and over again while trying to reconcile his role as Future the rapper with his desires as Nayvadius Wilburn the human being. "If I open up my eyes, it turn black for real," he claims. It isn't easy being the bad guy.
3. "Draco" – Future
This slams as hard as anything he's done since "F*ck Up Some Commas." Future opens "Draco" with a threat, "You better not raise your voice at me," then proceeds fire away without mercy, taking shots at biters and thots alike, while subbing his most infamous flow-stealer Desiigner for good measure.
2. "Incredible" – HNDRXX
Even without the benefit of a guest hook or feature verse, "Incredible" feels like it could make for a monster chart hit. The plunking, minimalist synth rhythms put together by Dre Moon grabs your attention instantly. Future is in a good place here, having found true love that makes him feel, you guessed it, "In-in-incredible."
1. "Mask Off" – Future
This is the single best song from either Future or HNDRXX. Produced by Metro Boomin, Southside and Frank Dukes, the music has this tense, sepia-toned, Spaghetti Western-vibe that Future matches perfectly through both the verses and incredibly catchy hook. He's the Trapper with No Name; unknowable and unknowing. "Percocets / Molly / Percocets / Chase a check, never chase a bitch."