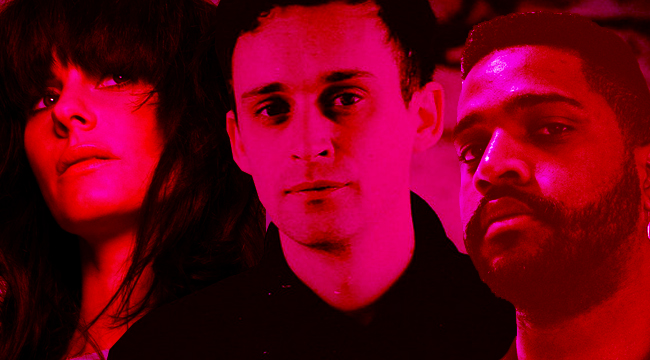 Each month, Spinback will highlight songs and mixes by electronic artists that we think are exceptional but might've missed on the first pass. Unlike any other genre, electronic is an incredibly singles-based style of music, meaning whole hosts of artists can fall through the cracks if we follow the ebbs and flows of album cycles alone.
Mr. Fingers — "Electron"
The legendary Larry Heard is back for his first album as Mr. Fingers in nearly 25 years. Though mostly known as a pioneer of Chicago house, "Electron" is a proper techno odyssey, driven by purposeful, gilded arpeggios. Heard also just released another cut, "Aether," from the upcoming album Cerebral Hemispheres (out 4/13 via Heard's own Alleviated Records).
Martyn Bootyspoon — "The Grid"
Martyn Bootyspoon's recently released EP Silk Eternity via Barcelona-based label Fractal Fantasy (co-founded by Zora Jones and Sinjin Hawke) turned a lot of heads this month, and for more reasons than just Bootyspoon's winking character name. Songs like "The Grid" demonstrate an almost off-the-cuff vocal confidence from Bootyspoon, with the buoyancy of bootyhouse and ghettotech anchoring both the humor and danceability of the song. Who knew you could make a song about privacy breaches sound hot?
Rebekah — "End Of Trauma"
More gratifyingly pummelling techno from this Berlin-based veteran. Despite its name, the song's pounding bass and panning siren sound makes it seem as though trauma isn't quite over, though maybe there's an end in sight. There's something about this track's relentlessness that makes it feel as though it's reveling in the grit, going harder and faster and choosing to be completely relentless on the dancefloor.
Lone — "Hyper Seconds"
"Hyper Seconds" might be the B-side to Lone's latest for R&S Records, but don't tell the song's solid house groove that it's anything but first class. A driving, purposeful beat lays the groundwork for a glimmering atmosphere that channels both the energetic infinitesimal measure of time that gives the song its name, while also feeling completely arresting.
NHK yx Koyxen — "Universal Gesture"
A stuttering network of shifting textures from Japan's NHK yx Koyxen (aka Kouhei Matsunaga). It's repetitive without feeling rigid or locked down, like an endlessly unfolding paper fortune teller.
Roza Terenzi — "Mwah"
This slice of dancefloor heaven is a perfect mix of tension and euphoria, with floating, airy synths to match a compelling beat. It's the title track off of Terenzi's upcoming EP, due out later this spring. The onomatopoeia of the song's title references playfully nods to the wordless sounds this Australian producer cuts up and adds to the mix.