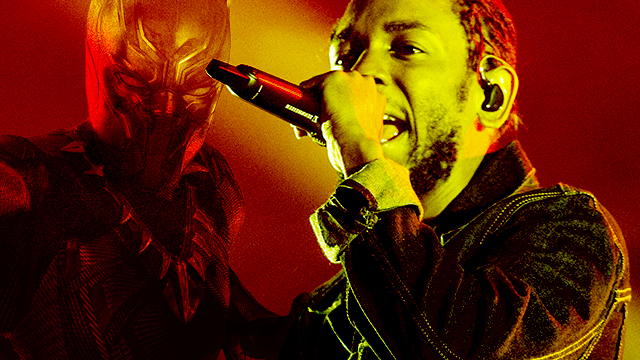 The first time a Kendrick Lamar song plays in Black Panther, T'Challa is in the club. As the doors to the underground casino in Busan, South Korea swing wide, the song presses outward like a hand: "Tell me, who's going to save me from myself?" It thrums across the room as T'Challa, the king of Wakanda, played by Chadwick Boseman, and his companions, Nakia (Lupita Nyong'o) and Okoye (Danai Gurira), survey the scene below from a second-floor balcony.
The song — "Pray For Me" — is the closing salvo of Black Panther, the soundtrack companion to Ryan Coogler's Marvel juggernaut. In December, the record, produced by Kendrick Lamar, landed eight Grammy nominations, making it the most-nominated project at the 2019 awards this month. Among its eight nominations is one for Album Of The Year, where it faces off against Cardi B's Invasion Of Privacy and Kacey Musgraves's Golden Hour. Though they've been nominated 14 times, film soundtracks have won Album Of The Year just three times: in 1979, for Saturday Night Fever; in 1994, for The Bodyguard; and in 2002, for O Brother, Where Art Thou?. This year, Black Panther looks especially well-positioned to become the fourth: It's got Kendrick Lamar, it's got blockbuster momentum, and it's got precedent. All these soundtracks operate in parallel with the films themselves, using their themes as a framework, but they also stand apart from the movies, eventually becoming entirely their own thing, unmoored.
This wasn't always the case. For much of Hollywood history, film soundtracks were largely, indelibly affiliated with the movies they came from. "In the '50s, '60s, '70s, and into the '80s, for a little while, if you were a fan of music soundtracks, you were talking mostly about the underscore music — that is to say, the instrumental music that was recorded in the film," like those for Star Wars, The Mission, and Breakfast At Tiffany's, explained Daniel Carlin, the chair of the screen scoring program at the University of Southern California who worked as a playback engineer on The Bodyguard. Movies really only focused on songs, rather than score, if they were outright musicals — The Sound Of Music, for example, or West Side Story. When the transistor radio came around, though, it set a new standard: Film characters, like people, had to be playing music on the go, longtime music supervisor Maureen Crowe told me.
Then came Saturday Night Fever: Two years before the Grammy for Best Disco Recording made its debut, the same year as Gloria Gaynor's "I Will Survive" was released, and the year after Ian Schrager and Steve Rubell turned Studio 54 into a nightclub. It was the zenith of mainstream disco, the era depicted at the beginning of Paul Thomas Anderson's Boogie Nights. Saturday Night Fever opens with "Stayin' Alive" — John Travolta saunters down a Brooklyn street, grabbing a slice on his way to work at a local hardware store, Barry Gibb's crooning falsetto instructing, "Well, you can tell by the way I use my walk, I'm a woman's man, no time to talk." The Bee Gees wrote "Stayin' Alive" specifically for the film — along with other now-immortal disco tracks like "How Deep Is Your Love" and "You Should Be Dancing."
When it was released, the Saturday Night Fever soundtrack proved inescapable. "We weren't on the charts," Maurice Gibb said at the time, according to Rolling Stone, "We were the charts." Saturday Night Fever, per the same story, topped the charts for six consecutive months; the magazine described the soundtrack as the "ne plus ultra of mainstream disco." It marked the ascendance of the Bee Gees as the popular faces of disco — despite the genre having emerged as the soundtrack of nightclubs frequented by queer people and people of color. (The co-opting of a music form emerging from Black, Puerto Rican, and queer discos by white musicians and fans in the '70s is the theme of the film's climax: After winning the top prize at a dance contest, Travolta's character, Tony Manero, gives the trophy to the more deserving black couple who would have won, he explains, were it not for a racist panel of judges.)
The soundtrack's astonishing success led The New York Times to remark that the Bee Gees "are getting as big as The Beatles," underlining the "increasingly important commercial links" between music and film. There was a "well-orchestrated plot" to ensure the success of both soundtrack and film, film music historian Jon Burlingame told me recently. "It was a remarkable campaign that worked like gangbusters," he said. Disco, while ubiquitous, had just crested its peak — under the surface of its mainstream success, the scene itself had already begun its inexorable decline; in a way, Saturday Night Fever captures this tragedy — but the band was only about to reach its own.
"Instead of driving a trend, it's sort of capitalizing on a trend," said Crowe, whose music supervising credits include The Bodyguard, True Romance, and Wayne's World. Likewise, these soundtracks — the most successful ones — don't tend to discover artists, but they do present an opportunity for established artists to make more music with a broader platform. When production began on The Bodyguard, Whitney Houston was already a household name, having put out the smash hits Whitney Houston and Whitney and I'm Your Baby Tonight, which went four times platinum — a falter, compared with her previous albums.
For fans of The Bodyguard, the swelling chorus of "I Will Always Love You" is perhaps forever entangled with the final kiss between Kevin Costner and Whitney Houston, but the half-life of the soundtrack's hit has vastly outpaced that of the film itself. In the film, Houston plays Rachel Marron, a major pop star whose manager, after death threats culminate in an assassination attempt, hires a new bodyguard (Costner) to beef up her security. During the film's climactic scene, Rachel wins the Academy Award for Best Actress, a gentle irony considering Houston and Costner both won Razzies for their own efforts. Still, despite its critical reception, the soundtrack — basically a new Whitney album — went on to become the best-selling soundtrack of all time. (The second? Saturday Night Fever.)
"The film gave it its platform; it gave it its context," Crowe said. Whitney Houston had been nominated for, but had never before won, the Album Of The Year Grammy; she'd be nominated again, for the Waiting To Exhale soundtrack, but The Bodyguard would remain her only win. Name recognition alone might not do it — Prince made a soundtrack for Tim Burton's Batman that topped the Billboard charts upon its release but was not nominated for a Grammy — but they don't hurt.
In the month before the 2002 Grammy ceremony, where the soundtrack to the Coen Brothers' O Brother, Where Art Thou? would win Album Of The Year, several of the artists involved with the record took the show on tour. Down From The Mountain sold out as it traversed the country; two years later, it birthed a sequel, the Great High Mountain tour, with songs from both O Brother, Where Art Thou? and Cold Mountain. Produced by T Bone Burnett and featuring Alison Krauss, Emmylou Harris, and Gillian Welch, the soundtrack reimagines traditional bluegrass, folk, and blues tunes from the Appalachian region, setting classic tunes to modern recordings.
The film itself operates in much the same way, setting Homer's Odyssey loose in the Depression era, with more George Clooney. But, while the film itself was not a particular commercial hit, the soundtrack absolutely was. "It was was this remarkable collection of roots and folk music that people fell in love with and somehow reminded us of our musical heritage," Burlingame said. Outside of Grammy voter circles, T Bone Burnett might not have the same pop clout as Whitney Houston or the Bee Gees, but the soundtrack shared the same kind of internal logic — a study in vintage Americana, where the others drill into disco or power ballads or hip-hop's most exciting contemporary voice — that allows it to function inside, and independently of, the film.
Grammy wins certainly didn't precipitate mainstream recognition of pop music from films, but they're representative of a broader trend that's continued to gain momentum since Saturday Night Fever first won in 1979. (The Grammy has occasionally also been granted as a corrective for previously overlooking an artist. Like Whitney Houston, Kendrick Lamar has been nominated for Album Of The Year multiple times — for every album, in fact, since 2012's Good Kid, m.A.A.d. City — but has never won, despite a Pulitzer win last year, for DAMN.) The soundtrack for Guardians Of The Galaxy, a wide-ranging compilation of retro sounds, was 2017's third-highest-selling vinyl, after two Beatles records.
Even more recently, Billie Eilish has said "When I Was Older," her Roma song, was written "from within the narrative of the movie"; it was a tenuous connection and was greeted with some confusion online, but the song has nevertheless amassed more than 15 million Spotify streams. It's probably pretty safe to say Roma has not been played 15 million times. A Star Is Born — whose Barbra Streisand incarnation came out in 1976, just two years before Saturday Night Fever — has burst once again onto the charts; "Shallow" earned nominations for Record and Song Of The Year while "Why Did You Do That?" is a whole entire meme. There is now, of course, a deeply commercial connection between an album's promotion and its sales and awards success — what was novel for Saturday Night Fever is now de rigueur. But, as a film like Suicide Squad — a flop for the DC Comics universe, with its incidentally scattershot soundtrack — demonstrates, a strong publicity campaign can only take you so far.
But Black Panther, like its predecessors, consistently reflects its film's themes in a way that also gives it some structural integrity on its own. This isn't always the case: Sometimes, the random assortment of songs that make up a movie soundtrack sound, feel, well, random, when set loose from the film itself. "Some soundtracks exist solely to capture the mood of a film; the best, however, have an excitement all their own," Briana Younger wrote for Pitchfork in a review of "King's Dead," the second single off the Black Panther soundtrack.
Part of Black Panther's success as a discrete album has been its association with Kendrick Lamar, the artist. It doesn't just bear his name; his fingerprints are all over it. It's brimming with artists drawn from Lamar's own Top Dawg Entertainment and from across the black diaspora — like South African rappers Saudi, who mostly performs his verse in Zulu, and Yugen Blakrok, a female rapper who goes toe-to-toe with Vince Staples. It fits: The film is "a day-glo, big-budget, action-packed depiction of the same conflicts that animate Lamar's career," NPR wrote in a review last year. Just as Coogler was able to make a Ryan Coogler film inside the Marvel universe, so too was Lamar able to compose a Kendrick Lamar album from inside T'Challa's catsuit. The relationship is symbiotic, at once elevating music and movie.
Yet just three of Black Panther's fourteen songs are featured in the film itself; instead, the soundtrack is modeled on those of '90s films, for which musicians "would take themes and make music inspired by the themes," Coogler told Fact magazine last year. "You almost never see the phrase 'music from and inspired by the film' anymore, but that was always the catchall, starting in the '80s and the '90s, for people who wanted to put out a soundtrack and threw a bunch of songs in that weren't necessarily in the film," Burlingame told me. "In a way, Black Panther is almost in that tradition."
The movie leans on the score, composed by longtime Coogler collaborator Ludwig Göransson, and existing pop music to set the scene; Lamar's songs hover across the two categories, written specifically for the film yet used within it like any other club hit. And they could be any other club hit, because Black Panther is as much a Kendrick Lamar album as The Bodyguard was a Whitney Houston album or Saturday Night Fever was a Bee Gees album; it's as much a survey of a specific facet of hip-hop as O Brother, Where Art Thou? was of a certain type of roots Americana.
So, in Black Panther, when arms dealer Ulysses Klaue instructs a lackey to "put some music on," it's only natural that the cue is Kendrick Lamar.