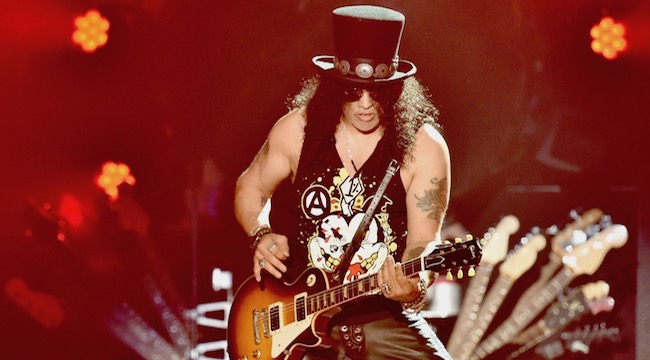 Over the last week, Guns 'N' Roses fans have been mystified by a mysterious website featuring a clock counting down to today. Guesses flew about what it all meant. Was there a new album in the works? Was rhythm guitarist Izzy Stradlin coming back for a new tour? Well, today the answer has been revealed. On June 29, the metal legends are preparing to re-release their seminal debut album Appetite For Destruction in a new, deluxe box set.
For those who think they've heard it all when it comes to Guns 'N' Roses, this set totally disproves that theory. Packed with 73 bonus tracks total, the new, expanded version of Appetite For Destruction comes packed with 49 previously unreleased songs. 25 of the selections come a 1986 recording session held at the famous Sound City Studios, but there's more to it than that. The set will also include the band's Live ?!*@ Like A Suicide EP — which isn't really live at all — from the same year, and a collection of B-sides. There will also be a 96-page booklet filled with previously unseen photos from Axl Rose's personal collection.
Reports have emerged over the last year that the band has been steadily working on the highly anticipated follow-up to their previously highly-anticipated album Chinese Democracy. Given how long that record took to rollout, at least Guns 'N' Roses are giving their fans something to jam to while they wait.
Guns 'N' Roses's Appetite For Destruction box set is scheduled to drop on June 29 via UMG.