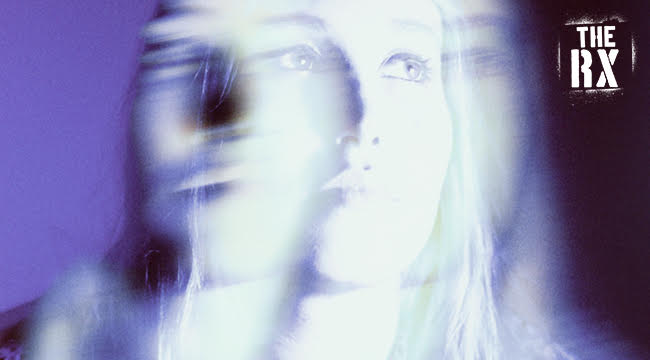 The RX is Uproxx Music's stamp of approval for the best albums, songs, and music stories throughout the year. Inclusion in this category is the highest distinction we can bestow, and signals the most important music being released throughout the year. The RX is the music you need, right now.
Hatchie's debut EP, Sugar & Spice, was one of the most impressive releases of 2018. On it, singer-songwriter Harriette Pilbeam was a dream-pop witch, finding the middle ground between Mazzy Star and Carly Rae Jepsen while making it all her own. Throughout the EP's five songs, Hatchie explored doubt, hope, happiness, and everything in between, capturing each hard-to-reach feeling with soaring synths and fuzzy guitars.
The use of the past tense to describe that era of her music is purposeful, not because she doesn't fit those descriptions anymore, but because she's become so much more. For her full-length debut, the Brisbane singer-songwriter dares to upturn everything that made Sugar & Spice great. Keepsake defies categorization. The album is bookended by towering synth-pop anthems akin to Sugar & Spice, but the rest of the record is a dizzying, brilliant blend of industrial rock, new wave, and gritty shoegaze.
The shift in her sound is both a natural evolution and a challenge Pilbeam gave herself. Over coffee in Austin in May, she described the process of writing and assembling Keepsake. For her first album, Pilbeam was already looking ahead to what her second and third might sound like. Two pop releases would put her in a box, but a pop EP and a shoegaze/industrial/electropop album would demonstrate the full range of what a Hatchie song could be.
Pilbeam embraces all the malleability and freedom that being an artist and writer can give a person. Not just when it comes genre, but in point of view and subject matter. Hatchie dares to imagine what love, friendship, and community look like from multiple perspectives, in different tempos, in entirely new worlds. She is as thoughtful as her music is, and she didn't even bat an eye when I took her to the dorkiest cafe on my alma mater's campus. In Austin for her tour with Girlpool, Pilbeam spoke about everything from high school diaries to Taylor Swift's love life over coffee. Read a condensed and edited version of our conversation below.
Keepsake to me is a really evocative title. A lot of the time, when people think of nostalgia, they think of holding onto memories, but a keepsake turns memory into something you can actually hold in your hand. How did you land on that as the title for your debut album?
I'm not a particularly nostalgic person when it comes to talking and thinking about memories, but I do definitely hold on to physical keepsakes and mementos. Especially for trips I've been on, things I did when I was younger. I went to my parents' house recently, and I have a little cupboard of things I haven't touched since I was in high school. So like, almost 10 years. I really struggled to throw out my high school diary, which, like, 'I don't know if I'll ever need this!' But physical things, I definitely hold onto.
I think Keepsake was an appropriate title for the album, because I think that's what this album feels like to me. I've been in music for a while. I've released music with other bands that's been really special to me, but this album, in particular, is all me. And "keepsake" is also a lyric in the song "Kiss The Stars," so that's where it ties in.
Keepsake is pretty different from your EP. Did you set out to make a more rock or shoegaze album, or did the evolution of your sound just happen naturally?
It's a bit of both. After I did that album, I think I said in an interview that "Sleep" is the most pop song I'll ever do. But now I'm like, maybe I'll go more pop than that, I don't know. After I did that album, for a lot of reasons I wanted to branch out, for my sound to be something more alternative. It was definitely partly more intentional. And I didn't want two of my releases to be so similar, because that meant it would be really hard to break out of that on a third one. If I did the first two under the same kind of umbrella but separate from one another, it means that I can continue to branch out or go back and cover that ground. I just wanted to give myself options.
And I think my influences are a lot more varied than the EP would suggest. I was drawing from a lot of different influences for this album as well.
What are those influences?
For every song, it's kind of different. With some songs, there's a more industrial sound. I love Depeche Mode, Nine Inch Nails, Tamaryn, The Horrors, stuff like that. Other songs, it's more punky stuff, like Siouxie And The Banshees. When I was younger, I was into Broken Social Scene, those kinds of alternative artists. There's also a bit of a poppy influence with Carly Rae Jepsen and Sky Ferreira, pretty much anyone that Ariel Rechtshaid has worked with, Kylie Minogue.
You've said before that some of these songs are pretty old, and you've been working on them for a while. Are they older than some of the songs on Sugar & Spice?
Only one of them is really old, but the rest I wrote within the last two years. So we finished recording in December, and a couple of them I wrote in the second half of last year. "Obsessed," I think I wrote that in October or November. Whereas "Keep," I wrote that in 2017, so it's all kind of between those dates.
What are your favorite songs on the album?
"Unwanted Guest." And probably "Secret" as well. I don't usually go to the studio without a song completely done, but that one is one song where we went to the studio and the song wasn't finished yet. We really worked on it with our producer to finish it and shape it. "Secret" is kind of my baby because it went through the biggest journey to get where it is.
But I think "Unwanted Guest" is my favorite. It's the one when I was listening to the demos, it was the one I kept going back to. And I'm really proud of where it ended up, because that's what I wanted it to sound like and I really struggled to get it there.
You write a lot of love songs, I've noticed, on both Sugar & Spice and Keepsake, whether the lyrics are about that or it's more of a mood because of the dreamy, romantic production. I feel like you have so much more going on in your music than just the lyrics — you're nailing the whole sound and flow of feelings, rather than just putting that into words.
Sometimes people will think they're all about love. And, like, they're not, but that's okay, I know they sound like that. But the lyrics, a lot of the time, are about a friend.
I feel like with female artists, especially, there's a pressure to talk about the experiences behind your work, and that everything you write is taken super literally, like it's a diary entry about your life. Do you feel any of that pressure to explain your lyrics and the meaning behind them?
I definitely get asked about it a lot, which is fine, but I do think it's interesting hearing people interpret songs. Because the lyrics aren't always straightforward and about love. It can just sound like a love song, and that's fine.
I think female writers, that a lot of people just assume that their songs are about a guy that they're in love with no matter what, even if it's a song about feelings, and you don't even say the words "you" or "I" or "me" at all, and people are just like 'Oh, it's obviously about being brokenhearted.' I think it's such a disservice to female writers when people just presume that.
People seem to focus on it more with female writers than male writers. I remember reading about Taylor Swift getting annoyed, like 'Nobody cares that all Ed Sheeran's songs are about women.' No one calls him out on that, but everybody thinks that Taylor Swift is boy crazy because she writes love songs. But don't most big pop stars write love songs, including the men?
You've said before that you like to write from other points of view, too. So not every one of your songs is even autobiographical at all. You're a writer, your job is to tell stories! I remember reading you said before that "Her Own Heart" is written from the point of view of a friend, telling a story of a girl who had recently been broken up with.
I think that's the only one that's literally from the third perspective, but most of the songs are not one hundred percent literally about me. Most of them are vaguely about me or vaguely about a friend.
It's the same with "Sure" [from Sugar & Spice], I wrote that in first person but it's not about anything that's happened to me. I've never been through a breakup. A lot of my songs are kind of in a world of being heartbroken. A lot of my songs are not from my perspective, but they're still written in first person.
I feel like that ties in really well with that theme of Keepsake — turning something ephemeral like a feeling or a memory into something you can touch, like a record. Or, I guess, stream.
Exactly! You get it.
Keepsake is out now via Double Double Whammy. Get it here.