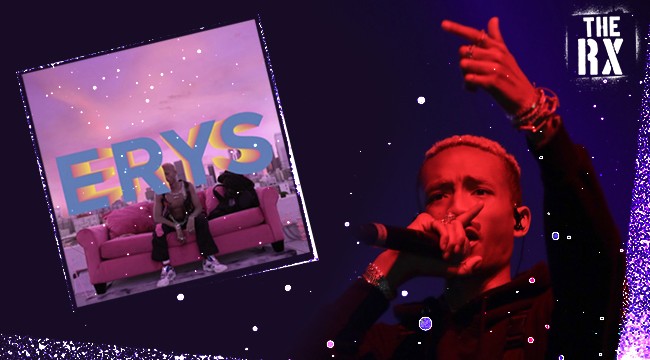 The RX is Uproxx Music's stamp of approval for the best albums, songs, and music stories throughout the year. Inclusion in this category is the highest distinction we can bestow, and signals the most important music being released throughout the year. The RX is the music you need, right now.
It is genuinely impossible to understand why so many people hate Jaden Smith. Fortunately for Jaden, on his new album Erys he's no longer trying to figure it out. Erys signals that it's no more Mr. Nice Guy for Will's second son, as he introduces his no-f*cks-given, punk-rap alter ego and ups the experimentation for his second full-length outing, flipping the themes and narrative of his 2017 debut Syre, but keeping the quality high.
Sure, it's easy to see why anyone would think Jaden is weird. There were the cryptic tweets (which were pretty funny when you remind yourself that they were coming from the mind of a 15-year-old boy). There was the whole Batman suit thing. Even the very concept of an alter ego album is pretty weird if you think about it too long, even though it has been employed by such esteemed technicians like Eminem, MF Doom, and T.I.
The truth is, though, that the idea has never been applied as thoroughly or thoughtfully as it has on Erys. Jaden, whose whole life has been something like a years-long performance art piece, is so comfortable slipping in and out of character that embodying his Tethered-esque, brutish alter ego might actually convince some that the pink hair, menacing stance, chains, and phony face tattoos are really part of his new schtick, rather than a commentary on modern hip-hop and the fans who love to hate it.
Those fans will naturally ignore the progressive efforts of a 21-year-old man who actively works to give back to the world. They'll ignore the humanitarian award the Environmental Media Association granted him in 2016. They'll ignore that he's continued to bring clean water to the people of Flint, MI, who were essentially abandoned by their government representatives. They'll even ignore his most recent contribution: A vegan food truck that distributes healthy meals to the homeless free of charge.
And so Jaden, through the character of Erys, has decided that while he simply does not give a rat's ass what anyone thinks, it's high time to troll the trolls. Really, it's your own fault. You wanted the bad guy. Here's the bad guy. For 18 tracks, Jaden embraces all the reckless aesthetics and grumbling vocal attributes that grouches on the internet love to complain about. And, it's glorious.
If there's any question about the satirical nature of the album's reckless bent, he dispels it early. "I understand they don't get it," he admits. "They just wanna see the flick of the wrist / All the raps, pink pistols and drip … They don't listen, but it's simple as sh*t." Of course, he still finds time amid the bravado to point out the flaws and hypocrisies of the system. Early in the album, he finds time to critique criminal justice in the second portion of the "P," "I," "N," "K," intro suite: "Sickening, man, I try to not let it get to me / When you 16 with a misdemeanor / That's no votes, are you kidding me?"
He also brings along some collaborators who are well-versed in trolling old heads themselves, such as Tyler The Creator on "Noize," who addresses the hilariously overblown reaction to his and Jaden's shared inside joke from the most recent Camp Flog Gnaw Carnival in the first bar of his explosive verse. "Jaden, they think we f*ckin', kissin', lickin' and suckin' / What, they don't get sarcasm?" On "Chateau," ASAP Rocky slaps down fans' tendency to speculate and pick apart artists' personal lives based on news snippets and their perception of the characters artists play: "Bro, laid off the lean, like 'Fuck do you mean?' / Take shit out of context."
Erys also refuses to stick to the rigid genre boundaries that once dominated the landscape, dabbling in moody garage rock on "Summertime In Paris," going full-on, balls-to-the-wall punk on "Fire Dept," and the driving emo-pop of Kid Cudi's best works in "On My Own," which features Cudi himself delivering his trademark crooning. "Riot" works the melodic, grunge angle that has paid off so effectively of late for XXXTentacion and his ilk, while the title track encapsulates the parallels between Syre and Erys on a winding, hazy track that morphs from punk rage to shoegaze-y rumination.
The way Jaden leans into the stereotypical imagery is smart, but smarter is the way he uses that to deconstruct misconceptions and biases. Like the evil twin horror of Us, Erys holds up a mirror to the listener, a doubling-up on metaphors that some say is lacking in modern hip-hop. Not only does Jaden prove that the pioneering spirit of raw, original rap is still on display, but also that it can coexist alongside whatever other wild musical experimentation the youth want to take on — sometimes, all in one artist. No one is ever really just one thing. He's saying, "If you hate me, keep watching. You haven't seen all of me yet." The kid is wise beyond his years.
Erys is out now via MSFTSMusic/Roc Nation Records. Get it here.