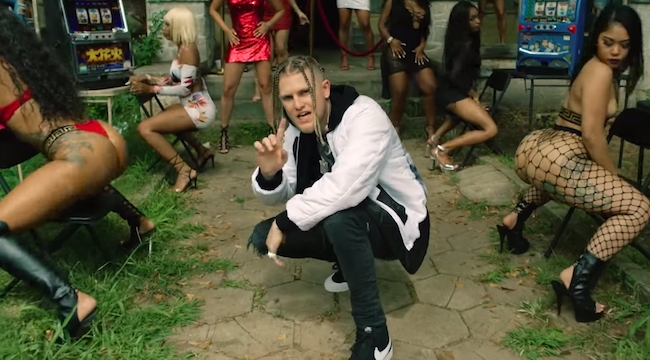 Quality Control Music's newest artist isn't much like any of their others. Sure, Jordan Hollywood has the cocksure, polished sound that's become something of a trademark for the burgeoning, Atlanta-based, mostly trap-oriented rap label, but he's also expanding the boundaries of what Quality Control does musically with a moody, melodic take on trap&B that makes him not only QC's standout, but a surefire draw for fans of both the label's original roster and pop-leaning crooners like 6lack and Post Malone.
While Jordan is a Soundcloud rapper in a literal sense of the word, posting songs to his account as far back as four years ago, his progression from "Thank God You Blew It," his first ever post, to his Quality Control EP, Finally, is evident throughout, as is his strong, well-established persona as a self-assured player type.
He slides easily from his smoother, ear-catching melodic hum to a bouncy but relaxed rhythmic delivery as easily as his veteran label mate Quavo, but his beats are made for late-night cruising and after-club rendezvous more than the turn-up itself.
The clear standout on Finally is the Lil Baby-featuring "Let Me Find Out," where Hollywood floats over a cavernous, echoing beat, warning would-be rivals not to compare their successes, lest they end up looking like the lower end of that particular see-saw.
When he kicks into high gear for his rapid-fire verse, hints of a polished battle rapper's flow peek out in snarled barbs like, "You a mumble rapper ramblin'" and "You ain't write none of your lyrics," which subtly refute the jabs he seems to instinctively know are headed his way from rap purists who will write him off at first sight. He positions himself in opposition to that archetype even as he seems, at least on the surface, to meet most of the hazy criteria traditionalists will use to slam him.
In that way, he's most similar to Migos member Takeoff, capable of rattling off multi-syllabic, wordplay-laden raps in the stutter-stepping, triplet flow Takeoff helped popularize as a member of the breakout trap trio, but Jordan's ability to trade in the lyrical daggers for a lighter touch and utilize the gauzy production that best suits both of his modes puts him in another category entirely.
Meanwhile, the videos accompanying his singles indicate a cheeky humor willing to engage in the materialistic eccentricities of the hip-hop while adding sly twists; rather than shooting in the traditional strip club or using the well-worn "rapping in front of the trap house" concept for "Let Me Find Out," he mashes the two treatments together, resulting in a wildly incongruous juxtaposition that shows he isn't taking himself too seriously, but he is willing to play ball. That level-headedness will likely be his most important asset as he grinds his way from the trap to hills of his namesake.