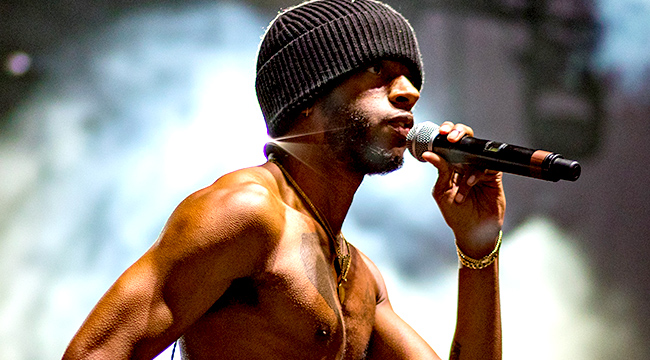 As rap drifts further and further into contemporary R&B territory — or vice versa, depending on your views — the lines between the two related genres are growing blurrier, until they begin to blend together and lose contrast. While you might think that would result in a dreary, muted gray area of slurred, sloppy singing from artists who would sound their best slinging crisp, clever rhymes, in truth, it's created a vibrant and verdant middle ground where multifaceted creators are no longer constrained to the confines of one or the other by antiquated rules about specialization.
Artists like Bryson Tiller, DRAM, PartyNextDoor, and Tory Lanez have sprung from the roots of the seeds planted by rappers like Ja Rule and watered by T-Pain, Kanye West, and Drake, resulted in an expanded palette for artists in the hip-hop discipline to master, experiment with, and ultimately, build upon in exciting, unexpected ways.
As more and more artists delve into this fertile territory, it can feel at times like the lane is becoming oversaturated. However, as always, the cream rises to the top, and one artist is quickly separating himself from the pack. With clear, concise musical statements and commitment to craft that utilizes his gifts at both razor-sharp rap and confessional crooning, Atlanta performer 6lack has positioned himself as one of rap's next big things — and he has the talent and professionalism to fulfill that potential on his upcoming album, East Atlanta Love Letter.
Born Ricardo Valdez Valentine in Baltimore and relocating to Atlanta at the age of five, 6lack (pronounced "Black," as his marketing materials are quick to reiterate in cheeky ways) actually signed his first record deal with T-Pain's International Music Group/Strong Arm Records early on after establishing a reputation as a battle rapper, but spent five years on ice while the label tried to work out a viable marketing plan, putting his music out for free on SoundCloud and sleeping in the studio due to the financial insecurity of his label situation.
Leaving IMG after five years in order to exert more creative control over his music, he received his first real taste of fame thanks to LoveRenaissance (the same label that houses fellow rap genre-benders DRAM and Boogie) and Interscope Records, who backed his 2016 debut Free 6lack, venting his frustrations about his prior experiences and hard-won lessons about life and love over moody, murky soundscapes from the likes of producers Nova, Singawd, FWDSLXSH, and notably, famed Atlanta trap rap hitmaker Southside.
The Southside-produced "Ex Calling," a re-work of Future's "Perkys Calling" from 2016 mixtape Purple Reign, became 6lack's calling card, alongside his own original hit "Prblms," which detailed the dissolution of a stressful relationship amid the similar and coincidental unraveling of the first stage of his music career. "Prblms," produced by Soundsbynova and featuring a swirling, pensive beat, gave 6lack the perfect stage from which to display his unique, downtempo, rap-doused version of reflective R&B. He sings as expertly as many established soul singers, yet his writing is saturated with an rapper's flair for wordplay and colorful imagery, repurposing autobiographical vignettes to spin a yarn of heartbreak and disappointment. "Everything in the song was verbatim what I was dealing with at the time," he explained of the lyrics. "These were direct lines, literally from text messages to actual arguments and conversations."
That attention to detail shines through his live performances as well. In watching him perform onstage at last year's Camp Flog Gnaw Carnival and again at this year's Coachella, it became instantly clear to me that 6lack is as much a perfectionist with stagecraft as he is with his pen game. While those early years of his career may not have been as fruitful as he hoped, they weren't wasted by any means. His dedication to the craft of owning the stage and filling the room should be obvious to anyone in attendance at his crisp, engaging performances. He eases smoothly from song to song, delivering recording quality performances that still tap into hidden reserves of energy to take each track to a higher level than even the ridiculously catchy missives from Free 6lack itself.
It's a level that he'll hope to achieve on East Atlanta Love Letter, the proper follow-up to Free 6lack that lands on September 14 after two years, an extended touring and television appearance campaign, becoming the father of a baby girl, Syx Rose Valentine, and two new singles, "Switch" and "Nonchalant," which have already excited his fans into a frenzy of anticipation. Accompanying the announcement of the new project was a typically thoughtful promotion involving custom postcards sent directly to fans from the crooning rapper displaying the cover artwork and including individualized messages. 6lack also participated in the sleeper R&B hit of the year "OTW," alongside breakout teen sensation Khalid and soulful hook singer-for-hire, Ty Dolla Sign.
With a 34-city tour kicking off in October in support of East Atlanta Love Letter and a steadily-rising profile built on a growing resume of impressive live shows and catchy, relatable relationship jams, fall of 2018 may just belong to 6lack. Despite his name and favored wardrobe aesthetic, 6lack is expanding hip-hop's palette by filling in the blank spaces between observant rap and confessional R&B, coloring outside the lines, and creating a stark, beautiful picture of hip-hop's future.
East Atlanta Love Letter is out September 14 via LoveRenaissance and Interscope. Pre-order it here.