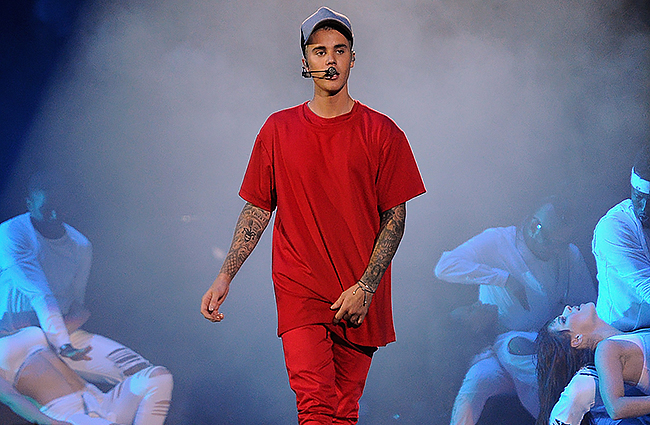 From a casual listener's perspective, it would be hard to make sense of the world today, a world in which Justin Bieber is making incredible music that commands respect from a great deal of the music world. Several of you are probably thinking: "How did we get to a place where the Biebs has gone from mop-top kiddie pop crooner to someone Win Butler admits to liking?"
That's a good question. The truth is, the transformation didn't happen overnight. It began in 2013.
In the height of his bratty pop prince-dom (this was following peeing in the mop bucket at a fast-food joint, egging his neighbor's house, and speeding through his neighborhood in a super car), he decided to make something different musically. In a series called Music Mondays, Bieber released 10 songs that strayed from his sugary pop past and went for something more mature in the realm of alternative R&B.
But as this was during the height of "Beliebers" as well as his legal troubles, his pretty solid attempts at a more experimental sound were largely ignored; he was the biggest punchline in the country. We covered a few of these tracks like "Heartbreaker," "Confident" (featuring Chance The Rapper), "Memphis," and "Backpack," but some of us didn't even know what to make of it back then.
Eventually these Music Mondays became Journals, a compilation album with little to no record-label support. Despite being a large progression for Justin, the album was panned by critics as too much of a reach for the incredibly unlikable Bieber. He wasn't in a place where that music would seem authentic coming from his toxic persona, despite great production and songwriting from his then-new confidant Poo Bear and great features from Future, Chance The Rapper, Big Sean, Lil Wayne and R. Kelly.
Now that the young Canadian singer – he's still only 21 – spent most of 2015 on one large mea culpa tour, we're all ready listen to what Bieber could do with more open ears; his growing-up personality now matches the music, so it feels more authentic. Perhaps that's why "Where Are Ü Now," "Sorry," and "What Do You Mean?" have grown so much more popular among larger audiences. But for those paying closer attention, Bieber has been growing musically for years, and the incredibly underrated Journals proves that. Now it's just a bit more believable.