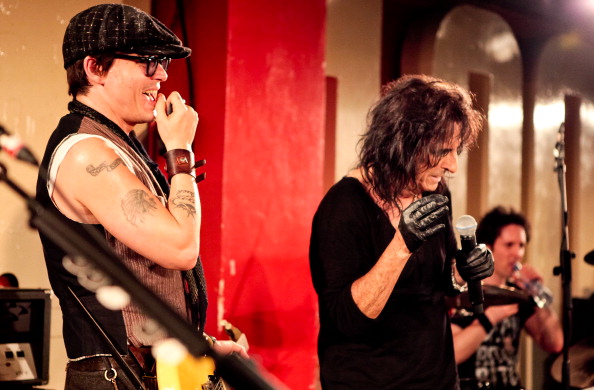 Though it may seem like it's far less featured in mainstream music these days, rock 'n roll certainly won't be absent at next week's Grammy Awards. Alice Cooper's star-studded band, the Hollywood Vampires, will pay tribute to the late, great Motorhead frontman, Lemmy Kilmister. The supergroup formed by Cooper is a decadent and depraved all-star team of hard-rock royalty (and Johnny Depp) that features Cooper on vocals, Duff McKagan of Guns N' Roses on bass, and Aerosmith's Joe Perry on guitar. For McKagan and Perry, the band is most likely a welcomed reprieve from answering questions about the Guns 'n Roses reunion and Steven Tyler's new, country-tinged solo career. As for Depp, well, we all need a break from dressing up like a pirate now and then.
Speaking to Rolling Stone, Cooper says that the point of the Hollywood Vampires was created "to toast our 'dead drunk friends' at the Rainbow, all the ghosts in the bar, and now I guess Lemmy is involved in that, too." The band has yet to say what their Lemmy tribute will include at the awards show, but their performance will involve them playing one of their own songs, "As Bad As I Am," which appears on the forthcoming deluxe-edition reissue of the band's 2015 debut album.
Cooper also said that the Motorhead classic "Ace of Spades" is definitely in play, although don't expect Cooper to try to go all out and mimic Lemmy's distinctive vocal style.
"I might do it more 'Alice Cooper style,' but it would still have to have that growl, that guttural voice to make it work. I can't picture, like, Creedence Clearwater doing that song."
The 2016 Grammy Awards are scheduled to air Monday, Feb. 15 on CBS.
(Via Rolling Stone)