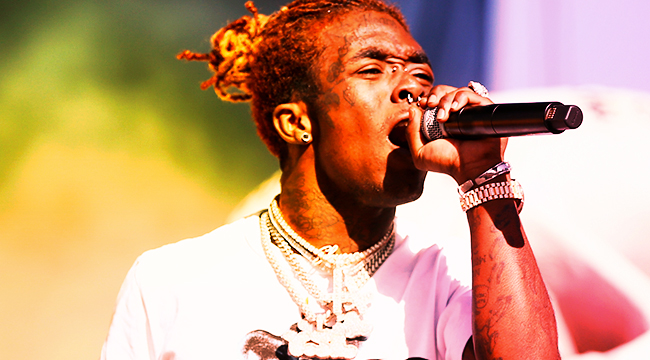 Earlier this week, a music insider told Complex that Lil Uzi Vert is set to retain Roc Nation management, who will help him in his struggle with DJ Drama and Don Cannon's Generation Now records. Today, he was added to the site's roster, which seems to confirm the move. Uzi has been entangled in a cold war with Drama, who signed him as an underground sensation in 2015, for over a year. He's repeatedly called out Generation Now and their parent company Atlantic Records for not releasing his music, outright advising artists to never "sign to a rapper or a DJ" last year and saying he was "done with music" earlier this year. Uzi has recently said that his upcoming Eternal Atake album, the follow-up to 2017's platinum-selling Luv Is Rage 2, is ready but his labels won't let him drop it.
After the latest social media volleying between Uzi and Drama, which included Drama saying Uzi was free to release the album and Uzi mentioning "hanging with the boss' girlfriend," it looks like the two are on the verge of finally splitting — and Uzi is on his way to the house that Jigga built. Roc Nation has a record label, which houses acts like J. Cole, Rihanna, and Big Sean, and they also have a management wing where they serve acts like Meek Mill and Fat Joe. For now, Uzi would be managed by Roc Nation.
The move would be the latest example of Roc Nation's altruistic praxis to help artists in a tough bind. Aside from donating to various grassroots movements, Jay-Z quietly helped Lil Wayne pay his back taxes, while Roc Nation provided legal assistance for Meek Mill and 21 Savage, who have respective probation and immigration battles they're currently fighting.
Uzi's predicament isn't as dire — though he's started a #freeuzi movement on social media — but his music career has been on lock down for over year. While stylistic peers like Juice WRLD, Lil Yachty, Post Malone and others are releasing music to much fanfare, the 25-year-old Uzi has been sitting frustrated on the sidelines. It's worth noting that Uzi had to upload his "XO Tour Llife" smash to Soundcloud himself. Who knows where he would be without taking his career into his own hands. Now he's set to do that on a grander scale, joining a Roc Nation movement that's devoted to giving artists creative freedom.
Many of Roc Nation's biggest artists have broken the mold that Jay-Z and Roc-A-Fella records contributed to with their workman release schedule in the late '90s and early 2000s. As a Def Jam subsidiary, the label operated like a hip-hop Motown at one point, with albums churning out every quarter. But that work ethic has earned Jay-Z the platform to create a space for talented artists who buck the industry status quo. "Hov did that so hopefully you wouldn't have to go through that" from "H To The Izzo" wasn't just a line.
J. Cole is a hip-hop superstar who is famously reclusive and undoubtedly marches to the beat of his own 808s. On any other label, a pop megastar like Rihanna would be pressured to churn out music on an annual basis, yet the Jay-Z mentee has been able to take a break from the hectic release schedule of her early career and spread her wings as a cosmetics maven with Fenty. Jay Electronica has never released an album, and is still in the crew's orbit when other labels would have long washed their hands with him. He even hinted at a collaboration album with Jay-Z down the pipeline.
The free-spirited Uzi's issue isn't a lack of music, it's the opposite. He wants to release his music but has run into stalemates with label brass at Generation Now and Atlantic. Atlantic Records has been accused by artists like Lupe Fiasco and producers like Metro Boomin of being too controlling and hands-on in the creative process. Metro accused the label of having a book that reduced hit songs to a formula. Lupe Fiasco recently alleged that the label gives acts "whole songs" and even offered him, a legendary lyricist, ghostwriters. B.O.B.'s "Nothin' On You" hit, for instance, was originally created for Lupe.
Uzi is one of the purveyors of a new, genre-bending sound that can't be dictated or judged by a rubric. The pillars of his movement aren't yet cemented, to the point where the genre doesn't have a definable name beside the derogatory "mumble rap." His "XO Tour Llife" hit is one of the defining songs of 2016, and Uzi had to release it himself, apparently because he had trouble getting his label behind it. Uzi is feeling the classic dilemma of being an innovative artist in an industry that looks to commodify sure things, and the circumstance has already taken a year from him. It doesn't need to take his career altogether.
It's an old story with major record labels, most recently seen with Chief Keef, whom Uzi and several artists have pointed to as artistic inspiration for his guttural harmonizing over thumping, synth-driven production. Keef's standing at Interscope Records, his former home, was no doubt tarnished by immature actions like blowing off obligations and missing his own big budget video shoot. But his producer and friend Young Chop has said that after Jimmy Iovine left Interscope for Apple in 2014, no one at the label understood him. His Finally Rich album and subsequent mixtapes laid a blueprint for a generation of so-called Soundcloud rappers, but he wasn't able to capitalize on his impact with commercial success on his own. He's done well to keep his career going by feeding his cult fanbase with a direct-to-consumer model, but there is more opportunity out there for him.
Perhaps that's why Keef may also be doing business with Roc Nation. On Tuesday, the mercurial rapper changed his Instagram profile photo to a candid picture of Jay-Z sitting at a desk wearing a Roc Nation hat. There's currently no more information about the photo or the circumstances behind it, but it would undoubtedly be a great look for Keef to link up with Roc Nation. Much like Uzi and J. Cole, Keef succeeds best when left up to his own devices. He's a prolific artist who has a devoted fanbase and is still only 23. With the right infrastructure behind him, he could easily return to the mainstream hip-hop sphere or continue on his current pace with stronger management with access to lucrative opportunities.
With Keef and Uzi in tow, Roc Nation would have two beloved figures of a youth-driven music scene on the team. It would also allow Jay-Z to symbolically re-approach a possible regret of his executive career; in 2006, Jay-Z was set to sign Lil Wayne away from Cash Money Records before Wayne decided to re-sign with his father figure Birdman. The Lil Wayne story from that point is a part of hip-hop lore, but who knows what the two Carters could have done together, especially with Kanye West on the team. Perhaps in Uzi, Jay sees another chance to sign a music star before liftoff. That's not to say under any circumstances that Uzi will parallel Wayne's sales numbers or artistic impact, but he's a beloved artist whose prime to be a leading figure of a daring hip-hop movement.
Looking to the future is how Roc Nation can maintain their musical relevance years down the line. Uzi is 25, an age he once hilariously called "old." Both he and Keef would help bolster Roc Nation's musical roster, and Jay-Z would be doing right by two talented artists who the industry has done wrong so far.