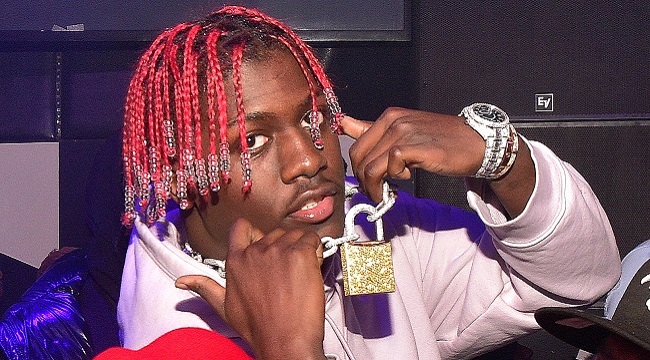 When Lil Yachty signed to Atlanta's Quality Control in 2016, co-founder Kevin "Coach K" Lee saw all these possibilities for his unusual appeal: A younger audience, as Yachty called himself "King Of Teens." Commercials, like the ones he did for Sprite and Target, seen opposite LeBron James and Carly Rae Jepsen. Brand deals like his partnership with Nautica, as inspired by his own moniker.
Yet when Yachty tells this same story, he thinks of himself as a liability. "I honestly didn't think that I would fit in at all," he said, seated between Coach and Quavo of Migos, in a recent roundtable Q&A with QC. "But I just wanted to be a part because I thought it would be so cool."
For his 2017 debut album Teenage Emotions, Yachty sat grinning among other so-called misfits. Following criticism from Pete Rock, Soulja Boy and Shia LeBeouf, Yachty even said not to call him a rapper. Yet on Lil Boat 2, released Friday, Yachty cautiously embraces that label in efforts to show how he has grown up.
"I don't know who I am sometimes / I might rap a verse, I might sing a song," Yachty warbled on the original Lil Boat, which is from 2016, even though it feels like yesterday. On Teenage Emotions, he was indecisive because he tried to please both hip-hop's oldheads and fans of his kitschy prom anthems. But in Lil Boat 2, Yachty isn't waving his freak flag, as much as he reps for his label. The production is dark, spare and bass-heavy, as if inspired by Migos' Culture.
Label mates Quavo, Offset and Lil Baby get featured among other rappers with whom Yachty has established goodwill, like 2 Chainz, Ugly God, and Youngboy Never Broke Again. Moreover, Yachty raps almost entirely throughout with unprecedented precision and aggression. He has come a long way since 2016's "For Hot 97", his attempt to redeem himself after his half-hearted freestyle at the New York station.
Sometimes Yachty tries too hard to seem more adult, like on "Baby Daddy" featuring Lil Pump and Offset, where he boasts of "fucking a bitch, grabbing her throat, poppin' out all her veins." But at least the rap oddball hasn't lost himself completely. "I don't even drink liquor / I don't even pull up to the mixer," he raps in "FWM," a rare reference to his straight-edge ways. Producer 30 Roc's style isn't as distinct as the Good Perry's, whose happy-go-lucky vibes dominated the original Lil Boat. Still, the Ear Drummers member is game for anything. His dissonant instrumentals in"FWM," "Whole Lotta Guap" and "BOOM!" are among Lil Boat 2's most distinct. 30 Roc also co-produced the PnB Rock-featurin "She Ready" and the equally dreamy "Love Me Forever" — two ballads, and glimpses into Yachty's past self, that actually made the cut.
In the days leading up to Lil Boat 2's release, Lil Xan caught flak for telling an interviewer that Tupac is "overrated," two years after Yachty fell for a similar clickbait trap. (We must remember that Yachty was born the same year Biggie was shot dead.) In response to Funkmaster Flex including him in his list of "wack rappers," Yachty reached out and even agreed to freestyle on his Hot 97 show. Meanwhile, Lil Yachty recently called Drake's latest efforts ("God's Plan," his feature in BlocBoy JB's "Look Alive") the "hottest" records out right now.
"Two years is the new 20," Yachty recently said. He was talking about how quickly rap fans metabolize the latest trends and sounds, based on XXL's most recent Freshman Class picks. Yet Lil Boat 2 may be the most jarring reminder in recent memory of how Yachty isn't some kid anymore — how quickly the rap game has made him grow up. This turn was inevitable. But that doesn't make it any less bittersweet.