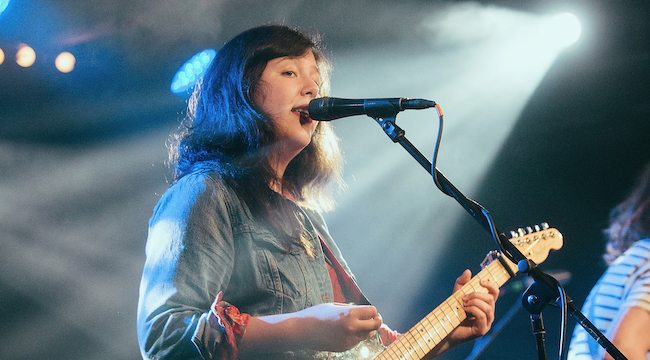 Lucy Dacus has a lot going on at the moment. She's in the process of rolling out a series of singles related to holidays, the latest of them being "My Mother & I" (you can probably guess which day that song was for). She's also in the midst of a world tour; she performs in Berlin, Germany tonight, in Milan, Italy tomorrow, and etc. She still has plenty of overseas shows to go, but after taking a well-deserved break during August, she'll return to the road for a slew of North American concerts.
Dacus just announced a bevy of US and Canada tour dates, beginning in Pennsylvania in September. From there, she'll go to Toronto, Chicago, Detroit, Seattle, Portland, California, and plenty of other places in between.
There are a lot of upcoming dates, so check them all out below.
05/28 — Munich, DE @ Strom *
05/29 — Milan, IT @ Magnolia *
05/31 — Barcelona, ES @ Primavera Sound Festival
06/01 — Hilvarenbeek, NL @ Best Kept Secret Festival
06/04 — Paris, FR @ Boule Noire
06/05 — London, UK @ EartH
06/06 — Leeds, UK @ Belgrave Music Hall
06/08 — Porto, PT @ Optimus Primavera Sound
06/10 — Nottingham, UK @ Bodega
06/11 — Edinburgh, UK @ Voodoo Rooms
06/12 — Manchester, UK @ YES
06/14 — Stavanger, NO @ Mablisfestivalen
06/15 — Stockholm, SE @ STHLM Americana
06/16 — Gothenburg, SE @ Oceanen
06/17 — Malmo, SE @ Plan B
06/19 — Kortrijk, BE @ De Kreun
06/28 — Richmond, VA @ Friday Cheers
07/02 — Dortmund, DE @ FZW
07/03 — Hamburg, DE @ MarX
07/04 — Roskilde, DE @ Roskilde Festival
07/06 — Prague, CZ @ Chapeau Rouge
07/07 — Vienna, AT @ Flex Cafe
07/08 — Dornbirn, AT @ Conrad Sohm
07/10 — Lausanne, CH @ Festival de la Cite
07/27 — Newport, RI @ Newport Folk Festival
07/28 — Philadelphia, PA @ XPoNential Festival
07/30 — Austin, TX @ Austin City Limits TV Taping ^
07/31 — Austin, TX @ Paramount Theater ^
09/05 — Raleigh, NC @ Hopscotch Festival
09/10 — Lancaster, PA @ Chameleon Club
09/11 — Hamden, CT @ Space Ballroom
09/12 — Portsmouth, NH @ 3S Artspace
09/14 — Burlington, VT @ Grand Point North Festival
09/15 — Ottawa, ONT @ Ottawa Cityfolk Festival
09/16 — Montreal, QC @ L'Astral
09/17 — Toronto, ONT @ Lee's Palace
09/19 — Detroit, MI @ El Club
09/20 — Pittsburgh, PA @ Mr Small's
09/21 — Bristol, TN @ Bristol Rhythm & Roots
10/09 — Louisville, KY @ Headliner's
10/10 — Chicago, IL @ Park West
10/11 — Madison, WI @ Majestic
10/12 — Minneapolis, MN @ Cedar Cultural Center
10/14 — Omaha, NE @ Slowdown
10/16 — Bozeman, MT @ The Rialto
10/17 — Missoula, MT @ Top Hat Lounge
10/18 — Boise, ID @ The Olympic
10/19 — Spokane, WA @ The Bartlett
10/21 — Vancouver, BC @ Hollywood Theatre
10/22 — Seattle, WA @ Neumo's
10/23 — Portland, OR @ Aladdin Theater
10/25 — San Francisco, CA @ August Hall
10/26 — Los Angeles, CA @ Teragram Theater
10/28 — San Diego, CA @ Belly Up
10/29 — Phoenix, AZ @ Crescent Ballroom
11/01 — Englewood, CO @ Gothic Theatre
11/04 — St Louis, MO @ Delmar Hall
11/05 — Cincinnati, OH @ Woodward Theatre
11/06 — Grand Rapids, MI @ Covenant Fine Arts Center
* supporting Jawbreaker
^ with Julien Baker