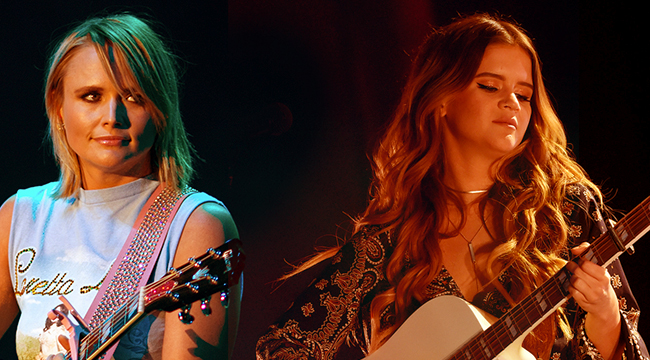 I fell in love with country music because I fell in love with Patsy Cline. My mom had all her CDs, and Patsy's greatest hits were always in rotation. Beyond Patsy, my introduction to country radio was filled with the tail end of Garth Brook's original era, Alan Jackson and the Dixie Chicks.
Behind the guitars and the twang, country music was about exploring love, loss, grief, elation; the genre was about incredibly tough emotions and the highs and lows we all experience. Under heavier hands, these lyrical explorations can be exceptionally cheesy, cliche and at worst, boring. But the best country music emerges when songwriters and performers use simplicity to take on complex emotions.
Instead, country music's default position in recent years has centered on partying, beer and trucks with few notable exceptions. Looking at this year's country Grammy nominees and those of the recent past, I see women tapping into the core emotions that made the country music I fell in love with great. Such is the case for Grammy nominees, both Maren Morris for "I Could Use A Love Song" and Miranda Lambert for "Tin Man," which are each nominated for Best Country Solo Performance. (Lambert also earned another nomination for Best Country Song, awarded to herself and fellow songwriters Jack Ingram Jon Randall). Not only are sadness and solitude the most timely elements to be explored in contemporary country music, but I'd argue those are the very feelings this genre was built to create.
I'm not expecting country music to solve all our political strife, but I think the genre's lyrical strengths could help soothe the collective, constant anxiety of late, if only we expect a bit more from the genre. Over the last year in particular, I've found myself grasping in the dark for art that makes me feel whole again, and in the past, country music was my port in the storm. I knew I could always go back to the beaches of Cheyenne with Garth and remember Trisha's Xx's and Oo's, but lately, I rarely anything all that strong about most of the current country music field. I wish contemporary artists would give us more of those hard emotions. Hell, If Luke Bryan can do it with a song called "Drink A Beer," (co-written with Chris Stapleton) I think others are more than capable.
Maren Morris' nominated track, "I Could Use A Love Song," takes a meandering look at the last stage of recovering from a break-up. No longer angry at the other person, but still incapable of moving forward, it's a sweeping track for the young singer/songwriter that was released on her debut Hero in 2016. (She won a Grammy for the song "My Church" off the same album. The Grammys nomination and voting process is… weird.) It's a little ironic that Morris could end up with another Grammy for such a sad track while she seems to be so jubilant. She's engaged and planning a wedding, had a fairly successful overseas tour, and the track in question just landed her first No. 1 single on Billboard's Country Airplay chart. From the outside, Morris is having a good year.
In contrast, Lambert's "Tin Man" is one of the quietest songs of the year, on an album that didn't receive nearly the reception it deserved. Lambert is most associated, in song, with anger, revenge and violence and "Gunpowder & Lead." Her latest album The Weight Of These Wings is the first music she released since her highly-publicized break-up with fellow country royalty Blake Shelton, and it went platinum. I figured the Tin Man reference would be tired when I read the track listing, but instead she taps into the grimmness of Oz and reminds us that even the best love brings scars.
The reason women like Morris and Lambert — and other contemporaries like Kacey Musgraves and Cam — feel so fresh is because mainstream and charting country music, for some reason, ditched tackling tough feelings like these in the last five years. It was as though country music decided to try out the flattened universality that characterizes much of pop music. (I still love pop music; they're just different genres.) But a quick peek at country radio tells the story of some pretty successful guitar bros. I get it; who doesn't love "Friends In Low Places," even if no one has successfully duplicated its ubiquity? But we've collectively robbed a genre of its roots — pain, heartbreak, a vision toward a future however happy or tragic — and replaced with songs that are good for just the night. How bleak and boring is that?
I believe country music's greatest asset is its universality, but what good is a universal connection if it's as surface level as Hallmark Card? The mantles of country icons like Merle, George, Johnny and Hank should be passed on to singers and songwriters like Maren Morris and Miranda Lambert, and even Taylor Swift who's nominated in the same category for writing Little Big Town's No. 1 hit "Better Man," a song that doesn't shy away from tough, sad feelings. The Grammys have a decent track record when it comes to recognizing women, but if they did more, it might help these women gain footing in the radio and commercial realm.
The canon of country music has largely been written by men, but what's most exciting about the genre's future is the range of non-male emotions that can make the canon. Women make up the most exciting acts in country music right now and I wish they were given the creative runway and support (that means radio) to make more interesting music. Fans and consumers deserve more, and I think it's going to be delivered to us by artists like Morris and Lambert. Maybe a song about a truck and a beer can take the edge off, but I'm gonna need a love song. And many more ladies brave enough to explore country music's origins in the modern era. If I can't get that, maybe Morris is right: A drink will have to do the trick.