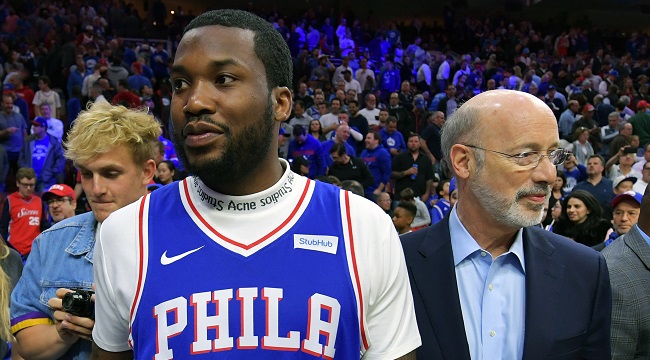 Meek Mill still has yet one more obstacle that he has to overcome. Judge Genece C. Brinkley will still preside over his hearing in June over his 2008 drug and weapons conviction, according to TMZ. Meek's legal team has requested for months that Brinkley recuse herself from that case, and says that the Supreme Court of Pennsylvania recently made that same recommendation.
Meek's hearing in June will determine whether that drug and weapons conviction should be thrown out. The city of Philadelphia found Meek's convicting ex-officer Reginald Graham unfit to testify due to past corruption. But Brinkley's lawyer A. Charles Peruto, Jr., says that other cops testified during Meek's case. "If their credibility is intact the judge might not overturn the conviction," TMZ reports.
Yesterday the Supreme Court of Pennsylvania ordered for Meek's immediate release from jail. That surprise decision was met with fanfare: Hours later, he sat courtside and even rang the bell that kicked off last night's Philadelphia 76ers and Miami Heat game. But that decision by the state's highest court had only overturned Brinkley's decision that Meek be jailed for violating his parole. Meek was sentenced to two to four years in prison — a ruling that Brinkley maintains wasn't excessive.
Fortunately, Meek seems to understand what remains at stake. In a statement released yesterday, he says, "Although I'm blessed to have the resources to fight this unjust situation, I understand that many people of color across the country don't have that luxury and I plan to use my platform to shine a light on those issues. In the meantime, I plan to work closely with my legal team to overturn this unwarranted conviction and look forward to reuniting with my family and resuming my music career."