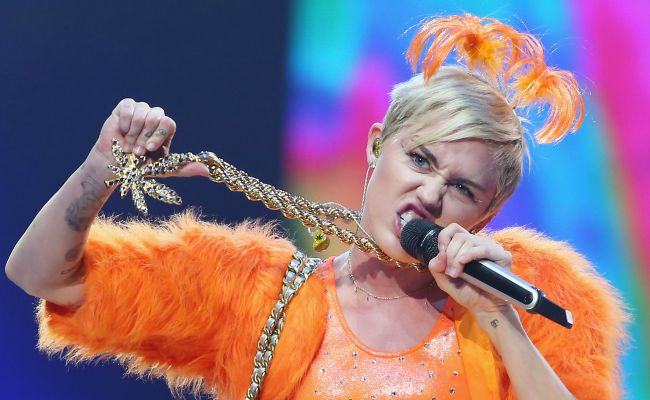 In probably the fifth most memorable moment of Sunday's VMAs, Miley Cyrus dropped a new album, Miley Cyrus & Her Dead Petz, for free at the close of the show. The New York Times, now your paper of record for Miley news, has the dirt on how the album was made, in the pop star's own words.
It all started when the singer's dog was killed by coyotes while she was on tour to promote her previous album, Bangerz. Two weeks later, Cyrus had a severe allergic reaction and was hospitalized. The Flaming Lips' Wayne Coyne visited her while she was recovering. That's not all. Quoth the New York Times:
But it wasn't until she returned home to pursue natural healing that things got "really trippy," she said. "This is going to sound crazy," but a Chinese healer "sent me into a state where my dog was lifted out of my lungs and placed on my shoulder," she explained. "I pet my dog for like three hours." After finally telling Floyd she had to "let go and put his energy out," Ms. Cyrus continued, "I really think, in a way, his energy went into Wayne's energy. What he was to me, Wayne has become."
Coyne, who produced most of the album, has become really important to Cyrus: "I am 100 percent in love with Wayne, and Wayne is in love with me, but it's nothing sexual in any way. That would be the grossest." He was the one who convinced Cyrus to release the album for free on SoundCloud.
Also interesting is the fact that Cyrus's record label, RCA, had nothing to do with the album, which cost only $50,000 to make. It won't even count towards her contract. While it's kind of eye-roll-inducing how Cyrus insists that she's not mainstream, it's no less fascinating that Miley Cyrus made and released her album for free, because with her fame and success, she could:
Ms. Cyrus said it's hard to imagine fitting again into a mainstream mold. "I don't think I'll grow that way," she said. "It seems like it would be backwards." Her team of advisers, she added, "said they'd never seen someone at my level, especially a woman, have this much freedom. I literally can do whatever I want. It's insane."
(Via New York Times)