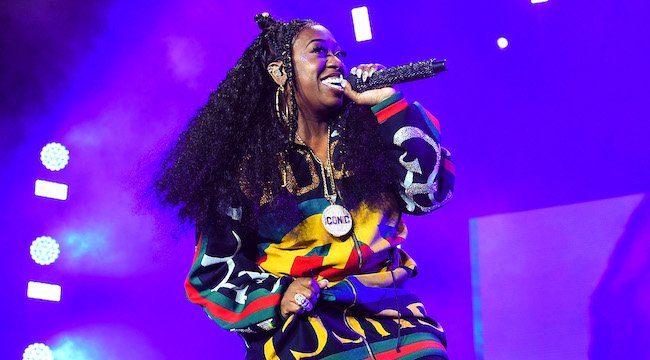 Missy Elliott has just become the first female rapper to be nominated for induction into the Songwriters Hall Of Fame, according to a story released by Associated Press ahead of the Hall's official announcement. She's also just the third rapper overall, after Jay-Z and Jermaine Dupri.
Missy, who has written songs for Beyonce, Whitney Houston, herself, and a plethora of other artists, including a fleet of charting hits, wrote that she is "Humbly Grateful to be nominated with so many other AMAZING writers" on Twitter. Songwriters are eligible for induction after writing hit songs for at least 20 years.
Some of the hits she's helped to pen in her past two decades in the music game include Monica's "So Gone," which was a No. 1 R&B hit and charted in the Top 10 of the Hot 100, the No. 4-charting 702 hit "Where My Girls At," and the star-studded cover of "Lady Marmalade" featuring Christina Aguilera, Lil Kim, Mya, and Pink. She also worked with Aaliyah, Janet Jackson, Mary J. Blige, SWV, Total, and Tweet.
The Hall's 50th annual Induction & Awards Gala will take place in New York on June 13, 2019, where six songwriters or groups will be inducted. The voting process allows voters to elect three non-performing songwriters and three performing songwriters until December 17. The other performing nominees up for induction with Missy include Mariah Carey, Jimmy Cliff, Cat Stevens, Lloyd Price, Jeff Lynne, Chrissie Hynde, Vince Gill, Mike Love, Tommy James, John Prine, and the Eurythmics (Annie Lennox and Dave Stewart).