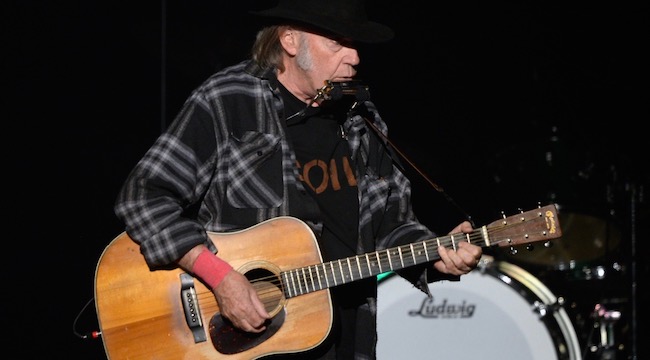 Neil Young's expansive, online archives project has been a tremendous boon to the biggest fans of the innovative Canadian singer-songwriter. In addition to having access to the highest quality sounding recordings of his official albums, Young has used the platform as a way to share a collection of archival releases that have sat dormant for decades, including Hitchhiker, and Roxy: Tonight's The Night Live. Now he's got another one on the way.
Titled Songs For Judy, Young's latest live album collects together 23 songs taken from the acoustic sets of his 1976 "Crazy Horse" tour. The songs were assembled by Neil's friend and noted photographer Joel Bernstein direct from the soundboard at the time, and were passed around for years in the bootleg community for years where they were affectionately known as the "Bernstein Tapes."
To give fans a sense of the vibe of the recordings, Neil has shared one of the standout tracks today, a take on the song "Campaigner.
In a note posted to his daily "newspaper," The Times-Contrarian, Young wrote about the new album.
"Joel Bernstein 'boy photographer' music lover, collector and archivist, and Cameron Crowe, writer and music lover were responsible for the record album Songs For Judy. JB was on my solo tour in 1976, tuning my acoustic guitars. He also was recording cassettes of the shows from our P.A. board mixes. Basically, what the people heard. Joel and Cameron chose these songs and did a great job. The album is quite unique and I think the period was very well captured in the sound and performances. It was a moment in time, and it's easy to tell why it's called Songs For Judy."
Neil Young's latest live album Songs For Judy is set to drop on November 30 via Shakey Pictures Records. Check out the album art and full tracklist below.
1. "Judy G Rap"
2. "Too Far Gone"
3. "No One Seems To Know"
4. "Heart of Gold"
5. "White Line"
6. "Love Is A Rose"
7. "After The Goldrush"
8. "Human Highway"
9. "Tell Me Why"
10. "Mr. Soul"
11. "Mellow My Mind"
12. "Give Me Strength"
13. "A Man Needs a Maid"
14. "Roll Another Number"
15. "Journey Through The Past"
16. "Harvest"
17. "Campaigner"
18. "The Needle and the Damage Done"
19. "The Old Laughing Lady"
20. "The Losing End"
21. "Here We Are in the Years"
22. "Pocahontas"
23. "Sugar Mountain"