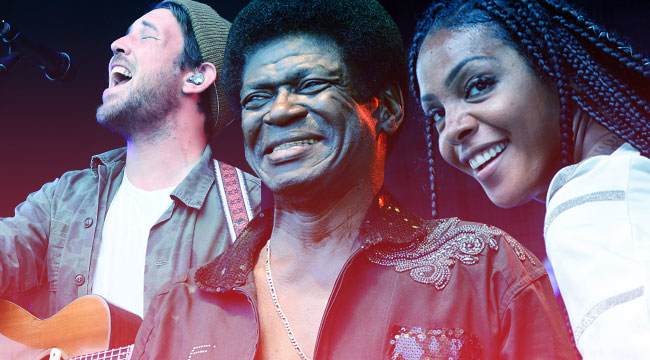 Indie music has grown to include so much. It's not just music that is released on independent labels, but speaks to an aesthetic that deviates from the norm and follows its own weirdo heart. It can come in the form of rock music, pop, or folk. In a sense, it says as much about the people that are drawn to it as it does about the people that make it.
Every week, Uproxx is rounding up the very best of the indie releases from the past seven days. This week received a final album from the recently departed Charles Bradley, a collection of classic and rare material from Fleet Foxes, and great new songs from the likes of Dawn and Kelsey Lu. Yeah, it was a pretty great week for new indie music.
Charles Bradley — Black Velvet
There are a million reasons why Charles Bradley's death a year ago gutted music fans all over the world, from his joyful spirit to his amazing success story. With that in mind, it's hard to listen to unreleased songs by him without getting emotional. His final album, Black Velvet, seeks to have fans remember the artist not for his death but for the incredible talent and vitality he gave to the world. With his stunning voice, that won't be hard.
Grapetooth — Grapetooth
Clay Frankel and Chris Bailoni are a pair of Chicago musicians and roommates making synth-rock under the moniker of Grapetooth. Though the former is better known for his band Twin Peaks, this is the record that exists strongly outside of that context. In his profile of the band, Uproxx's Corbin Reiff calls the album "a supremely gorgeous collection of ten different tracks that embody the soul of your favorite '80s synth-wave bands with the open-hearted punk rock angst of The Replacements."
Fleet Foxes — First Collection 2006 – 2009
I can still remember the first time I saw Fleet Foxes in concert, touring their just-released debut in front of a silent few hundred people at The Echo in Los Angeles. It's wild to think about how far they've come, now able to headline the Hollywood Bowl. This collection of their earliest work takes listeners back to the humble beginnings, revealing a songwriter in Robin Pecknold who possessed a striking vision from the get-go, and a promise that has been more than fulfilled.
Dawn — "New Breed"
Dawn Richard has straddled the line between the indie and R&B worlds for years, refusing to be classified in any one genre and appealing to fans of many different worlds. On "New Breed," she goes full hip-hop in the verse, crafting an expertly produced vision that feels as fully-formed as it is captivating. When she claims to be "the new breed," her music backs the idea fully.
William Tyler — "Fail Safe"
Willaim Tyler's upcoming new album is called Goes West and was recorded in Ojai, California. On first single "Fail Safe," the album title and location feel like integral parts of the music, with the sweeping cinematic instrumental perfectly capturing the beauty that the west has to offer.
Isabelle Brown — "Places"
Isabelle Brown isn't the first teenager to get attention for her music, but it's hard to recall many whose voice could be the paradigm of an "old soul." It's not just the maturity in the vocals that stands out on "Places," but also just the confidence of the arrangement, the lyrics, and the entire package. Matador imprint True Panther has already signed the 15-year-old singer, and it's the sky feels like the limit for how far her career could go.
J Mascis — Elastic Days
Fans of Dinosaur Jr. know that J Mascis as a solo artist is often a very different beast. Instead of wailing guitar solos with mournful vocals, we get acoustic strums and straightforward songwriting, albeit still with mournful vocals. It winds up presenting a second side to the beloved indie icon that feels as essential in knowing him as his noodling guitar style.
Jeff Goldblum And The Mildred Snitzer Orchestra — The Capitol Studio Sessions
Yes, that Jeff Goldblum. What started as a periodic jazz night in Los Feliz and swelled to a spattering of festival appearances now becomes a full-length album. But besides the chops that he brings to the project, what's best about Goldblum is that he doesn't shy away from the idea of a vanity project, instead turning his performances into Goldblum appreciation. Now with an album to support this endeavor, Goldblum appreciation should only increase.
Kelsey Lu — "Du West"
Cellist and songwriter Kelsey Lu is one of those indie figures whose name has been unavoidable as of late, constantly popping up as tour support or as a guest collaborator for artists like Florence And The Machine, Oneohtrix Point Never, and King Krule. On her latest song, Lu is fully ready to own her spotlight, presenting a clear-eyed ode to the state she now calls home. Maybe its west coast bias that makes this song resonate so strongly, but Lu's song commemorating her move westward captures a musical journey that's become fairly relatable these days.
Sufjan Stevens — "Lonely Man Of Winter"
In 2007, Sufjan Stevens sent "Lonely Man Of Winter" to the winner of his "Xmas Song Xchange Contest," and since then, the only people to hear the song were those who attended listening parties put on by the song's recipient. Now, "Lonely Man Of Winter" is available for all to enjoy, and as expected, it's a lovely, intimate piece that reflects both who the artist was at both the time of its creation and the elements that remain true in his art today. What was once a gift to one is now a gift to many.
Yore — EP1
Co-produced by Robin Hannibal of Rhye, this gorgeous and sweeping collection of electronic-nostalgic songs is an introduction to LA-based producer Yore. For the collection, he traveled between Los Angeles and historically romantic cities like London, Paris, and Berlin, searching for inspiration and channeling those feelings into the suite of five intimate track that make up EP1. "I really see it as just the starting point of this new story I'm writing about a life with always one foot off the ground or out the door," he said of the EP. It's hard to imagine a better introduction to his darkly emotional electronic style.