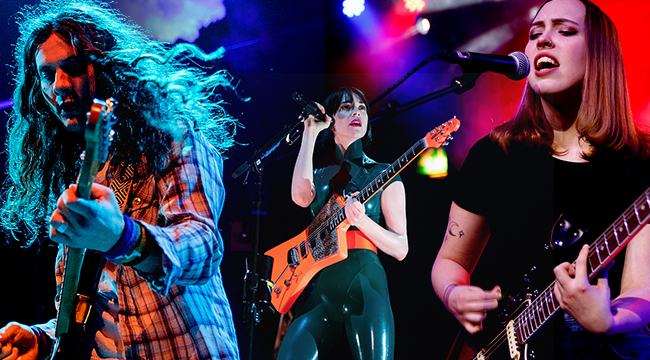 Indie music has grown to include so much. It's not just music that is released on independent labels, but speaks to an aesthetic that deviates from the norm and follows its own weirdo heart. It can come in the form of rock music, pop, or folk. In a sense, it says as much about the people that are drawn to it as it does about the people that make it.
Every week, Uproxx is rounding up the very best of the indie releases from the past seven days. This week offered up a new Kurt Vile record that stands as one of the best of the year, St. Vincent showing her mastery comes in many forms, and a Soccer Mommy cover of The Dixie Chicks that seems like an ideal marriage between the two artists. It was a pretty great week for indie music.
Kurt Vile — Bottle It In
There are many great things about a new Kurt Vile album cycle. One is that it allows us to appreciate the best hair in the music industry; his long, caramel locks standing as an essential part of his identity. Another is the craft that goes into his work, with our own Martin Rickman noting, "Like endless time spent in your own mind, thoughts enter and escape Vile's tracks, reappear like wraiths, cause chain reactions of doubt and regret, and painful, introspective examination of your own self."
St. Vincent — MassEducation
If you ever see a St. Vincent live show, you'll witness a barrage for the senses. Projections, lighting displays, choreography, rock-star poses, and songs arranged in whatever way makes the most sense for her current iteration. That's what makes her latest endeavor, a piano-and-voice recreation of her last album, such an exciting proposition. We've rarely heard St. Vincent this intimate and stripped-down, getting to the skeletal core of what makes her songs tick. It's a brave move in a career defined by such bravery.
Anna St. Louis — If Only There Was A River
There aren't a ton of artists that can be traced from roots in Kansas City to really getting their career going in Los Angeles. One is Anna St. Louis, whose debut album feels comfortably at home amongst the rootsy folk tradition of the city she now calls home. Another is Kevin Morby, who along with King Tuff, worked as a producer on the record. Classic country plays a big influence on the collection, which finds St. Louis establishing herself as an enthralling songwriter right out of the gate.
Yowler — Black Dog In My Path
No one should ever accuse Philadelphia-based songwriter Maryn Jones of being stuff on a particular sound. On her latest album as Yowler, the aesthetics can switch wildly from soaring, distorted incantations to intimate, longing meditations. Somewhere in there is even the practically danceable "WTFK." It paints the portrait of an artist that is comfortable in the act of exploration, as interested in the process of searching as she is in what she finds along the way.
Soccer Mommy – "Wide Open Spaces"
Dixie Chicks have roughly 50 songs that would sound great covered by indie rockers (or that sound great as is), but rising songwriter Soccer Mommy's choice is impeccable and iconic. "Wide Open Spaces" is a country radio classic, but in Soccer Mommy's hands, it is wistful and elegant in a way that's inherent in the song's construction. The slide guitar sitting happily in the song's shadows is a wonderful added touch.
Sasami — "Not The Time"
Sasami Ashworth's hard work seems to be paying off. After more than a decade of hustling in the Los Angeles area, she's now signed to Domino to put out this great new single. Already turning heads on tour with Soccer Mommy, next she has dates scheduled with Snail Mail and Mitski, surely earning her some sort of bingo for opening for the brightest stars in the indie rock world. "Not The Time" is a warm bit of melodic indie bliss, with its own secret that it keeps revealed until the song's conclusion unveils an unexpectedly noisy and expansive instrumental blast. It's a song that runs a surprisingly complex gambit and cements Sasami as a must-hear artist going forward.
Maggie Rogers — "Light On"
With how thoroughly Maggie Rogers already conquered the music festival circuit in the last couple years, it's easy to forget that she still hasn't put out her debut album. That will end come January, as the Pharrell Williams-discovery has now announced her proper full-length, Heard It In A Past Life. First single "Light On" captures the grandeur of Rogers' pop presence, with the song reaching for the rafters with the confidence of an artist far more experienced.
Lil Silva – "Always Wonder" (feat. Cautious Clay)
British vocalist and producer TJ Carter, better known by his recording alias Lil Silva, makes music that feels free of genre constraints. Skewing closest the R&B, this latest single offers up elements of hip-hop, electronica, and modern indie songwriting. But what stands out most is the artist's ability to let the song morph and evolve over the course of just a few minutes, with an ear for production details that ground the song in a defined classiness.
The Tracks — "Strange Moments"
Los Angeles garage rock band The Tracks represent a large portion of the region not typically represented in the rock or indie scenes. They are the children of undocumented immigrants and they breathe the same fiery, retro intensity that The Strokes appeared with almost two decades earlier. On their latest effort, "Strange Moments," the band showcases a maturity that's buoyed by Venancio "Benny" Bermudez's gruff, powerful vocals. With their debut album due November 2, The Tracks are one of the most exciting young bands to emerge out of Los Angeles in years.