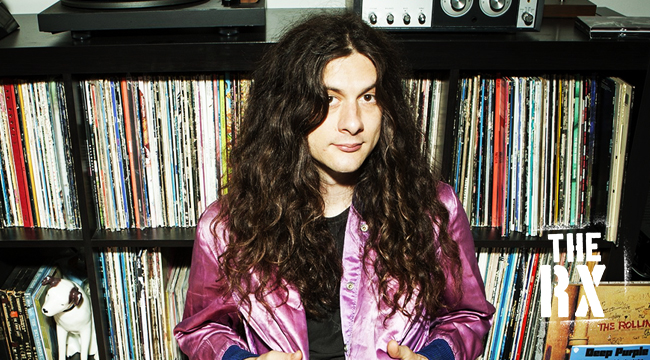 The RX is Uproxx Music's stamp of approval for the best albums, songs, and music stories throughout the year. Inclusion in this category is the highest distinction we can bestow, and signals the most important music being released throughout the year. The RX is the music you need, right now.
"I've always had a soft spot for repetition," Kurt Vile offers up on "One Trick Ponies" off his new album Bottle It In. For someone as assuredly self aware and introspective as Vile, the assessment feels less an aside or a wink and more a confession. He understands this tick as well as anyone, and he's working on it. He's working on all of it.
There's always been something soothing, triggering, and zen-like about Vile's guitar work, his language, his "hmm"s and "woo"s, and yes, that repetition. Songs push forward without abandon and it's easy to lose track of time. Like endless time spent in your own mind, thoughts enter and escape Vile's tracks, reappear like wraiths, cause chain reactions of doubt and regret, and painful, introspective examination of your own self.
That's "just the way things come out," Vile mentions on "Bassackwards," a nine-minute, 47-second tour de force that will hold up as one of his sharpest and most poignant connections between guitar mastery and lyricism in his sweeping career.
The title track, "Bottle It In," sees an echo effect that amplifies that soliloquy, as Vile says, "Don't tell them that you love them for your own sake, cuz you never know when your heart's gonna break, and that's a chance you just can't take." It ends in a "hello, hello," as if searching for a response that refutes those sentiments from someone offering up a counterargument — one that likely won't come when he's alone with his musings, with no one there to break those frequent and maddening cycles.
He finally decides at some point that it's time to "bottle it in," letting the listener know that he "went to bed." Guitar god, yes, but still a dad.
While the album finds plenty of signature Vile humor, wordplay, and cynicism, there's a state of facelessness to it all when Vile withdraws within himself. Written on the road over the past couple years, he asks "who needs armor when I have an exoskeleton? I slip and squirm through the cracks." He can "creep around" like a shadow, blending into his surroundings.
The album clocks in at a weighty 79 minutes, although you can't be sure if that's even true. You're never quite sure how long you've been listening to Kurt Vile. You're never quite sure how long you've been lying awake. It could feel like hours in the darkness, trapped in that unending repetition of your inner psyche. Check the clock again, and find it's only been a matter of minutes.
The entire project is reminiscent of Agapē Agape the last book by author William Gaddis — published posthumously and finished right before his death — which was written as the internal monologue of a dying man. There are no paragraph breaks, it weaves and winds and drops reference after reference in its short, sub-150 page format. Reflections are piled one on top of each other, building walls and suffocating, choking, stifling, leaving the reader struggling to breathe.
The novella is one big panic attack. It's furious in its energy, exhaustive in its research, and still, somehow, it feels fittingly unfinished, the same way all our lives are unfinished. They just end. There's always something left to be done, something left to be said.
Gaddis spent five decades pouring over the player piano, always working on something else, just as Vile spent time ruminating and building this album in between other projects. He has something to say, and if you parse the almost hypnotic rhythms and incantations, there's always an element of restraint.
At times this can feel frustrating, but other times, it shows the master at work. This was what he decided to present to you. This was the result that all that work, all that knowledge, and all that obsession really delivered.
There's no doubt Vile is a audiophile; speak to him for a matter of minutes, and he'll rattle off inspirations and things he's listening to. Vile told Uproxx's Steven Hyden about a "virtual syllabus of books he's read lately about the history of country music."
The work and the process matters to him; it's not enough to just offer up something that's easy to absorb. If he's always thinking, always probing, and he can't shut his mind off, why shouldn't we do the same?
Gaddis' fascination with the player piano never left his mind. It led to, as Claire L'Enfant wrote in The Pianola Journal in 2003, "the growing use of mechanical reproduction in the arts, the resulting loss of autonomy and respect for individual artists, and a growing market for instant gratification entertainment." We're all faced with something far more grotesque and powerful than a player piano, streaming and buzzing, keeping us connected and addicted to that instant gratification feedback loop at all times. It's our messiah and our Moloch, creator and destroyer.
The most beautiful track on the Vile's album is "Mutinies," which features Kim Gordon of Sonic Youth fame on acoustic guitar. There's the open admission that "The mutinies in my head keep staying; I take pills and pills trying to make them go away," but somehow, almost borrowing from Gaddis, is the relatable take on technology that there's a "small computer in my hand exploding; I think things are way easier with a regular telephone."
The last 90 seconds of "Mutinies" goes electric, spiraling outward outward outward, weaving and twisting, as the acoustic notes continue their foundation. Four tracks on the album clock in at almost eight minutes or longer, and the layers mimic inner monologues, that time spent after 2 AM wondering what it all means or why we are the way we are. Find yourself talking to, well, yourself, and that maze of the eternal return builds and builds, asides come out of nowhere, you chuckle or offer a "hmm" to something no one else will ever know.
It's not madness; it's how the mind works. The first sentence of Agapē Agape sets the tone for what's to come in a breathless 237 words, and offers a glimpse into a mind that's still sharp and still clawing for validation.
"No but you see I've got to explain all this," Gaddis writes, "because I don't, we don't know how much time there is left."
Even at the end, the narrator wants to finish, wants to speak, wants to let it all out. Even at "the collapse of everything." Even if there's "disorder and dislocation everywhere you look." Vile isn't dying; but he understands mortality, and he's just as clued in on the grapple between past and present as Gaddis (and his narrator) were in those final days.
"On the plane I'm drinking red wine," Vile says on "Cold Was The Wind," "cuz like everybody else I'm afraid to die. Did I mention that I'm afraid of dying?" Traveling alone is when these thoughts pop up most frequently over time, watching people come and go, disappearing, nameless, into one's self and into a crowd — moving from Loading Zone to Loading Zone — where you're everyone and no one at once.
Bottle It In is out now via Matador Records. Get it here.