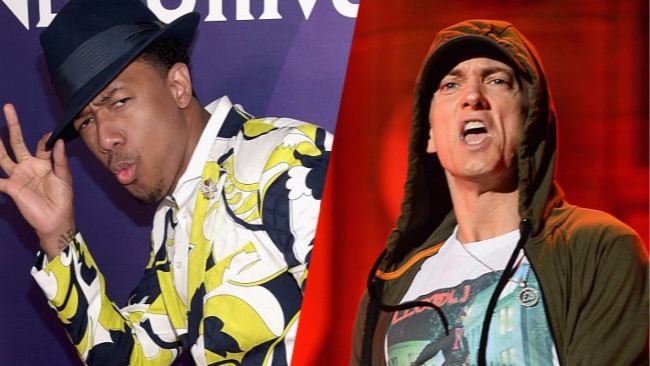 Nick Canon has his hands in a whole bunch of pies. He's a successful actor, TV show host, and was even named Chief Creative Officer of Radioshack last year (yeah, not kidding).
The star's also recently moved back into the rap game with his contributions to Spike Lee's Chi-Raq soundtrack. That bit of studio time might be the reason why Canon, whose biggest hit is his 2003 "Gigilo" collaboration with R. Kelly, thinks he can now go toe-to-toe with some of the best rappers in the business.
In a recent interview with British DJ Tim Westwood, Canon unveiled his plans to host the ultimate rap battle before the BET Awards, set to take place June 26th. The entrepreneur wants each competitor to put up $100,000 of their own money and he already knows who his first challenger should be: Eminem.
That's right, the Real Slim Shady, arguably one of the best rappers to grace the game, is the man Canon wants to test his skills against.
Obviously, the star has never seen the movie 8 Mile and what happened to poor Clarence — a.k.a. Papa Doc, a.k.a. Anthony Mackie in the days before he was a Marvel superhero sidekick — but the real reason for the call-out may be due to the decades-old beef the two share over Canon's ex, Mariah Carey.
For anyone who has completely forgotten those petty but oh-so-dramatic music squabbles of the early '00s, Carey stirred up some controversy with her 2009 single "Obsessed," which many believe was aimed at Eminem. The Detroit rapper retaliated with his own diss track, "The Warning," which Canon, who was married to Carey at the time, took offense to. Canon released his own single that responded to the feud a year later, but no one seemed to notice.
Maybe this whole rap battle thing is him trying to have the last word? Or maybe he's just truly delusional. Either way, the business mogul is sticking to his guns, telling Westwood he's already approached other rappers including Tyga and the Slaughterhouse crew in order to get this thing going.
"We gonna be out in the States for the BET Awards. I'm holding a $100,000 battle—whoever wants it—but it has to be someone who can put up 100 grand … I done reached out to Tyga, he didn't want it. I went to all Slaughterhouse. I did it like Mortal Kombat. I said I'll take all of them out to get to the boss."
Our money's on Eminem not responding to this bizarre challenge but it looks like Canon does have one taker. SNL's Jay Pharoah took to Twitter to inquire whether the rap battle was indeed legit before throwing his own hat in the ring.