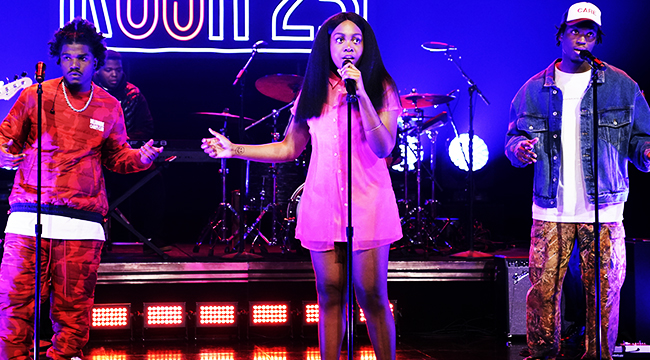 In theory, there was already plenty of reason to be excited for a joint album featuring Noname, Saba, and Smino. As three of underground rap's brightest rising stars, their formation of a supergroup — even an unofficial one — caused stalwart rap fans and casual listeners alike to sit up and take notice of the trio's joint announcement of an impending project late last year. There's a difference between the intellectual, rational sort of excitement that signals casual interest and the visceral, guttural version that denotes genuine anticipation.
While the original announcement sparked the former, it wasn't until the trio's recent performance on The Tonight Show with Jimmy Fallon that I felt any of the latter. The song they performed, "Ace," was already familiar, coming as it did from Noname's critically hailed sophomore album Room 25, yet the performance was what showed the group's true promise. Their chemistry was electric, but it was also natural — the three have been friends and collaborators for a long time, extending back to their respective starts in the then-burgeoning Midwestern rap scene that nurtured their early careers.
Noname and Saba, like fellow Chicagoan stars Chance The Rapper, Mick Jenkins, and Vic Mensa, among others, got their start at the weekly Harold Washington public library open mics organized by the YouMedia nonprofit that cultivated the city's young talent as a way to keep them off the dangerous Windy City streets.
In 2016, that fast friendship led them to an Airbnb in Los Angeles with producers Cam O'bi and Phoelix, where they crafted their well-received debuts, Bucket List Project and Telefone. The beginnings of their early working chemistry shine through on tracks like "Church/Liquor Store" and "Shadow Man," which also featured Smino in one of their earliest released collaborations as a trio. Ironically, Smino also featured on the Bucket List Project track "World In My Hands," while a year later, Noname would feature on Smino's Blkswn closer "Amphetamine." The chemistry has been brewing a while.
In the meantime, each used 2018 to drop solo albums that showcased their growth as artists and landed on Uproxx's best albums of 2018 list. While Noname returned to the drawing board with Phoelix to craft the intricately jazzy coming-of-age tale Room 25, Saba holed up with daedaePIVOT and Daoud to mourn his recently-murdered cousin John Walt with the melancholy nostalgia of Care For Me. Smino, meanwhile, went even trippier, bringing together a team of producers led by Monte Booker to cook up a swamp-thick gumbo of electro funk and psychedelic soul called Noir. Although each artist spun their shared Afrocentric influences in different directions, the roots — like the diasporic core that forms the foundation of jazz, blues, rock, soul, funk, reggae, and hip-hop — remained solid and strong.
Those common roots are also what form the core of their three-strand, unbreakable bond as they reunite for their next effort. They are evident in the group's Tonight Show performance as they offer up complementary takes on the improvisational vocal jazz delivery each has cultivated both separately and together. While Noname's touch is light, traipsing playfully over the rhythm like a skipping stone over the surface of a placid lake, Saba's is more like a whirlpool, twisting and turning in on itself as he delves deeper into the rhyme scheme to unearth verbal gems only he can see before they surface. And Smino brings the cosmic, freaking a funky groove and branching out in all directions like sunbeams from their source. Separately, they're special; together, they're magic.
But I could understand if you were skeptical. Collaborative albums have become almost a dime a dozen in the past few years; there were so many in 2017, I practically begged rappers to lay off the concept for a little while. I reneged a bit, mostly due to a few standouts — Lil Baby and Gunna's Drip Harder and Jeremih and Ty Dolla Sign's Mih-Ty — but I'm willing to totally reverse course if it means getting a project that lives up to its potential. Unlike a Watch The Throne or a Rich Gang or Child Rebel Soldier or any of the other many, many promised supergroups that never quite delivered, this is a unit with far more connection than a handful of studio encounters and a fanbase thirsty for more content.
This is the possibility of Midnight Marauders, of Enter The Wu-Tang, or of — at the risk of being a little too on the nose — The Score, all albums from groups of singular talents who came together to create musical alchemy and become more than the sum of their parts. There's something generational in the works in whatever studio these three uniquely creative artists have sequestered themselves in.