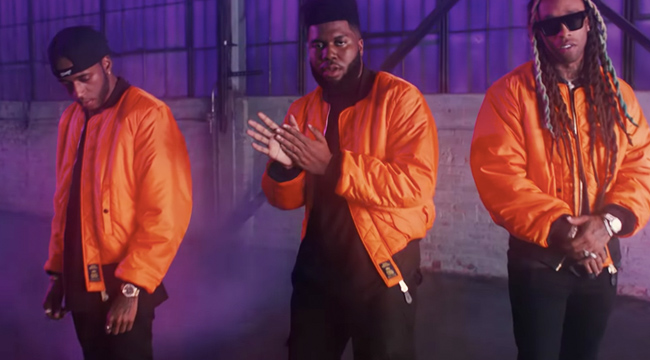 Earlier this year, rising R&B star Ella Mai had a hit with her nearly year-old single "Boo'd Up." Though R&B has been taking a back seat recently to heavier, trap-focused hip-hop hits and more straightforward pop offerings (which, as it turns out, are sometimes reliant on trap sounds as well), the genre has simultaneously experienced a renaissance, with the emphasis on singing in rap at an all-time high.
It was only a matter of time until an artist like Mai found a way to marry the love and relationship themes of R&B with her stellar singing voice, a clever hook, and instrumentation that mimics other rap-leaning top 40 songs of the moment. Rising to No. 5 — partially off the strength of an adorable, vintage-feeling video, Mai helped remind audiences, and the industry itself, that R&B still has a place at the top of the charts. And, she may have inadvertently paved the way for more R&B slow burners to climb the Billboard charts and rack up Youtube views.
In fact, there was an Easter egg in the "Boo'd Up" video for those paying close attention — a cameo from Mai's contemporary, Khalid, who is on his way to having the next sleeper hit of 2018 in his recently-released posse cut "OTW." The song features two other R&B-trap experts, Ty Dolla Sign and 6lack, and though it was released earlier this year (on 4/20, chuckle), somehow, for me it had fallen through the cracks until a friend recommended I check out the song, with special emphasis placed on watching the video. On its own, the song is a playfully crooned ballad about meeting up with a love interest. It's adorable and soulful, full of throwback vibes but backed by crisp, modern production and boasting solid guest verses.
It recreates a familiar soundscape for Khalid, who broke out as a star last year largely due to the success of his twin hits "Location," and "Young, Dumb & Broke," a pair of similarly soulful, slow ballads peppered with crisp, woozy percussion that anchored his debut album American Teen and earned the young Texas native accolades like five (!) Grammy nominations and MTV's 2017 Best New Artist VMA. And despite appearing on songs for other rising stars like Shawn Mendes, Billie Eilish and Normani, "OTW" is the first new music from Khalid as a lead artist since he dropped American Teen.
Similarities aside, it builds off Teen's aesthetic with a more mature, darker bent that doesn't sacrifice any of the easy joy Khalid brings to his music, and the sentiment of the track is decidedly Khalid. "OTW" is a song about trust and reliability in a world that offers us despair, ghosting, and corruption as the overarching forces. And it absolutely fucking bangs. Did I mention that the title, "OTW," is a text message acronym for "On The Way?" This song couldn't be any more millennial. It's a blessing in a year of curses.
One small rabbit trail before we get to the video — the author of the Wikipedia entry on the track describes it thusly, "A booty-call theme channels throughout the track, as the artists sing about meeting up with a love interest." I'd like to quibble with their definition here a bit, as this does not, in fact, sound like a song geared toward a booty call. Booty calls are a wonderful category to belong to, but they exist in a very specific time frame, namely, night, and when the caller is probably intoxicated.
They're situational, falling on the lower end of the relationship spectrum — partnerships of convenience, and as such, not supposed to intrude upon the caller's schedule or otherwise impinge on their plans. The booty called should fit neatly into the end of a night spent with other, more highly-rated company, and end the next morning with no further interaction. In fact, a perfect booty call barely even understands your daylight life, and has no desire to be a part of it, and makes absolutely no demands upon your time or emotions.
That is decidedly not the relationship that Khalid, Ty, and 6lack are describing here. They are willing to drop all their own plans at the whim of the object of their affection, don't mind if friends come along, don't mind if it's just a cruise together, sorting out life. These are not booty call activities, but much closer to True Love activities, particularly that last one. Even if their schedule is packed, these gentlemen say they'll drop everything just to go chill with bae, which is pretty much the opposite of the cultural narrative about how men behave in relationships. I'm all for Khalid changing the narrative around that trope with an under-the-radar smash — and it's worth noting both Mai's hit are resonating with a narrative of romantic success, not failure.
And if all that wasn't enough to convince you of Khalid and co.'s true intent when it comes to the song, then the video will. Opening on a shot of the three men in matching outfits, the aesthetic of the visual immediately feels like a throwback to '90s big budget music videos with smoky, dark sets and casual yet specific choreography. Expertly executing the song-within-a-song trope, the girls that Khalid, Ty and 6lack are interested in meeting up with have the TV on the in the background while they get ready and take pics, and the three heroes appear on that screen as well (as part of R&B JAMZ), still outfitted in matching gear, still slyly mimicking choreography of boy bands past.
When the two crews finally connect, of course, it's just one big dance party, complete with over-the-top driving motions and references to cars and cruising together. It's sentimental and goofy and vulnerable and light, all the best things about caring about someone, and, arguably, about music. In just over a month, the video has already racked up almost 33 million views (of which about 3 million are probably from me). The audio of the song itself, which came out in April, has hit the 62 million mark on Youtube in four months and has over 165 million plays on Spotify.
Still, the song is yet to crack the Billboard Hot 100 at all, replicating the long game that Ella Mai had to play, waiting many months before breaking into the upper echelon of the chart. But it has cropped up on the Rhythmic Songs chart, sitting at No. 19, its peak position this week after seven weeks there, on a lesser chart that both "Location" and "Young, Dumb & Broke" hit before they eventually ascended to the Hot 100.
Since R&B has not been dominating airwaves lately, but there's clearly an audience for it, especially when the nostalgia factor is present, it's likely "OTW" will follow a similar trajectory, eventually charting and then rising to the top by the end of the year. But even if it stays a sleeper hit, this song deserves to be cherished for the curveball that it is. Remember, not only can one song can change the world, one text message can, too.