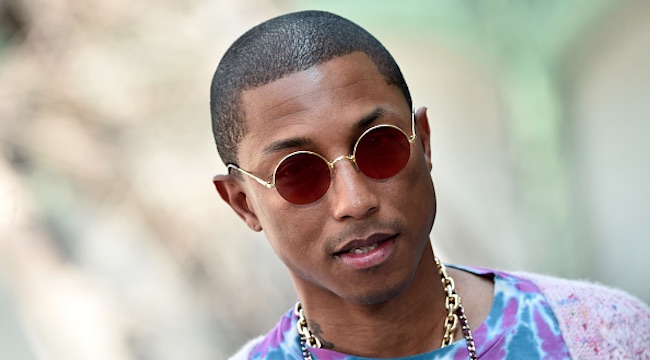 Pharrell Williams' skin has been the subject of many a conversation in the world. How is it that a man in his mid-forties happen to still look exactly as he did when N.O.R.E's "Superthug" video arrived in 1998? There have been theories about him potentially being a vampire, that what he told Angie Martinez about washing his face with cold water was merely a myth. But Pharrell has finally revealed the truth about his skincare regimen, and it's quite simple.
Speaking to Dazed in support of his AW17 collaboration with Adidas Originals, the 44-year-old N.E.R.D frontman detailed the techniques he uses to keep his skin looking youthful, almost damn near eternal. "I exfoliate like a madman," he told Dazed. "When you exfoliate and you drink a lot of water, that does good for you. To me, the key is just exfoliating, like a monster. There's a lot of dead skin. All the time. Like a narcissistic madman."
The routine isn't all that different from what he told Martinez back in 2013. "Washing my face, paying attention to it," he said. "I mean little small stuff. Naomi Campbell taught me a couple of tricks back in the day. Washing my face with cold water to keep pores closed, little small stuff. You just gotta wash your face. I use Cetaphil."
So there you have it. It takes drinking plenty of water and exfoliating to keep your skin fresh well into your mid-forties. Take copious amounts of notes class!