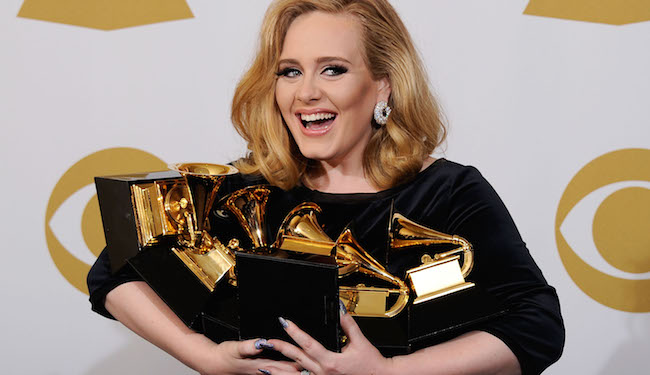 This Monday, five albums will be competing for Album Of The Year honors at the Grammy Awards. Will Kendrick Lamar's To Pimp A Butterfly get the nod, making his inexplicable loss to Macklemore hurt a bit less? Or will Taylor Swift's 1989 be rewarded for dominating the pop landscape so thoroughly over the past year? We don't know yet, but a more interesting question might be how much an Album Of The Year win really matters. To make that distinction, let's look back at the last 15 years of Grammy winners, and see how many times they got it right and how many choices look absurd in retrospect.
2000
Winner: Steely Dan — Two Against Nature
What Should Have Won?
And right off the bat, we have a pick that makes absolutely no sense! Seriously, Kid A and The Marshall Mathers LP were both nominated this year, and somehow, they both lost to Steely Dan's comeback album! I would have given the nod to Radiohead, if only because some of the extreme misogyny on Eminem's work hasn't aged well, but either one of them would have been much better choices.
2001
Winner: Oh Brother, Where Art Thou? Soundtrack
What Should Have Won?
Let's not ignore the impact of the OBWTA soundtrack, which introduced a lot of people to bluegrass and widened country music at large. Still, this was an unfortunate choice, as Outkast's immortal Stankonia got robbed here. It was an enthralling album that challenged the notions of what hip-hop was capable of. Happily, Outkast would get their due respect just two years later, though.
2002
Winner: Norah Jones — Come Away With Me
What Should Have Won?
If you don't remember, this was the year Norah Jones won every Grammy in sight, then a few more for good measure. The voters love for Norah seemed to blind them to stronger efforts, like Bruce Springsteen's post-9/11 meditation The Rising, which marked a stunning career revival for The Boss. Also worthy of consideration were The Eminem Show and Nellyville, both of which dominated radio that year. I would have given this one to Springsteen, but if Nelly had gotten some love for bringing the phrase "it's gettin' hot here/so take off all your clothes" into the American lexicon, I would not have objected.
2003
Winner: Outkast — Speakerboxxx/The Love Below
What Should Have Won?
Honestly, I would say the voters got this one right, but there was some stiff competition this year. Outkast went up against Missy Elliott's Under Construction, Justin Timberlake's Justified, and the White Stripes' Elephant and pulled out the victory. Pretty much any of those choices would have been fine, but the album that gave us "Hey Ya," and "The Way You Move" pulled out a well-deserved victory.
2004
Winner: Ray Charles — Genius Loves Company
What Should Have Won?
Two things happened in 2004 that probably affected this vote:
Ray Charles died.
Jamie Foxx won an Oscar for playing him in Ray.
While Ray Charles made a lot of incredible music, almost no one ever talks about this album. This was a likely feel-good pick at the time, but in retrospect, Kanye West's The College Dropout and Usher's Confessions both would have made a lot more sense. Personally, I would have gone with Kanye, who has a lot more disappointments coming in these next few years.
2005
Winner: U2 — How To Dismantle An Atomic Bomb
What Should Have Won?
I don't want to shortchange HTDAAB, because it's probably a better album than you remember, with "Sometimes You Can't Make It On Your Own," ranking among the most beautiful songs Bono has ever written. That said, Kanye got robbed here. Late Registration was a masterpiece, and it proved that Mr. West was one of the most important names in rap. For pure pop significance, you could also make a decent case for Mariah Carey's The Emancipation Of Mimi, which had stranglehold on airplay that year.
2006
Winner: Dixie Chicks — Taking The Long Way
What Should Have Won?
This couldn't help but feel like a political move by Grammy voters. The Dixie Chicks had been unfairly shunned by the country music community after Natalie Maines criticized President Bush and the Iraq War. They responded with an album that took on the controversy directly, most notably on the single "Not Ready To Make Nice." To be sure, the album was a solid effort, but in retrospect, it's hard to think it could have ever beaten a pop juggernaut like Justin Timberlake's FutureSex/LoveSounds, which not only spawned a ton of hit singles, but basically dictated what pop music sounded like for the next five years.
2007
Winner: Herbie Hancock — River: The Joni Letters
What Should Have Won?
This was one of the more baffling decisions of all time, with Herbie Hancock's album of Joni Mitchell covers somehow beating Kanye's Graduation, and Amy Winehouse's Back To Black, either one of which would have been better choices (personally, I'd take Amy in a very close one). It's not so much that Hancock's album was bad, but it lacks the historical importance of either of the previously mentioned albums. Hancock is a brilliant musician with a marvelous career, but this felt like a career award at the worst possible time.
2008
Winner: Robert Plant/Allison Krauss — Raising Sand
What Should Have Won?
Yeah, this had the same problem. The winning album is certainly worth your time, but it was chosen over other more worthwhile efforts. Who was the biggest snub here? Take your pick. This somewhat beat Viva La Vida, In Rainbows, and The Carter III, all of which would have made a lot more sense. I'll take Radiohead as the most deserving, but whoever your choice is, this one is downright baffling.
2009
Winner: Taylor Swift — Fearless
What Should Have Won:
This one ruffled a lot of feathers at the time, with many people thinking Lady Gaga's The Fame and Beyonce's I Am….Sasha Fierce were more deserving. In retrospect, though, this one doesn't seem super-egregious. Taylor, Gaga, and Yonce all made albums that spawned several radio hits. Maybe there were a few lines in "Love Story" that didn't make sense, but you could surely say the same for "Poker Face," right? A weird pick when it happened, Swift's utter domination of the pop landscape in the intervening six years makes this one seem a lot more logical.
2010
Winner: Arcade Fire — The Suburbs
What Should Have Won?
In a stunning move, the Grammys acknowledge that indie music exists! This was definitely the right choice, as Arcade Fire made an ambitious third album that solidified them as one of the most important bands around. Sure you could make a case for Gaga's The Fame Monster or Eminem's Recovery, but this time around, the Grammys got things right in a truly surprising fashion.
2011
Winner: Adele – 21
What Should Have Won?
This was by far the most inevitable winner on this list and maybe even in Grammy history. It was a phenomenon that sold millions of copies and gave us two immediate standards with "Rolling In The Deep" and "Someone Like You." This was always the album that was going to win, but if we're being honest, it wasn't the best album that was eligible during this particular cycle. That would be My Beautiful Dark Twisted Fantasy, which somehow, wasn't even nominated. Even if Yeezy was destined to lose to Adele, not giving him a nom for his masterpiece was an egregious error by the Grammy voters.
2012
Winner: Mumford & Sons — Babel
What Should Have Won?
This was during that brief time when Mumford & Sons were the biggest band in the world. They've cooled a bit since, but in retrospect, this choice doesn't make a lot of sense. Not when far superior efforts like Frank Ocean's channel ORANGE and Jack White's Blunderbuss were both overlooked in favor of what was mostly a regurgitation of the first Mumford & Sons album. This should have been Frank Ocean's trophy, but Jack White would have been a much better choice, too.
2013
Winner: Daft Punk — Random Access Memories
What Should Have Won?
Earlier in the evening, Kendrick Lamar's good kid, M.A.A.D. City lost Best Rap Album to Macklemore & Ryan Lewis's The Heist, which was basically the hip-hop version of Jethro Tull beating Metallica, only with unfortunate racial implications as well. Kendrick had a great album, and giving it AOTY honors would have been cool, but Random Access Memories was a triumph in its own right, and the fact the Grammys were even paying attention to an act like Daft Punk couldn't help but seem like a minor victory.
2014
Winner: Beck — Morning Phase
What Should Have Won?
There was a lot of debate over this one, as many people — including Kanye — thought Beyonce's self-titled effort should have gotten the nod here. I'll be the unpopular guy: Both albums were great, but if I had to choose, I'd pick Beck's effort. It was yet another brilliant album in a storied career, and while I would not have objected to a victory for the Beyhive, it was nice to see Beck recognized on such a large stage.