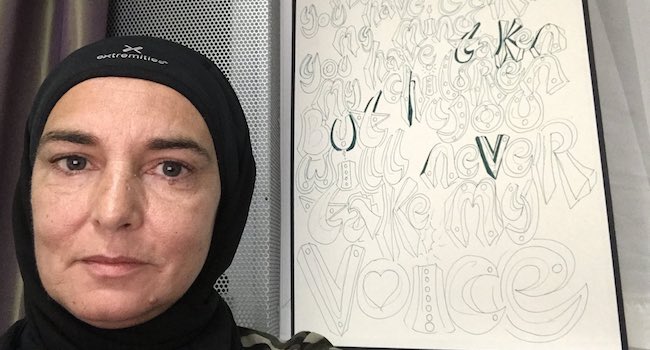 Sinead O'Connor is no longer a Catholic. In fact, she's no longer Sinead O'Connor — or rather, she's no longer Magda Davitt, having legally changed her name last year. Like Cat Stevens/Yusuf Islam before her, the Irish Grammy-winning singer-songwriter, political activist, and first-rate coverer of Prince has converted to Islam. Her new name: Shuhada' Davitt.
The artist formerly known as Sinead O'Connor announced the news last week on her Twitter account, reports EW. "This is to announce that I am proud to have become a Muslim," she wrote on Oct. 19. "This is the natural conclusion of any intelligent theologian's journey. All scripture study leads to Islam. Which makes all other scriptures redundant."
Shahada', incidentally, means "martyr" in Arabic. Her Twitter page has been dramatically overhauled as well, her avatar replaced by the words "Wear a hijab. Just do it." Below it is the Nike swerve — a sign that she isn't being entirely serious.

In fact, there's lots of humor peppered about Davitt's timeline post-conversion. In between declarations of her newfound faith and her usual social justice awareness posts are self-deprecating jokes. When she was still new to the flock, she didn't want to post a photo, claiming she was "an ugly old hag":
Here she makes fun of her clumsy attempts to fit in which her new religion:
She even makes fun of her bestselling and award-gobbling singing voice:

At the height of her career as Sinead O'Connor, Davitt wasn't exactly known for her jokes. Her breakthrough song, an instant classic cover of Prince's "Nothing Compares 2 U," featured an instant classic video that was largely a close-up of her face as she built herself up to a flood of tears.
Her most controversial moment as a superstar involved a 1992 appearance on Saturday Night Live, when she angrily sang a fiery a cappella cover of Bob Marley's "War," then tore up a photo of Pope John Paul II. Many viewers didn't realize she intended the performance — the song and the photo-tear — as commentary on the Catholic Church's abuse of children, which was then not as well-known as it is today. Back then the moment made her the scourge of the world; today some have seen her action as vindicated.
O'Connor has never hit the same heights of popularity. That's seemed fine by her, though it has meant a much smaller audience to hear her impassioned proclamations about the world's ills. Still, judging from her feed since she converted, Davitt seems to be at peace, and has better exposed a sense of humor that was actually always there. Following news a couple years back that she'd gone missing and was feared suicidal, that's a huge relief.

But she hasn't given up the fight. In the following picture, she stands proudly in front of the words "You have taken my body, you have taken my mind, you have taken my children but you will never take my voice."
(Via EW)