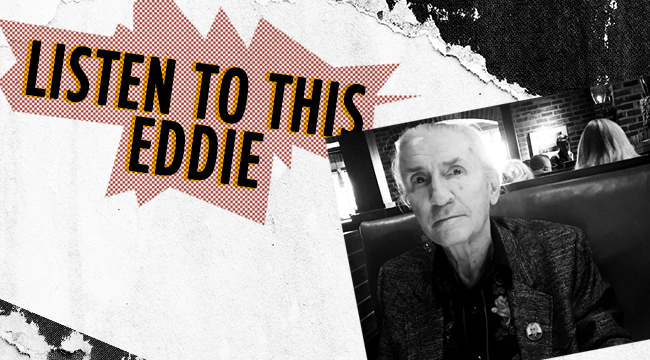 Listen To This Eddie is a weekly column that examines the important people and events in the classic rock canon and how they continue to impact the world of popular music.
Memphis is America's musical Jerusalem. It's a rough and tumble town set high on a bluff overlooking the wide, brown Mississippi river; the de facto capital of the southern Delta region that birthed blues, rock and soul music. As a passionate admirer of that canonical triptych, it's a city that's resided in my dreams and fantasies for as long as I've been alive to have them. Of course, when I finally visited Memphis just last week, I inevitably found a place far different from the one I'd conjured in my head.
The city had died and been reborn half a dozen times since B.B. King first rolled into town from Indianola, Mississippi, most traumatically in the wake of the assassination of Dr. Martin Luther King in 1968. On a cold, January night — a dead-end weekday — I sat, heavy-lidded, sipping on absinthe on the second floor of what appeared to be a former brothel overlooking the neon-painted façade of Beale Street. I tried to imagine the figures and accouterment that lined the walls when Sleepy John Estes, W.C. Handy, Bessie Smith, or Son House strode through this fiefdom all those years ago, but came up short. Fortunately, I had an appointment the next day with someone who could help me fill in the blanks of my suddenly fuzzy imagination.
I woke up early the next day, head a little sore, but filled with eager anticipation to learn from the feet of a master. I'd gotten his information from a friend, who obtained it from another friend and passed it along to me with an enthusiastic "Good luck!" I tried calling the provided number shortly after I landed, but got an "inbox full" message. As a last-ditch effort, I sent off a cold email request along with the promise of a free lunch. I wasn't hopeful of receiving a response. Sure enough however, a few hours before I ended up in the Absinthe Room, I got a reply. "I'd be glad to speak with you."
Stanley Booth has seen and done it all. "Nobody has been where I've been," he said. "That's why I'm in such bad shape now." Though he grimaced when I referred to him as a rock writer — "I'm a writer" he corrected — Booth was one of the most eloquent music journalists to pioneer the field during the late 1960s. One of his earliest offerings, the one that put him on the map so to speak, was a piece about Elvis Presley, a sort of "Frank Sinatra Has A Cold" style profile that captured the King in his court at Graceland that ran in Esquire in 1968.
When he calls Eric Clapton a "boring asshole," it's not because of the English guitarist's penchant for lengthy solos, but his own personal experience kicking back and eating barbecue with "Slowhand" and Howlin Wolf during a recording session in London back in the day. He chopped it up with the "Godfather of Soul" James Brown while the latter was serving time in the 1980s. He was in the room when Otis Redding and Steve Cropper sat across from one another writing the immortal ballad "Sittin' On The Dock Of The Bay" a few short days before Otis's plane plunged into Lake Monona in Milwaukee, ending his all-too-brief life. He was also there that fateful evening at Altamont Speedway, watching from behind Keith Richards's amp as a knife in the hand of a Hell's Angel plunged into the body of a 19-year-old kid named Meredith Hunter, bringing an end to the so-called "sixties."
Born in Waycross, Georgia in 1942, Booth has the same slight build as that deeply southern town's most famous son and his one-time drinking buddy Gram Parsons. When I met him in the kitchen of his home on the east side of the city, he emerged from down the hallway wearing a sharp gray suit jacket, a wide-brimmed, blood-red hat, and clutching a cane with an alligator's head for a handle. On his lapel was a button endorsing former President Harry S. Truman. Pointing down at his shoes, he noted that he picked out blue suede in my honor. I was humbled.
Booth moved to Memphis while a teenager and found a city that was in his words, "segregated as hell… black people were treated horribly." Despite his white complexion, he became a frequent visitor to the mostly black establishment that dotted Beale Street. "It took me a few years to find the blues. I knew it had to be somewhere, but I didn't know where."
Over time, he managed to ingratiate himself with the old blues masters, while also becoming intimately acquainted with the taste of the gravel in the alleyways behind the avenue's many clubs after being thrown out on his ass by the cops one too many times. "It's like Keith [Richards] says, 'I don't have a drug problem, I have a police problem.'"
While we drove to a restaurant even further East from the Mississippi River he regaled me with stories of the Memphis he knew as a young man. That's the way he speaks — in stories. For a guy who's seen as much sh*t as he's seen, is there any other way to talk? Pointing out the window to a recent looking construction, "That's where the Bitter Lemon was right there," he says, alluding to a long-gone coffee house. "That's where I first heard Furry."
Furry, is Furry Lewis, a country blues guitarist and friend of W.C. Handy who was a fixture around Memphis' many bars near the turn of the century. Booth's 1970 profile of Furry, who at the time was scratching out a living as a city street sweeper, earned him Playboy's Best Nonfiction award that year. To this day, the old bluesman still occupies a special place in his heart. "I've seen everybody. I saw Jimmy Reed, John Lee Hooker, T-Bone Walker B.B., but I'd have to say Furry [was the best.] Furry was incredibly brilliant. Inventive, funny, wise; uncanny."
A few more miles down the road and we arrived at Houston's, an upscale steakhouse, and made our way over to the bar.
"What're you drinkin'?" he asked.
"I dunno, something with tequila?" I replied.
His eyes lit up.
"They make a great tequila sunrise here!"
"Works for me."
Booth's greatest claim to fame is his classic book True Adventures Of The Rolling Stones. Published in 1984, it's as much a personal survival story as it is a chronicle of the band's infamous 1969 tour of America. Haunted by the ghost of their recently-deceased guitarist Brian Jones, the band, with Booth in tow, race through a month-long mad-dash around the country, imbibing in copious amounts of cocaine, weed, and the spare bump of heroin here and there. Revolution hangs thick in the air, and the Stones, at least in that moment, were real "Street Fighting Men." The shows themselves, with the likes of Terry Reid, B.B. King, Ike & Tina Turner, and Chuck Berry opening, were some of the most raw and intense presentations of live rock and roll ever experienced.
"I used to carry Chuck's money," he said. "Chuck wouldn't go onstage until he had $3,000 cash dollars. I guess they thought I was the only person on the tour that wouldn't steal it. So, they give me an envelope with $3,000 cash dollars in it and they announced Chuck Berry, I'd hand him the envelope, and he'd go out and play."
Poring through Booth's personal, written account, you can nearly feel the heat coming off the stage and taste the sweat pouring down Mick Jagger's chest as the Stones rip through tracks like "Midnight Rambler," "Sympathy For The Devil," and "Jumpin' Jack Flash." It culminated, as all revolutions do, in blood.
"I'm amazed that I lived through it and they lived through it. It was like the f*cking inferno," he said of the free concert at Altamont that marked the end of the tour. "I mean, sh*t, it was like being in Vietnam, and you knew, within 60 seconds, you could die and there was nothing you could do one way or another except hope for the best."
Three years later, Booth re-joined the Stones on the road once again during their far posher, celebrity-studded 1972 run, but don't expect to ever read about his memories of that experience. "Why? I got more important things to do," he said. Still, there's a story to be had, if he ever feels like telling it. "Truman [Capote, who was on the tour] said, 'There's no story,' and I remember thinking, 'Oh, there's a story here, and I have it, but you don't.'"
The story is everything, and as Booth brings to life his many encounters with this icon or that icon, his knack for making the tale as interesting as possible becomes entirely engrossing. While telling me all about a fraught night out with Miles Davis — "He looked over his shoulder at me and said, 'Why can't you mother*ckers leave me alone?" — he can't help but adopt the jazz legend's signature, husky voice. When he notes a song, he has to sing a couple of lines to really drive home his point.
It's been a couple of decades since Booth last published a book, a biography of Keith Richards, and when I asked if he's still continued to write, he looks nearly offended. "I'm writing right now," he says. As someone trying to burn the small and big details of our conversation into my memory as we talk, I know exactly what he means. "I'm trying to finish a couple books," he clarifies. "I'm working on a book about blues players not from Memphis called Blues Dues, and I have another book about blues players who are from Memphis called Where The People Smile." He tells me the title from the latter work comes from a song written by W.C. Handy.
The ironic twist to our encounter was that Booth had only moved back to Memphis a few years ago himself. For nearly 30 years, he was a resident of Brunswick, Georgia, looking to "get the hell outta dodge," just shortly after the release of True Adventures. When he finally returned to Memphis, he discovered a place he didn't recognize. "It's still weird," he says. "I see ghosts everywhere. Dewey Phillips. Sam Phillips. Phineas Newborn. Fred Ford. Furry. Bukka [White]. Memphis is very different man, which in some ways is good."
Shortly after our lunch, he emailed me one more story. There was no context for it, but coming on the eve of Martin Luther King Jr. Day, while our current President was mired in a controversy over his classification of African nations as "shithole countries," it illustrated to me how far the city had come, and how far we as a country still needed to go. "When I came to Memphis, every Thursday there was a sign at the entrance to the Overton Park zoo saying 'No White People Allowed in Zoo Today,'" he wrote. "Crazy Baptist assh*les. They thought denying whites the zoo on Thursdays made up for their racism." The good ol' days aren't always as good as we make them out to be.