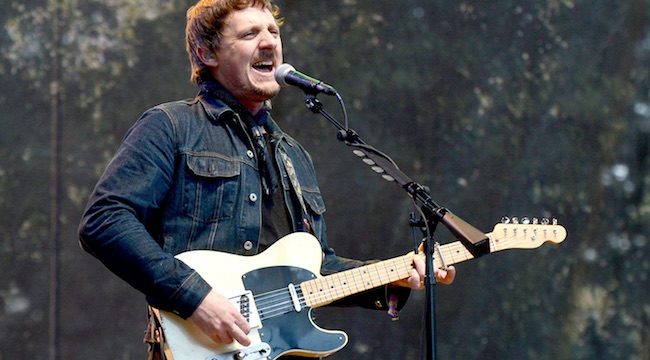 Outlaw Country is a hard genre to quantify without any kind of strict criteria for who can accurately assume the label. It's more of a "You Know It When You See It" situation. Willie Nelson certainly falls into that camp as one of the definitive country outlaws of the 1970s and beyond, along with contemporaries like Waylon Jennings, Kris Kristofferson, David Allen Coe, Townes Van Zandt, etc. And in the modern era, it doesn't really get more outlaw than the guy who recently busked for change outside of the CMA Awards in Nashville, Sturgill Simpson.
Recently, during a stop in Cincinnati along Nelson's annual, touring Outlaw Music Festival, Sturgill was invited by the Red-Headed Stranger to sing and play guitar on the latter's immortal 1978 ballad, "Mama Don't Let Your Babies Grow Up To Be Cowboys."
At the end of gig, just like he does at most stops along the Festival, Nelson invited many of the performers who played earlier in the day out for a mass jamboree on a cover of the Carter Family's "Will the Circle Be Unbroken," before segueing into "Living In The Promiseland" and "I Saw The Light."
The Outlaw Music Festival is set to continue with sporadic performances all across the country through September. Simpson is booked to play on most of the dates, with superstars like Neil Young and Van Morrison slotted in for a number of different shows. Check out the full itinerary below and check out ticket information here.
06/29 — Little Rock, AR @ Verizon Center
06/30 — Dallas, TX @ Dos Equis Pavilion
07/01 — Woodlands, TX @ Cynthia Woods Mitchell Pavilion
09/07 — Burgettstown, PA @ Keybank Pavilion
09/08 — Hershey, PA @ Hersheypark Stadium
09/09 — Toronto, ON @ Budweiser Stadium
09/14 — Scranton, PA @ Pavilion At Montage Mountain
09/15 — Camden, NJ @ BB&T Pavilion
09/16 — Holmdel, NJ @ PNC Bank Arts Center
09/21 — Mansfield, MA @ Xfinity Center
09/23 — Saratoga Springs, NY @ Saratoga Performing Arts Center